One of the most awaited anime of this month is finally out. Episode 1, "Operation Strix" of Spy x Family was aired yesterday on multiple platforms. And after watching it, I must say that the show will be a fan favorite as it features a very interesting plot, likable characters, good action, and humor. Before we begin the Spy x Family Episode 1 review, let's briefly talk about the overall show.
Spy x Family is a popular manga series written by Tatsuya Endo. The theme of the show is that a spy has been given a mission to form a family to get close to his target. However, the daughter and wife he ends up recruiting for his mission turn out to be a telepath and an assassin, respectively. Spy x Family is now being animated by Wit Studio and will have a total of 25 episodes.
In the first episode, we got introduced to the two main characters, Twilight and Anya. The former is one of the best spies around, while the latter is a very cute little orphan girl having mind-reading powers.
Twilight has been shown devoid of human emotions and attachments. He is dedicated to his shadowy job in order to maintain the peace of the world. For his spy life, he has even abandoned his real name and identity and currently lives as a new person, Loid Forger. As we got to see some of his skills and action, Twilight seems to be very competent in his job. The guy takes his job so seriously that he literally broke up with her active girlfriend – who he befriended for a mission – on spot without any remorse as the mission concluded. However, with the introduction of the next main character, it seems that moving on, things will start to change for Twilight.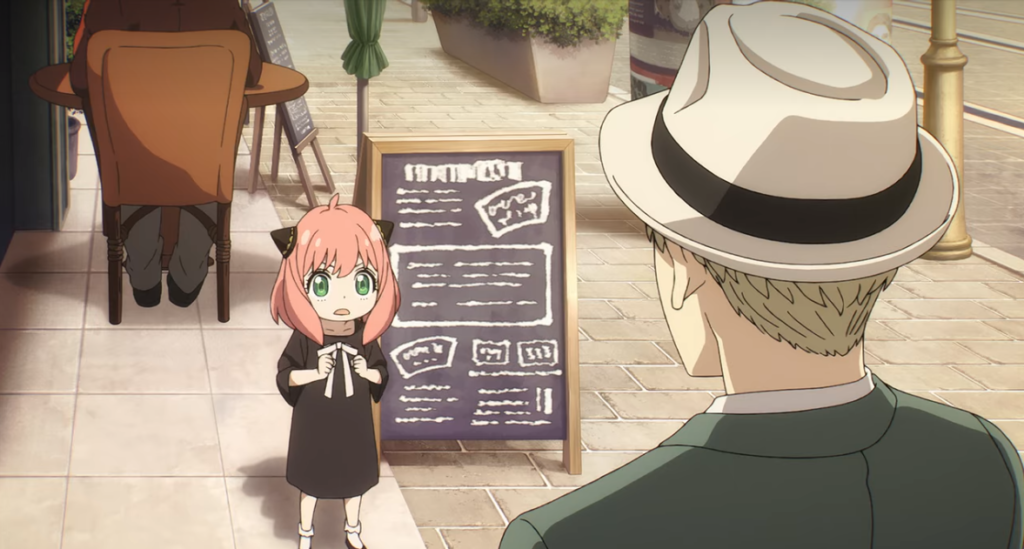 Speaking of the other character, Anya is a super cute young girl who is deeply interested in spies. Her special powers are the result of the experiments on her when she was even younger. In the first episode, she was shown to be an orphan who had already been moved to different orphanages four times. People around her see her as a weird kid but at the same time considers her smart. Due to her smartness, Twilight found her fit for his mission, and there begin the fake relationship of a father and a daughter.
Twilight and Anya's relationship as parent and child, is both wholesome and funny. Anya can read everything that Twilight thinks and reacts accordingly. Furthermore, the fake father tries his best to understand the child. In the first episode, Twilight considered replacing Anya with some other child multiple times which Anya didn't find as she has shown likeness towards her new father and his adventurous life. But as the episode progressed, Twilight's feelings for Anya started to change.
Not only did the spy fully accept her for his mission, but he also showed care for the girl's past. Furthermore, when Anya passed the entry test which was the first crucial part of the mission, Twilight felt "relieved" to which he himself was surprised and then commented, "Something's wrong with me…". This signifies that their relationship has already started to have an impact on Twilight's cold personality.
Earlier in the episode, it was also mentioned that both Anya and Twilight had many things in common and were made for each other. My guess is that as the story will progress, their bond will further increase and Twilight will get more attached to his family. But with that, complications will arise in his mission and with the people he works for.
In the last moments, the family gets an invitation letter from the school that states that both parents must be present for the interview. As we know the mother is yet missing from the family, therefore, in the next episode of Spy x Family we will be introduced to the mother, the assassin.
That's all on Spy x family Episode 1 review. Be sure to check out our Anime and Manga section for more content. For more reviews, keep following Retrology.