Hellbound is a South Korean dark fantasy drama series on Netflix. In this article, we will tell you the Hellbound characters adaptation, live-action vs webtoon.
Director: Yeon Sang-ho
Release Date: 19 November 2021
Writer: Choi Kyu-sok
Lead actors:  Yoo Ah-in, Kim Hyun-joo, Park Jeong-min, Won Jin-ah and Yang Ik-june
Number of episodes: 6
IMDb rating: 7/10
It is based on the webtoon of the name "The Hell".
Hellbound surpassed Squid Game for being the world's most-watched show the next day after it aired.
The series is set in an alternative version of Earth in which paranormal creatures deliver prophecies and drag humans with them to Hell.
The series has been remarkably adapted from the webtoon. The characters are very identical and very minor changes have been made appearance-wise.
1) The VIPs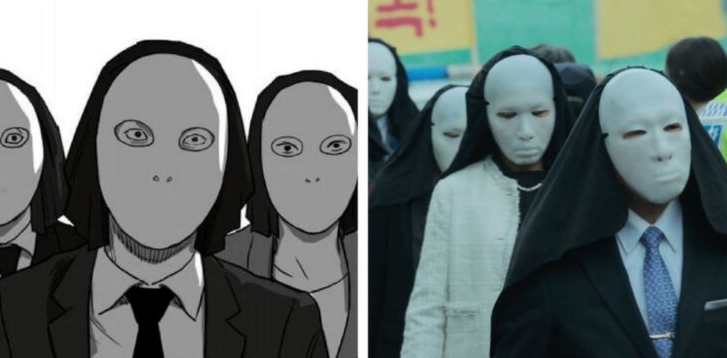 The VIPs who were donating huge amounts of money and attending the New Truth Society's ceremony are wearing white masks in the show, identical to the webtoon.
2) Yoo Ah-In as Jung Jin-Soo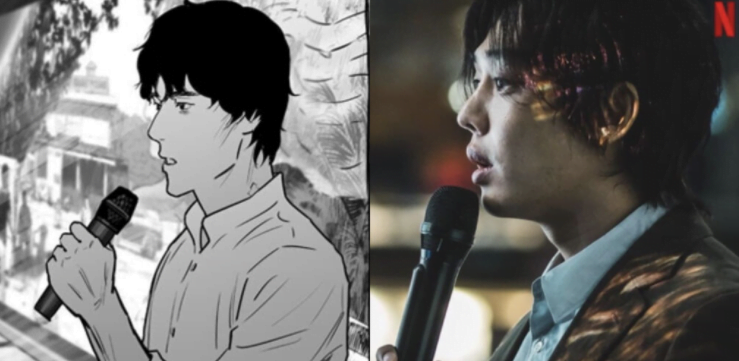 The lead actor, Yoo Ah-In looks very similar to the webtoon. His hair while speaking into the microphone is also indistinguishable from the webtoon. Moreover, He is the leader of the New truth Society.
3) Otherwordly monsters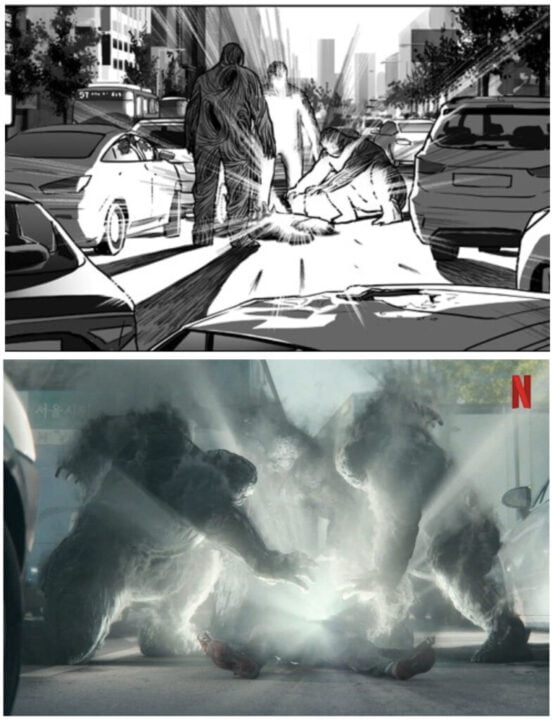 These images show that the otherworldly creatures that arrive to turn the victims to ashes are notably very similar to the original webtoon.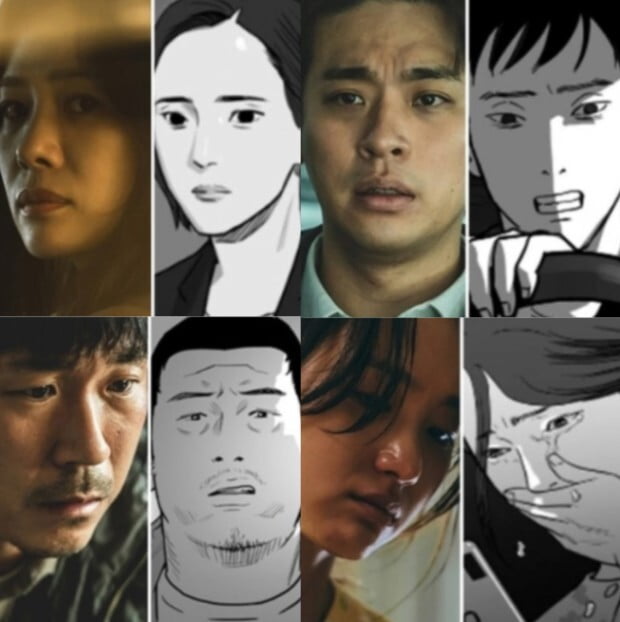 A lot of the other cast has similar appearances as shown in the above images.
The characters in the above images are described below:
4) Kim Hyun-joo as Min Hyejin
One of the most remarkable characters throughout the series is Min Hyejin. She appears as the lawyer of Park Jung-Ja. She also takes care of her sick mother. Min Hyejin is a strong female character who fights everything that comes in her way and does not lose hope.
5) Park Jeong-min as Bae Yeongjae
Bae Yeongjae is a TV producer who is working on documentaries about the New Truth. He is transparent about his views and does not fear expressing contempt for the organization.
6) Ik-June Yang as Police officer Jin Kyunghun
Police officer Jin Kyunghun's wife is murdered and his relationship with his daughter is also on the verge of falling apart. He ends up sacrificing his principles for personal gain.
7) Won Jin-ah as Song So-hyun
She is Bae Yeongjae's wife and is a film producer. She gives birth to a son.
This is all for Hellbound's characters adaptation. For more exciting content like this keep following Retrology!

Also, Read: Six differences between Hellbound's webtoon and live-action.