The hub of Warhammer 40K: Darktide is packed with interactive tasks, with more to come soon. You have the shop where you can buy weaponry and the task terminal where you can start your next adventure. One more shop, however, located near the hub's spawn region, provides as much value and is known as Sire Melk's Requisitorium. So to tell you all about Sire Melk's Requisitorium in Warhammer 40K: Darktide, here's a detailed article. It is everything you need to know about this set of tasks and their benefits.
Warhammer 40K: Darktide is a new game by FatShark Developers with its beta testing version out. The official release is on 30th November, 2022 and would be available on Xbox Series X and Series S and Microsoft Windows.
What is Sire Melk's Requisitorium
Today we'll look at sire Melk's requisitorium, it is basically a set of tasks. You'll walk past it every time you enter the lobby and proceed toward the task terminal, but it won't be available to you until you reach trust level 11 with a certain character. This implies that if you go to the Requisitorium on a level 11 or higher character and then switch to another, you will be unable to enter it. Things become much more intriguing if you have access.
Let's start with View Contracts and work our way down. This menu has a variety of weekly contracts, such as scoring kills, finishing missions under various situations, and obtaining various secondary objective items.
It is basically a town board with several challenges to perform in order to earn a particular currency. You'll see towards the bottom that completing five of these challenges will give you extra money. Completing all tasks in a given period will also earn you a large currency bonus. When the timer runs out, any unfinished challenges will be reset.
If you feel that a certain challenge is too difficult or tedious, you may always swap it right there. It will occasionally cost you money and then adjust the task for you.
Where to spend the money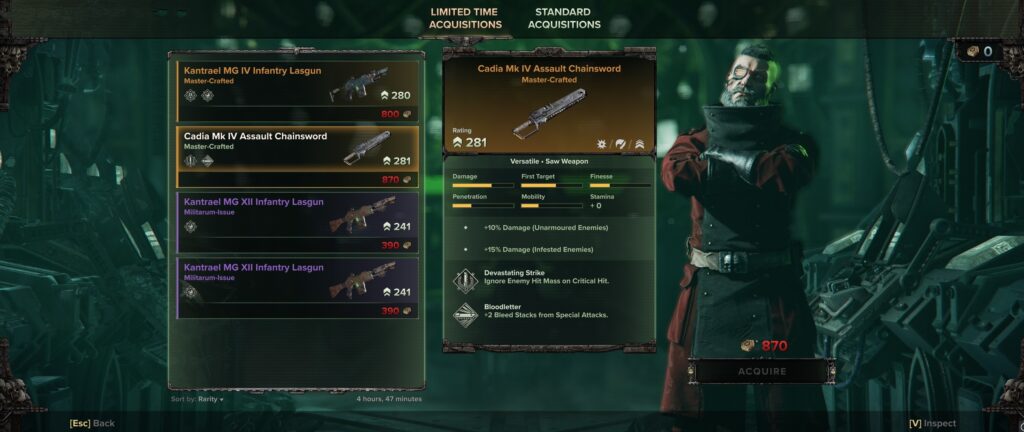 Moving on to Limited Time Acquisitions, this is where you'll spend your newly acquired coins on various Curios and weaponry. The currency you acquire can be used to purchase either conventional gear or an unknown melee or ranged weapon, as shown above. Additionally, as you can see, there will be limited-time acquisitions that will grant you legendary and epic gear. These things are usually far superior to those found at the base shop, so choose wisely.
The Mystery Acquisitions menu is the same, allowing you to gamble your points on a melee weapon, ranged weapon, or defensive Curio of unknown quality.
That's all for the Warhammer 40K: Darktide, Sire Melk's Requisitorium tasks. If you want to know more about the game, head over to the guides section.