Goat Simulator 3 is a new third-person sandbox adventure story game in which you can do everything a goat can do. This includes headbutting randomly, being clumsy and triple-jump your way around the massive island of San Angora, which is the area for this game.
Along with that, the Goat Simulator 3 keeps you busy with numerous quests, storylines, collectibles, and some achievements. While some require you to work a little, there are some tasks that require the bare minimum from you. One of the easy achievements is The Founding Father Achievement in Goat Simulator 3 and this guide will walk you through the process of it.
Location of statue of Founding Father
Before everything else, you need to know where you can start and complete this task. The quest's location is on the Libertarian Island, which has two bridges you can use to go there. The quest won't start unless you reach the statue present in the middle there. You can see the location on the picture map given below.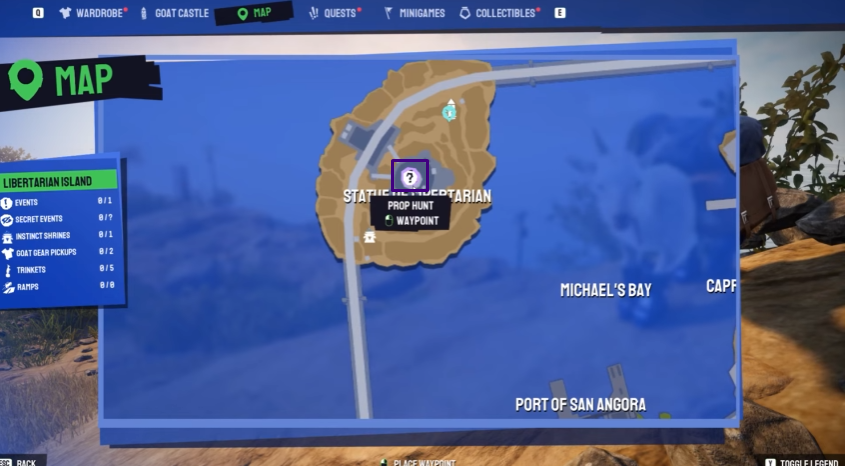 Process of The Founding Father Achievement
Go up to the point marked on the map in the picture shown above. To reach there, you'll need to go over a rocky path. Keep your eye on the golden statue, which is the Statue of Libertarian, a large golden statue, and aim to reach there.
Once you reach the gray wall, climb up Spider-Man style until you reach the first level.
Look for a ladder here as this will take you directly to the top.
Once on top, go towards the base of the statue present in the middle of the area.
Climb up to the base of this statue and find a vent fan on the back of it. This will launch you toward the top of the statue; on its head. Also as soon as you step at the base of the statue, the quest of the Founding father will begin.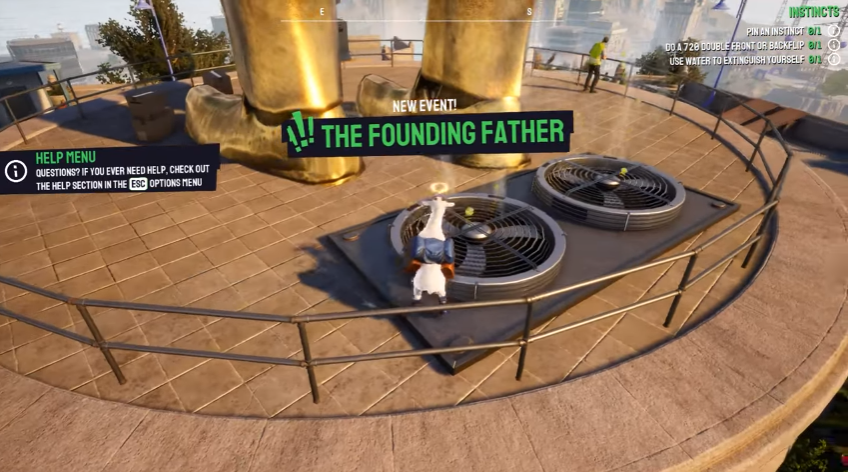 There is also a trinket here which is part of the collectibles you can collect for every region.
Your goal is to reach the statue's right hand which is holding out a fishing rod. Slowly go down from the head to the shoulder and then to the arm.
On the arm, stand just beside the wheel of the fishing rod and interact with it.
Now activated, the wheel will move and it will pull out the lighthouse from the sea in front of you. You may need to interact with the wheel several times for the lighthouse to emerge completely.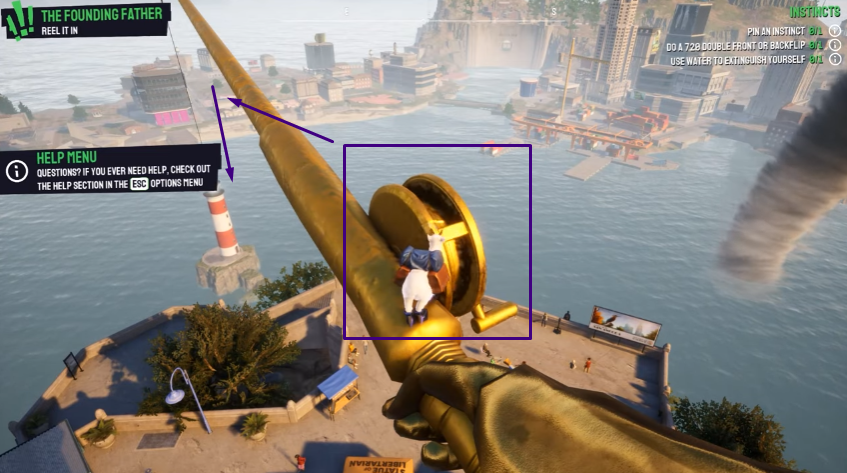 Once done, you'll get notified of the completion of The Founding Father Achievement.
And that is how you can complete The Founding Father Achievement in Goat Simulator 3. If you fall off the statue, you can start over easily with the fan present, so it's not really an issue. If you need help with guides related to this game, do check out the guides section.