The much-awaited game of 2023, Hogwarts Legacy has just been released on the 10th of February 2023 and within just a day of its release, this game's positive reviews on Steam skyrocketed to 94%, and quite rightfully so. The game is also equipped with all the amazing stuff like Characters, Potions, numerous challenges, and bosses to defeat. Now, as you progress through the game the very first boss that you will come across is none other than Hogwarts Legacy Pensieve Guardian boss.
Defeating this boss can be a struggle since the players are fairly new to the game. However, in this guide, we will be discussing quite extensively about what tactics players can use in order to defeat this boss smoothly. So without wasting any time, let's begin.
Defeat Pensieve Guardian in Hogwarts Legacy
Apart from all the tactics and tricks, your timing and ability to be patient are the most important without a shed of a doubt. you need to hit the boss with your basic attacks like attack magic and damage spells, as many as possible, and dodge whenever needed. Additionally, do keep in mind that Pensieve Guardian is extremely powerful, once struck by him can cost you 50% of your health so be sure to dodge his attack and keep on drinking Wiggenweld potions whenever needed.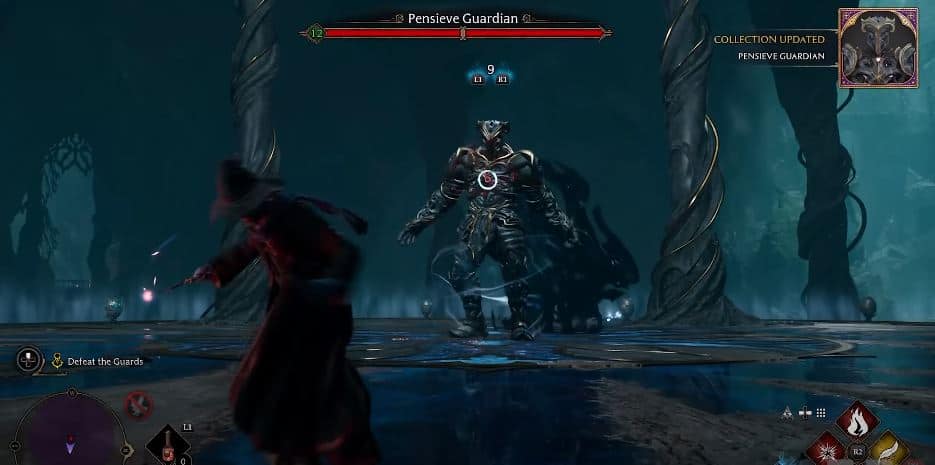 Always use your Ancient Magic meter when it has accumulated enough to do so. This is the most effective and crucial approach to assure your victory in this battle. Here are the different attacks that he can use against you and how you can deal with them:
Pensieve Guardian Attacks
Shockwave Stomp: The sign that the boss is about to use this attack is that you will see a red flash before it. The boss will then stamp and its effect will travel in a straight line. There is no way to counter this attack you can only dodge it to avoid getting hit.
Seeking Strike: The boss will use this attack when your health is below 50%. The sign of it is the same as Shockwave Stomp. The boss will release a missile that will come directly toward you after the stomp. However, this attack can be blocked and you can even counter it which will send the strike back to the Pensieve Guardian.
Destroy the Pensieve Guardian's orb
Because the Pensieve Guardian's orb is such a strong assault, players might want to think about breaking it during this encounter. When the boss begins to construct power orbs in its hands, all players need to do to shatter the Pensieve Guardian's orb is cast a spell of the appropriate color on it. For example, if the orb is yellow, cast a yellow spell on it. Similarly, if the orb is purple, use purple spell on it. Here are some spells that you can use when in need:
| | |
| --- | --- |
| Yellow orb | Arresto Momentum, Glacius, Levioso, Transformation |
| Red orb | Diffindo, Incendio, Confringo, Bombarda, Expelliarmus |
| Purple orb | Accio, Depulso, Descendo, Flipendo |
Breaking the orb will also stun the boss for a while as well just like when using the Ancient Magic, so good luck with that as well.
That is everything that you need to know in order to defeat Hogwarts Legacy Pensieve Guardian boss smoothly. Do let us know in the comment section below which guide you want us to cover next. To know about Hogwarts Legacy Grand Staircase Collection Chests Locations or for more guides, keep following Retrology.