Cuphead which was released in 2017 has finally gotten a new edition called Cuphead: The Delicious Last Course. Developed by Studio MDHR, the news franchise of Cuphead the Cuphead – The Delicious Last Course has just been released on the 30th of June 2022 and is available for Nintendo Switch, Xbox One, PlayStation 4, and PC.
The 20th-century animation style of the game is something players can't just resist. Additionally, this new franchise is wholly packed with new weapons, characters, and monstrous bosses. One such boss is Chef Saltbaker who is the final boss in the game which means that defeating this last boss is obviously going to be quite challenging.
Many players do struggle when it comes to defeating Chef Saltbaker. However, if you're also one of them then you don't have to worry anymore because we've got you covered. After analyzing all of his phases and his attacks, here we have a guide to beat Cuphead DLC Final Boss (Chef Saltbaker) just for you.
However, before running into it, you might also want to check out:
That said, now without any further ado, let's begin
Beat Cuphead DLC Final Boss – Chef Saltbaker
Defeating Chef Saltbaker Boss is not an easy task since just like other bosses this one also has numerous phases and it will change its attack in every one of them. This means that you will have to figure out how to dodge each and every one of them which can be a scuffle without the proper guidance. Here we will go through every phase of Chef Saltbaker Boss, its attacks, and how to dodge them.
Chef Saltbaker – Phase 1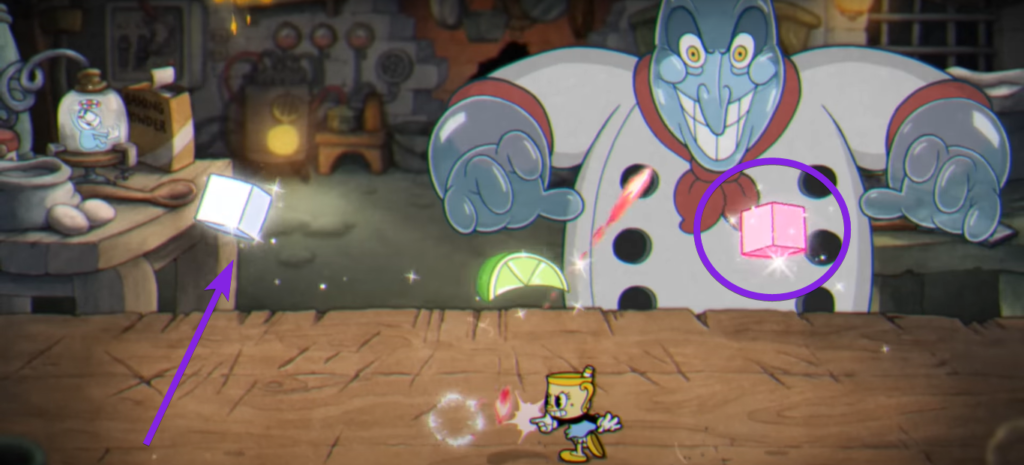 The very first phase of the final boss is definitely the most strenuous one since there is literally everything appearing on the screen. Do make sure that you keep shooting to destroy some of those items coming toward you, the rest can be dodged.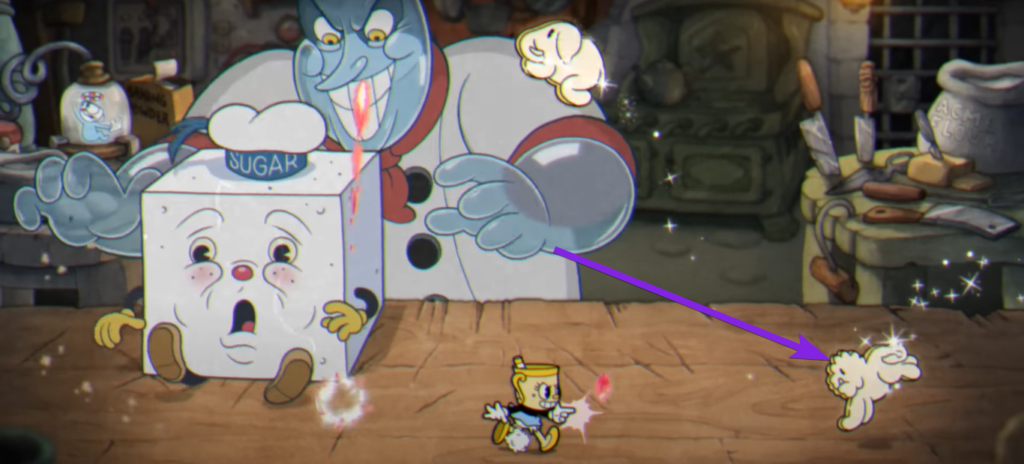 Sugar cubes: These sugar cubes will be moving in an irregular motion, you can avoid them by jumping in the opposite direction when the cubes get to their lowest point. Also, make sure that you collect the pink cube that appears.
Lime slices: These slices will be movies in a straight line across the screen, their height and the direction they come from will also vary. You will have to double jump sometimes because several lime slices will be coming at once.
Strawberries: These will also be moving in a straight line, however, they will be coming diagonally from the right side.
Magic cookies: These magic cookies will come in the form of bunnies hopping from one side to the other. The height of their jump will vary if you're standing close to them their jump will be short and if you're not too close their jump will be higher. You can easily shoot to destroy them.
Flame: This one usually sticks to the top of the screen and comes down once in a while and then goes back to the top. Make sure that you're not under it in order to avoid it.
Chef Saltbaker – Phase 2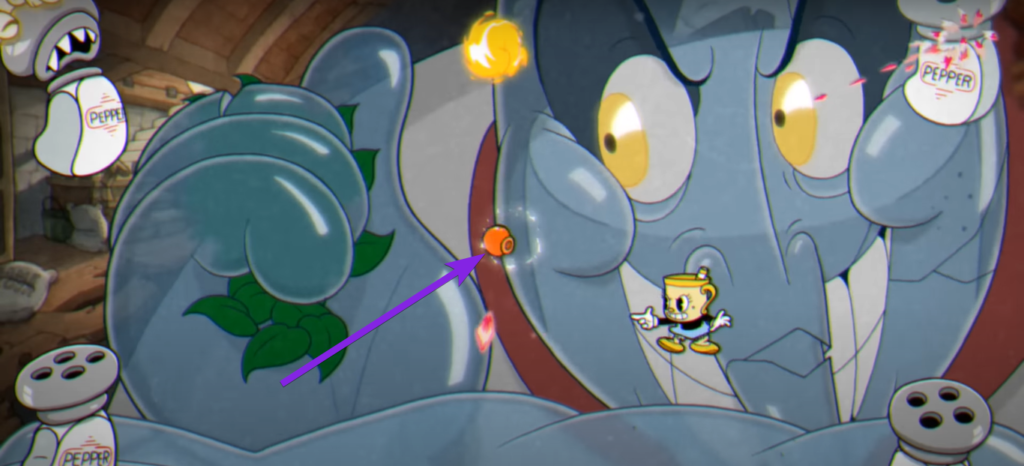 The arena will now be changed totally in the second phase, in this phase you will have four salt shakers in each corner of the screen, these salt shakers will sneeze at you and throw a projectile at you which will be moving in a straight line, so make sure you dodge those. But do make sure that you collect the pink ones so you can use your special attack.
Moreover, keep on shooting at these salt shakers and after you've done enough damage they will hit the face of the boss in the background. You will have to hit the boss around 10 times in order to make it to the next phase.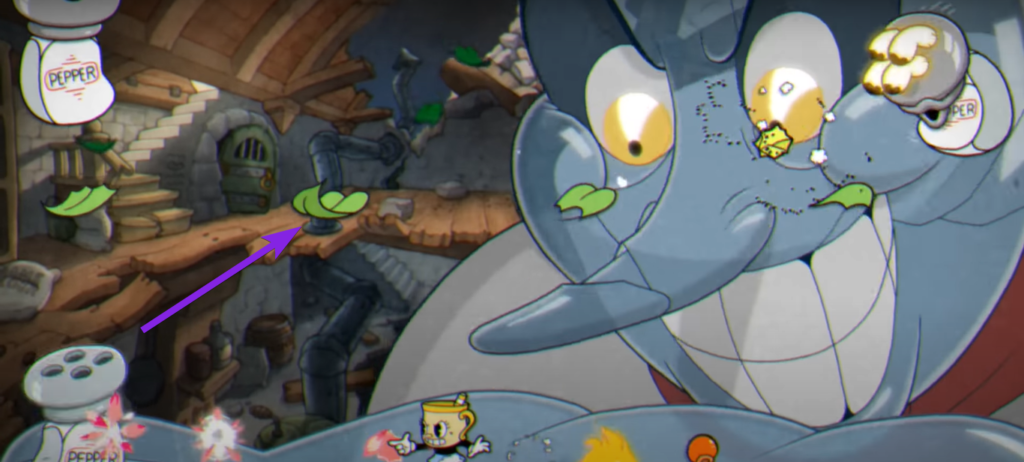 The second projectile you will phase will be sent from the boss. The boss will occasionally toss leaves at you, and they will slowly descend from the top of the screen. Make sure that you keep an eye on those leaves and where they are dropping so you can dodge them accordingly.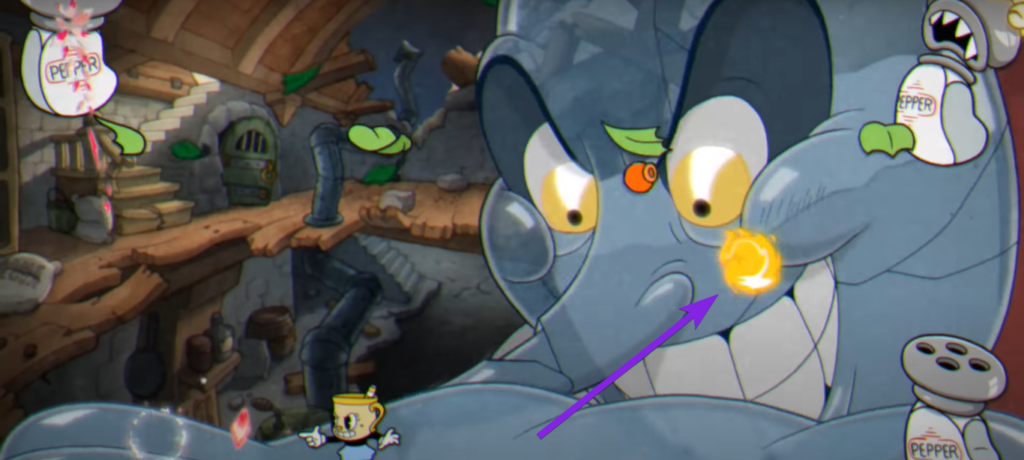 The third hurdle is the flame that you face in the first phase, however this time it is on the ground which will jump from time to time and then come back to the ground. You can avoid this by simply moving out of its way and avoiding jumping over it while it's on the ground.
Chef Saltbaker – Phase 3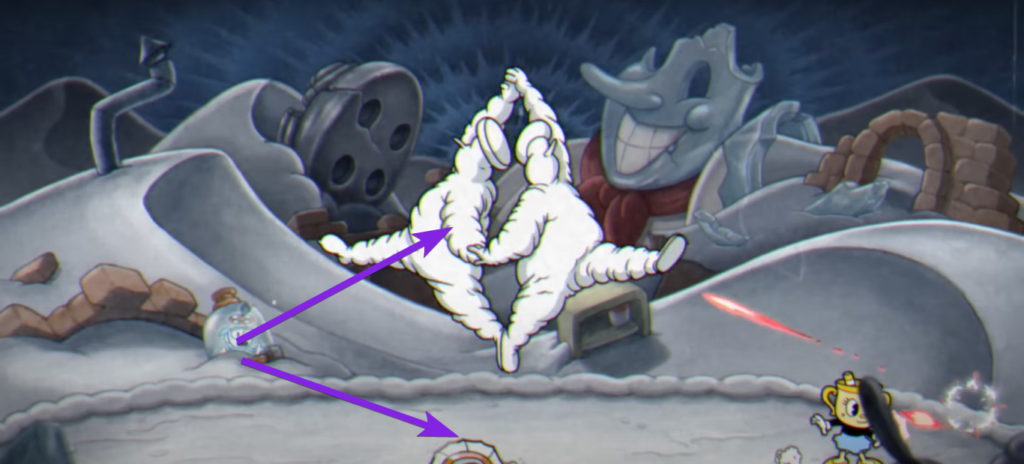 The third phase is quite short as compared to the other phases, in this phase you will face a saw running on the ground that can easily be dodged by jumping over it. However, the real challenge is the two snowmen jumping from one side to the other. Make sure that you just don't let it crush you and move out of the way from where it's landing.
Chef Saltbaker – Phase 4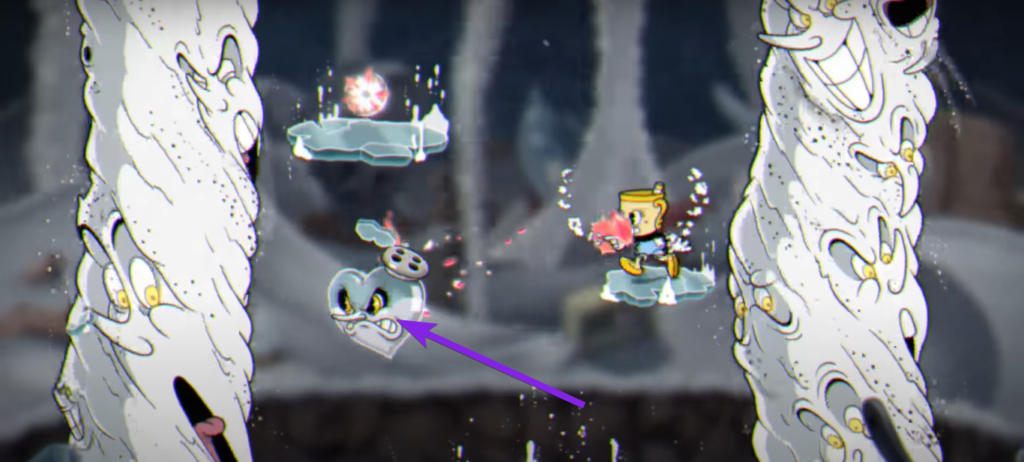 In the very last phase, there will be two tornadoes on each side with platforms falling from above. Here you have to keep on shooting and jumping to the next platform one after another to avoid falling down. You will also face a heart-shaped salt shaker that will be bouncing from each tornado. Make sure that you avoid getting contact with the heart, however, whenever it turns pink then you should make contact so you can get your special attack.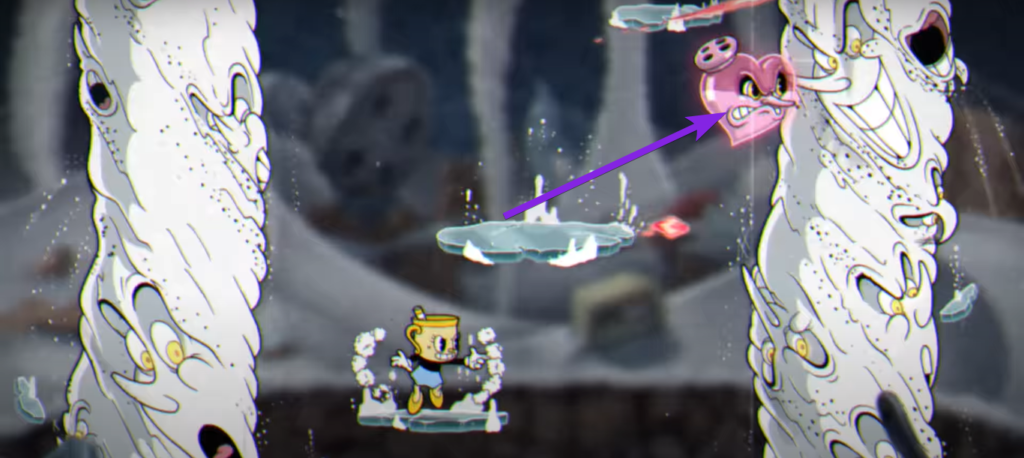 Once you've defeated the final boss you will now see the epilogue of The Delicious Last Course.
That is all on Guide to beat Cuphead DLC Final Boss (Chef Saltbaker). To know about Guide to beat Mortimer Freeze Boss, Cuphead DLC or for more guides, keep following Retrology.