Puzzles are an important aspect of many role-playing games, and the game Pathfinder: Wrath of the Righteous is no different. Puzzles do make the experience of games interesting and fun, which is doubled once you get fulfilling rewards at the end of it. That being said, not everyone can easily solve every single problem. That may result in them getting stuck on a specific one. One of these is Pulura Falls Puzzle, and this guide will help you uncover the solution, so you can get your hands on amazing rewards.
Where to find the clue for the puzzle?
There are two books and a few torn-out pages that you can find if you want to solve the puzzle by deciphering the words yourself. These are the locations of the page and the two volumes that will provide you with a tip to solve the Pulura Fall Puzzle.
Torn-out pages from the Sarkorian Book – They can be found randomly on your journey, so don't miss out on anything along the way.
Old Sakorian Book and The Cosmic Caravan and Its Journey Across the Night – These can be spotted in the library before the puzzle.
Unless you wish to solve the problem yourself, you won't need them. However, since you're already here, you don't need to open them because we'll show you how to solve the problem in this guide.
Selecting the right blocks
Once you reach the puzzle room, you'll see a constellation well with tiles around it. These tiles are intractable, and you have to choose the right ones to pass the puzzle. Also, the selection would be in order to do the puzzle to work. The order of the tiles or buttons is the following:
The Newlyweds
The Daughter
The Rider
The Patriarch
The Pack
The Follower
If you don't know what each of these is, you can hover over the tile and see the name there. For a more specific guide, follow the numbers in the image given below.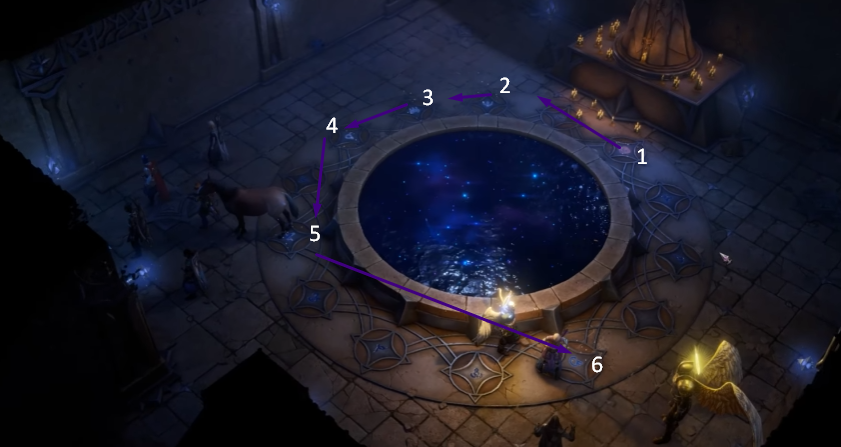 Rewards
When you're done with the puzzle, the secret door will open, revealing a staircase. Go down the staircase which leads right into the treasure-filled room. This hidden location has 59000 gold, numerous valuable stones, some scrolls, charmed staves, and rings. It also has an item called Summit Mask which would be later used for another quest, More Than Nothing, making it an important item.
And that marks the end of the mystery of solving the Pulura falls puzzle. With this guide, you can easily have access to a room filled with goods, so don't miss out on it. Let us know in the comment section below, which guide you want us to cover next. If you want help with more puzzles, check out the guides section on our site, Retrology.