One piece Odyssey is a role-playing video game that will be released by Bandai Namco Entertainment and developed by ILCA. According to a Bandai Namco event at this year's Tokyo Game Show, the official One piece Odyssey Release Date is revealed to be 13th January 2023 which si the confirmed and final date, hopefully.
This is how the official Once Piece Odyssey Website has defined the game:
"ONE PIECE ODYSSEY is an RPG project to commemorate ONE PIECE brand's 25th Anniversary, which combines classic staples of the JRPG genre with the unique elements of ONE PIECE. This game has been lovingly crafted over many years to ensure that fans can truly touch the world of ONE PIECE… and now, ONE PIECE ODYSSEY is ready to set sail!"
Trailer from Official Website
Pre-Order Benefits
With the official One piece Odyssey release date, the game is now accepting pre-orders via the official website. Pre-ordering the game will earn you a slew of bonuses. The most notable of which is the Traveling Outfit Set, which simply transforms the Straw Hat Crew into their original outfits. There's also a digital-only Deluxe Edition of the game, which includes some uncommon accessories, another outfit, and some extra content that will be released later. This game is also present on Steam so do check it out if you want to download it from there and play it as soon as it comes out!
Gameplay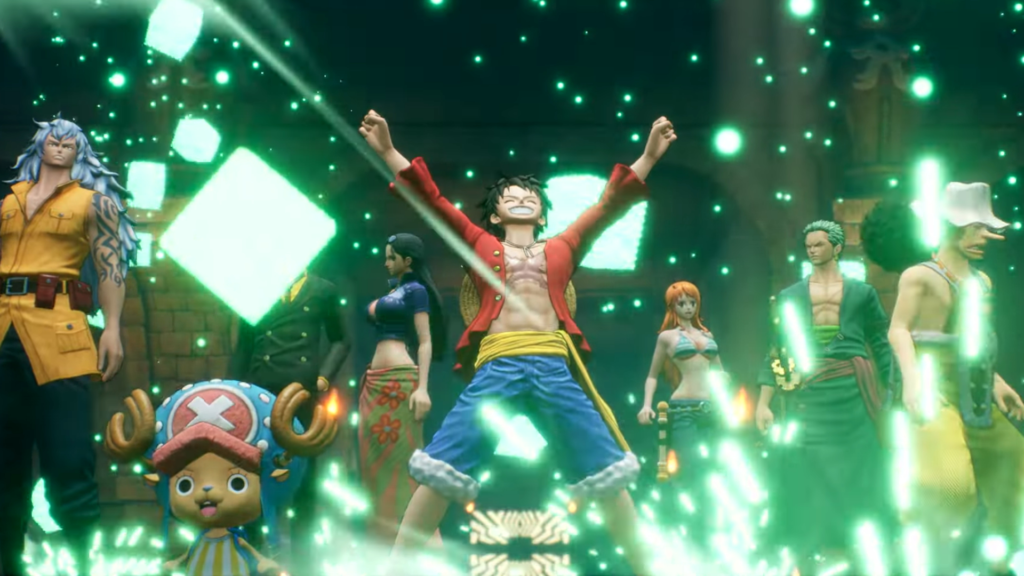 The game is touted as a full-fledged RPG game, which means that each character will have a variety of abilities to unlock as the tale progresses. It is unclear whether it is possible to select a party of characters to utilize in battle or if this is chosen by the encounter.
One Piece Odyssey is a role-playing game with a turn-based system. Outside of combat, the player guides Monkey D. Luffy and The Straw Hat Pirates through open regions and dungeons. Every playable character has a distinct ability that corresponds to their power and is used for traversal, collecting goods, and solving puzzles.
The majority of the game will be spent exploring the island as Luffy. The trailer showed the captain sprinting and climbing across a beautiful map filled with dungeons to conquer and treasures to discover.
Platforms
The game, latest to the One Piece Franchise, will be released for PlayStation 4, PlayStation 5, Windows, and Xbox Series X/S. There are currently no Xbox One or Nintendo Switch versions listed. It is very unusual in the case of Xbox, given that it is coming to PS4.
There were many other games announced at the Tokyo Game Show 2022 so check them out here.