Developed and published by COGNOSPHERE PTE. LTD, Honkai: Star Rail has just hit the screens of many players right after its release on the 26th of April 2023. The game is currently available for free on the Epic Games Store which adds to the hype created by this game in the gaming community.
Apart from all the space fantasy experience and the galaxy's infinite wonders, the game is equipped with quite a few missions and quests. One such quest that we will be going through today is none other than the Hide and Seek Quest in Honkai: Star Rail and perhaps that's also the reason why you're here.
This Hide and Seek quest as a whole can be a little confusing for many players. So in order to make it a bit handy for the players, in this guide we will be helping you with everything that needs to be done in order to successfully complete this quest. Hence without any further delay, let's begin.
Hide And Seek Quest
before you begin, do bear in mind that you will first have to reach at least Trailblaze Level 7 and complete the You Can Run, But You Can't Hide mission before you can begin with this quest.
The main goal to complete this quest is to find all three children in the game of hide and seek. When March 7th and the Trailblazer reach Boulder Town here they come across three children who seem to have all the answers to March's questions. However, they will only answer if March 7 joins the moles and win the game of Hude and Seek.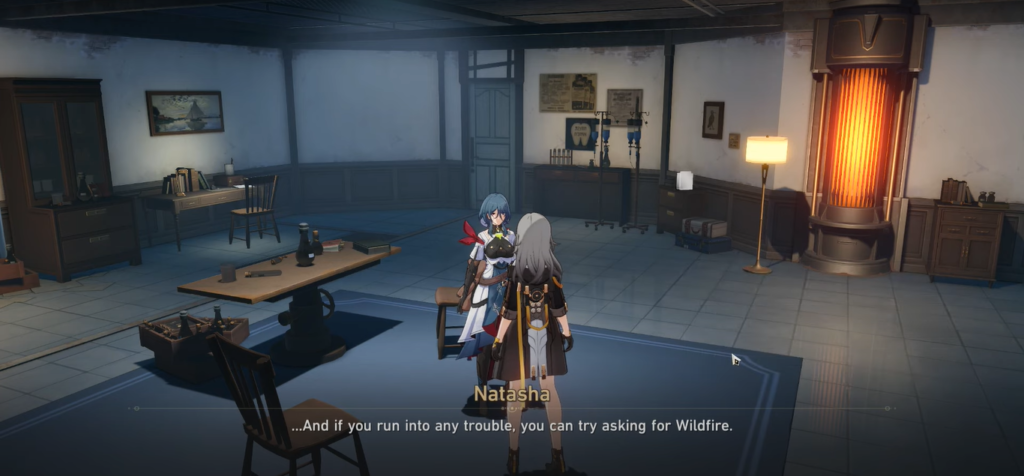 Now, to begin with, talk to Natasha at her clinic in Boulder Down and then head outside to find March 7 and Dan Heng. After you're outside, you will now have to find the concealed kid. He will be located next to the space anchor, the kid will be hidden near a door.
Talk to the hook and he won't be much happy with the fact that you've found him. However, he will mention that it was just a practice run and will challenge you for a real game. Now, you have to find all three children to progress with the quest.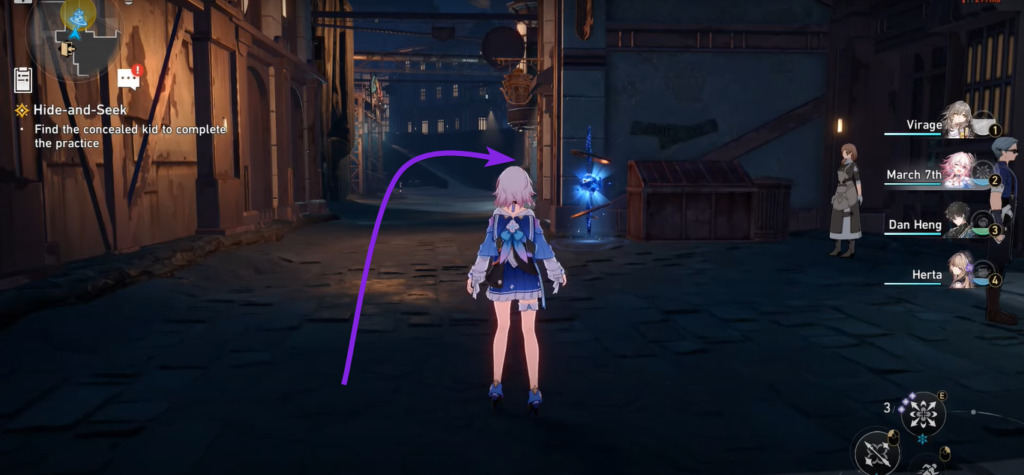 Child #1 – Sidekick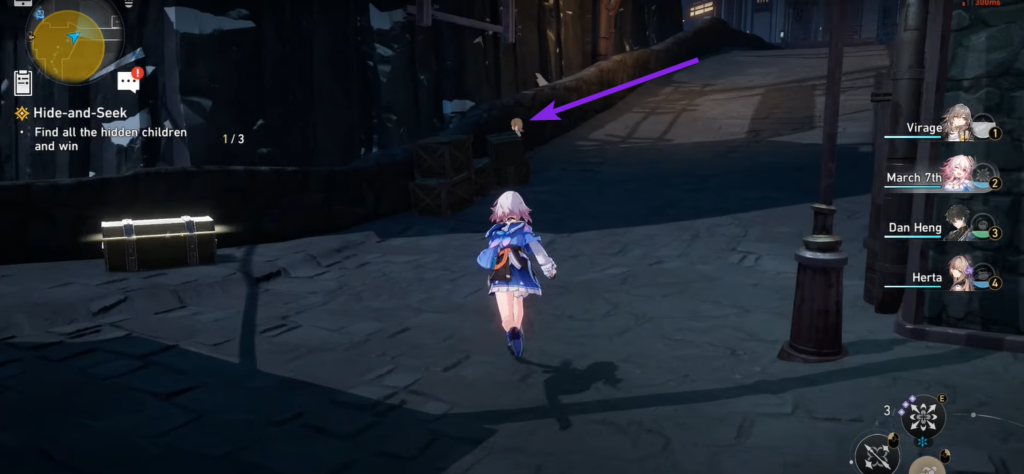 The very first child that you can find is the mole's side kick which will be located on the east side of the circle of the quest shown on the map. You will find the kid behind some boxes, once again the kid won't be happy with the fact that you've found him. He will start to say that it doesn't count unless you answer a few questions. Be sure not to answer these questions as this is just a trick to fool you.
Child #2 – Julian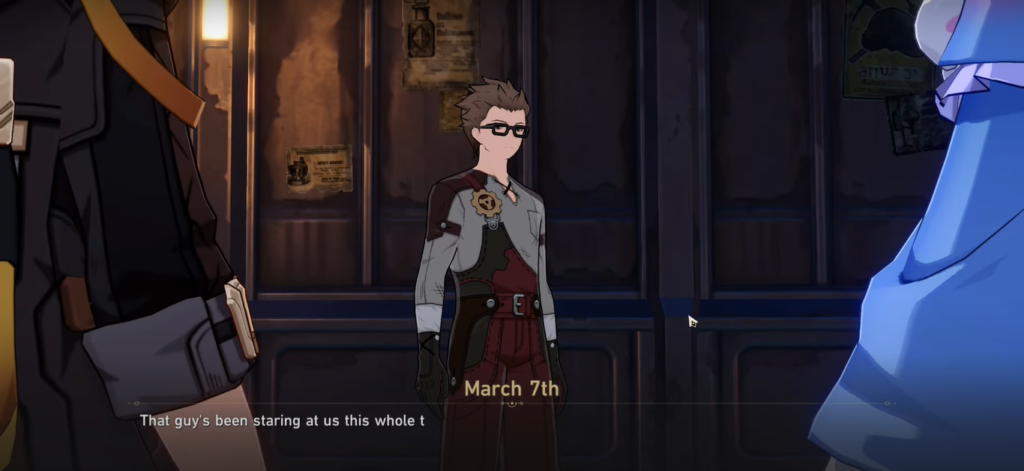 Now make your way to the north side of the yellow quest circle shown on the map. Here March 7 will notice something strange. Listen to the March 7 suspicions and let her investigate the man standing who seems a bit strange. During the investigation, consider choosing the questions that question the identity of the man.
After the investigation, March 7 will figure out that this grown-up man has the sound of a child. March 7 will now notice that it was a trick and Julian has transformed himself into a grown man using his ability.
Child #3 – Hook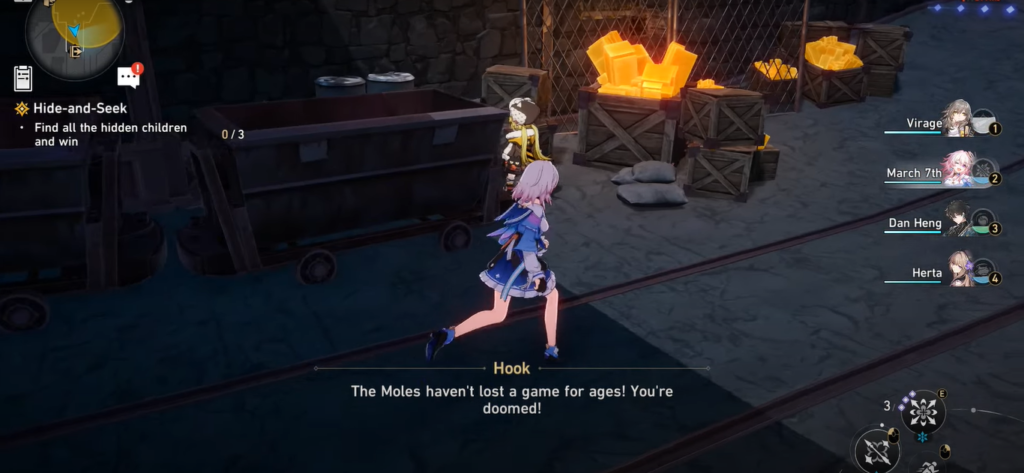 Last but not least, Hook is located on the south side of Boulder Town near the Geomarrow Ores. You will find him behind the boxes. Obviously, he once again won't be much happy with the fact that you've found him.
After you've won the game of Hide and Seek, Hook will now lead you to a fight club. Follow him and that is where the quest will be successfully completed. You will be rewarded with Trailblaze EXP x300, Credit x4000, and Adventure Log x3, so cheers to that as well.
Well, that's about it, congratulations on completing the Honkai: Star Rail Hide And Seek Quest. Do let us know in the comment section below which guide you want us to cover next. Also, don't forget to subscribe to our mailing list down below so you don't miss out on any of the latest guides and updates. We'll see you in the next one.