Fans are finally getting Hitman 3 on Steam after eagerly waiting for it for a year. After the initial launch fans are dissatisfied and many are leaving negative reviews on the game making it overall a badly reviewed one. Looking into it fan's anger is somewhat justified, but here are all the reasons why Hitman 3 is getting terrible reviews on Steam.
After waiting for a year for Hitman 3 to be available on Steam, fans are massively disappointed about not getting any discounts on the game for a year-old game. Plus, the discount has been added deceptively as the original price is increased and it's PC VR mode completely sucks. Whereas on Epic Games Store, the game was frequently on sale during holidays and through coupons, the $60 game could be bought as cheap as $13.99. Simply put, the fans were not expecting to pay the full price for the game that's a new release and hence were rightfully outraged.
Some of the Steam reviews are stated below:

"This game is great. Really. But I don't really want to recommend it right now because this game has a lot of problems due to IO Interactive's decisions I can't stand. I would rate this game with a Mixed rating if I could but for now, this review is negative because I'm more disappointed than I am happy on how the developers are handling this game."
Another user states the following:

"The game itself isn't bad (it's excellent) but here are a few things you should NOT do on a Steam release, specially since you should've already learned from past experiences:
1. Don't release a 1 year old game at full price while increasing the price on other platforms to match it.
2. Don't create fake "discounts" by increasing the base price of your DLC.
3. Don't create 6 different packs that are so confusing not even their Steam description can explain the difference properly..." – Steam Review
The owners of past Hitman games on Steam also get no loyalty discount and are expected to pay full price. The pricing of the various editions and the content it contained was so confusing that a guide was made by one of the users on r/HITMAN on how to buy the game.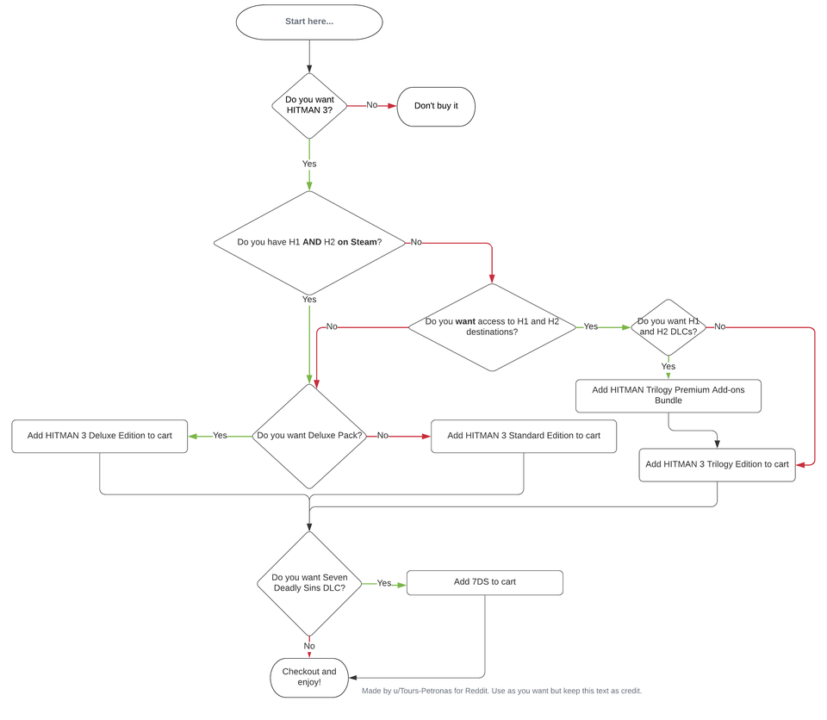 The players also feel cheated on by the limitations of Hitman's new VR mode. After taking a year to launch the game players expected a better performance. The game's VR is currently at the top of IOI's known issues list and a hotfix was deployed aiming at improving performance.
The silver lining to the launch is that the entire Hitman trilogy is out in a better deal only if you are okay with your access being dependent on a monthly subscription. All three games just arrived on PC Game Pass. Hopefully, the platform will compensate the players in some way to boost up the Hitman 3 Steam reviews.
Also, don't forget to check out our Gaming and Guides sections. We cover reviews, news, and a lot of other stuff so, keep following Retrology.