In Genshin Impact 3.1, Hyakunin Ikki Narukami Arena challenge, based in Inazuma is a combat challenge event that is back again. Hyakunin Ikki 3.1, like previous editions, will include six different challenge levels, with one stage unlocked each day for the first six days. Throughout the event, trial characters will be offered, and you can use them or your own developed characters to form tag teams with Secret Arts, which are potential benefits that can help you win battles. Let's get on with the guide.
Location of Challenge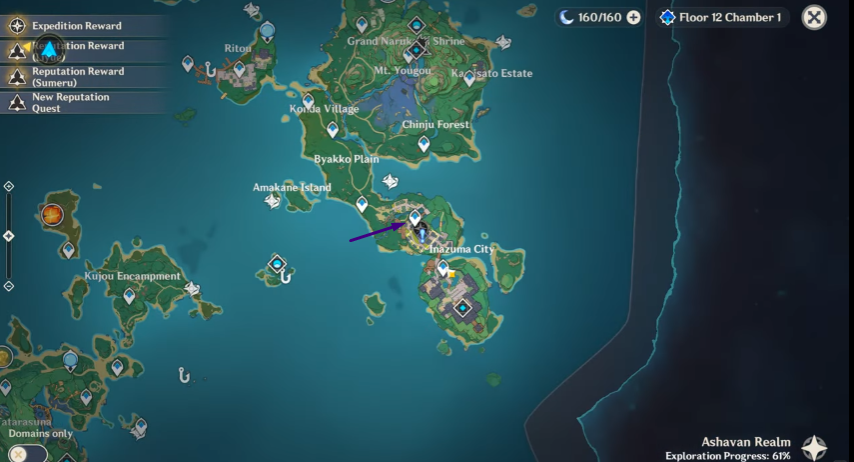 Let's start with the location of this challenge. Teleport to the point closest to Inazuma City. The closest one is marked on the map above. Even though the location is Inazuma City, you'll go to another place once you initiate the quest.
The Challenge: Hyakunin Ikki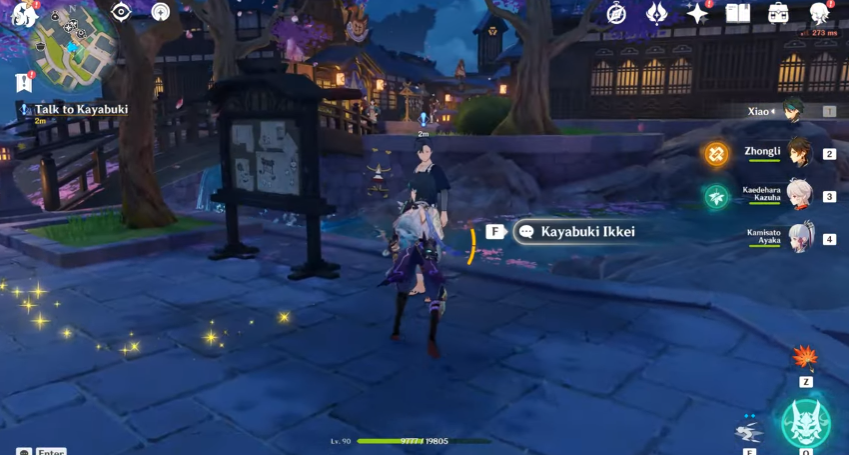 From the starting point where you are teleported, go straight ahead until you see a path going right. Here on your right, go up to the man named "Tayabuki Ikkei" and talk to him. This will start the challenge.
Once the conversation is started, choose the option "We meet again". With this, the conversation will take you to the other area you'll need to be to fight in the Narukami Arena.
Once the event starts, you'll need to choose suitable characters for the battle. You can choose in pairs for each round. Match the characters well with the ones you feel would go together. The objective is to defeat as many opponents as you can in a specific time to choose pairs that complement each other.
Also, consider that all the opponents may vary in power and size so keeping someone who can take on powerful ones with fast characters can be a good combo.
Point to Consider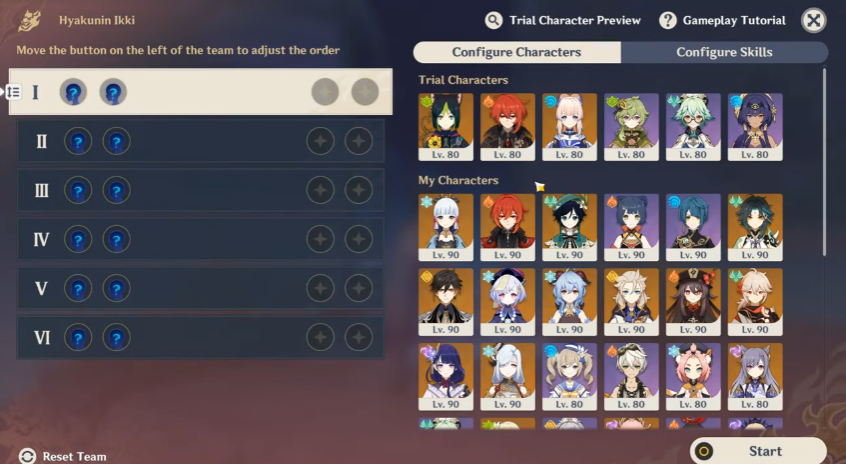 Make sure you have Adventure Rank 30 or above. 50 is better.
Complete the Archon Quest "Ritou Escape Plan" unless this won't be unlocked.
Hyakunin Ikki has six challenges in all, with a new challenge unlocked every day for the first six days of the challenge.
During these challenges, you can construct 6 tag teams of two characters using either the trial characters given or your own characters, and each tag team will receive an event-exclusive Garyuu Art.
Garyuu Arts can help the squad on the field by providing buffs. Each team can have up to two Garyuu Arts.
The challenge asks you to defeat opponents in order to score points in a restricted amount of time.
The challenge cannot be started when in Co-Op Mode.
During Hyakunin Ikki challenges, Elemental Resonances will not be active, nor will you be able to consume food or other consumables.
Rewards
Here are the rewards you'll get as a result of finishing this challenge.
10,000 Mora
Primogenes
Kongou Lion (Platinum)
These are the only awards for the Hyakunin Ikki Narukami Arena event in Genshin 3.1. As the day pass, for all six days, more rewards would be announced accordingly.
Good Luck with this Genshin Impact Hyakunin Ikki Narukami Arena event. If you're done with it, you can check out these Genshin Impact guides for other quests.