It's well known by now how much Fortnite loves to add new skins based on other games, movies or just overall loved characters. This is one of the things which has still kept it in the talks so it can be counted as their very successful strategy. So far they have added skins of John Wick, Naruto, Deadpool, Wolverine, Chun-li, Lara Croft, and Raven to name a few. Now Fortnite is adding John Cena!
John Cena, who is a renowned celebrity and a 16-time WWE champion, is the next skin to join this Fortnite battle royale grounds game. Even those who aren't familiar with the world of wrestling know John Cena which shows his popularity isn't just limited to that sport. Let's be real, who doesn't know of John Cena? John Cena is everywhere right now because of his numerous collaborations and acting abilities.
Fornite announced his arrival on their official site and on this Twitter post officially.
What does the John Cena bundle include?
The Entrance Gear and Ring Gear styles will also be included with the character skin. The Item Shop will also receive more optional material, such as the John Cena Set: the WWE Championship Title Back Bling, which includes the outfit, the open-hand Five Digit Slapper Pickaxe, and the 'U Can't C Me Emote. It's unfortunate that you can't play with an invisible John Cena, courtesy of his most famous meme. Yeah, it wouldn't be fair to add that as it would mess with the mechanics of the game.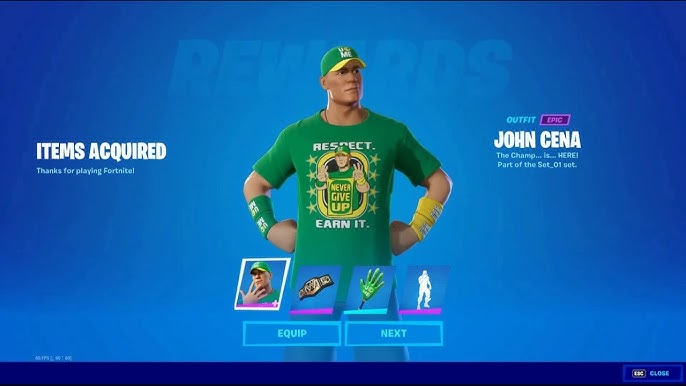 Get your hands on it as soon as you can!
It is expected that the John Cena Outfit will be exclusively available through the Fortnite Item Shop. The items will come to the shop beginning on July 28, 2022, at 8 PM ET / 5 PM PT.
Epic Games hasn't revealed the exact price as it would be revealed only in-game when it appears in the Item Shop. You can get a considerable amount ready so you can buy it as soon as it's available and not miss out on it.
Also if you are willing to use actual money, you can use it to buy V-Bucks in-game. Expect the amount as you would for rare or timely items for the John Cena skin as it is a quite well-known and popular figure.
If you like getting different skins for your character like Fortnite John Cena, here are other guides for them: Guide To Get Obi-Wan Kenobi Skin In Fortnite.