In Xenoblade Chronicles 3, Mio is one of the primary characters who is controlled by players. You can learn more about Mio's character description, her appearance in the game's plot, and her class and skills, in this guide.
Mio, a member of the opposing Agnus country, is an off-seer like Noah. She works in a different trio with Sena and Taion as the second protagonist in the narrative.
After a boss encounter in which Noah and Mio combine to form the Ouroboros, you'll be able to control Mio and discover more about her toward the end of Chapter 1.
Class Skill
Mio's class skills as a heavy tank enable her to avoid harm or deal damage reduction to herself or her allies. As a result, you should employ Mio's tanking skills in combat.
Stormy Gale increases Agility by 20%.
I'll Defend you gives a 13% chance to stop attacks on teammates in a specific area.
When you evade an attack, Split-Second Counter deals 150 percent of the attack damage.
Ether's Sanctuary increases 15% in Ether Defense.
Master Skills
Mio's Master Skills also increase her ability to avoid damage, strengthening her protection and increasing the damage her Physical Arts do.
Increases Physical Defense by 15% with Defensive Soul
Fighting Prowess increases the damage that Physical Arts deal by 40%.
Gem Selection
Doublestrike II increases each auto-probability attack to hit twice by 17%.
Agility is increased by 12% with Tailwind II.
Notably, Steady Striker is another choice that gives Mio increased attack speed. This can be helpful given that the majority of Defenders hit very slowly. This will raise the overall DPS against foes when combined with attacks that provide high damage.
Accessory Selection
Gear Support increases Agility by 20%.
Iron Temple Guard increases maximum HP by 25%.
Talent Arts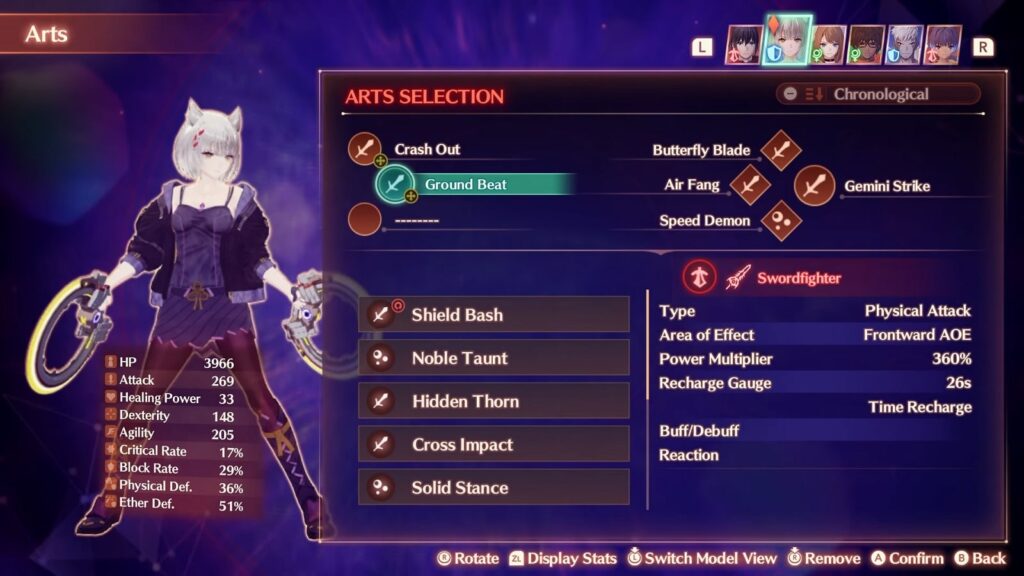 Mio has access to four Talent Arts as a Zephyr.
Gemini Strike increases the amount of aggro created by art by 50%.
Butterfly Blade increases aggro by 70% when art is used.
70% more damage is dealt when hitting foes who are aiming at you when using Air Fang.
Speed Demon increases evasion by 30% and lowers damage caused by 15%.
Wide Slash gives up Critical Rate to deflect enemy assaults.
Twin Rings, Mio's go-to weapon, can deter attacks and render adjacent allies defenseless. Gemini Strike is Mio's initial class Talent Art. Gemini Strike is a maneuver designed to deflect opponent attacks while also drawing their attention.
Master Arts
The two Master Arts to employ with Mio are as follows:
Crash Out increases Aggro by 70% when Art is used.
For Zephyrs without AOE, Ground Beat offers Frontward AOE, which is helpful.
That will be all for this Xenoblade Chronicles 3 Mio guide. Check through our character guide for a more basic overview of each playable character in Xenoblade Chronicles 3 before choosing the one you think suits you the most.