Undecember is a Hack & Slash Action RPG in which players can exceed traditional skill restrictions by endlessly combining a variety of Skill and Link Runes. Become a Rune Hunter and enjoy the limitless possibilities of farming and growth!
Mutual Understanding Quest can be initiated at the Poisoned Oasis. We recommend coming to do this quest when your character is built up to defeat monsters of Level 11 strength. As you complete the quests in this area and find all the hidden treasure you will also be competing in the Exploration Rate.
If you need help with leveling up your character, we would urge you to check out our Enchant Equipment guide. With that out of the way let's get into the Mutual Understanding Quest in Undecember and how to solve it.
Mutual Understanding Quest in Undecember
When you teleport to the Poisoned Oasis, you can find the popup in the top left of the screen that will guide you to find and talk to Wincel. You will find Wincel a little left on the map. Walking along the length of the stream from the teleport point. If you still cannot find Wincel you can click on the popup on the top left below the map and Wincel's location will be highlighted on the map with a green exclamation point.
You will find Wincel standing near a campfire, surrounded by dead trees.
When you talk to him he will tell you about a mysterious chest hidden in the oasis filled with Essences and Runes. The quest will then move on you finding the chest.
Click on the popup that tells you to Find the Mysterious Chest. An exclamation mark will appear on the map which you can follow to the chest's location. Along with that, you will also be guided to the location of the chest with a white circle that will surround your player and directs him to the chest.
While trying to find the chest and complete the quest be weary of the enemies in the area. When avoided they will pile and gather and would be harder to get rid of. In this area, we suggest clearing areas of enemies as you progress so you aren't killed and have to restart the progress.
For more surrounding context this is where you will find the Mysterious Chest.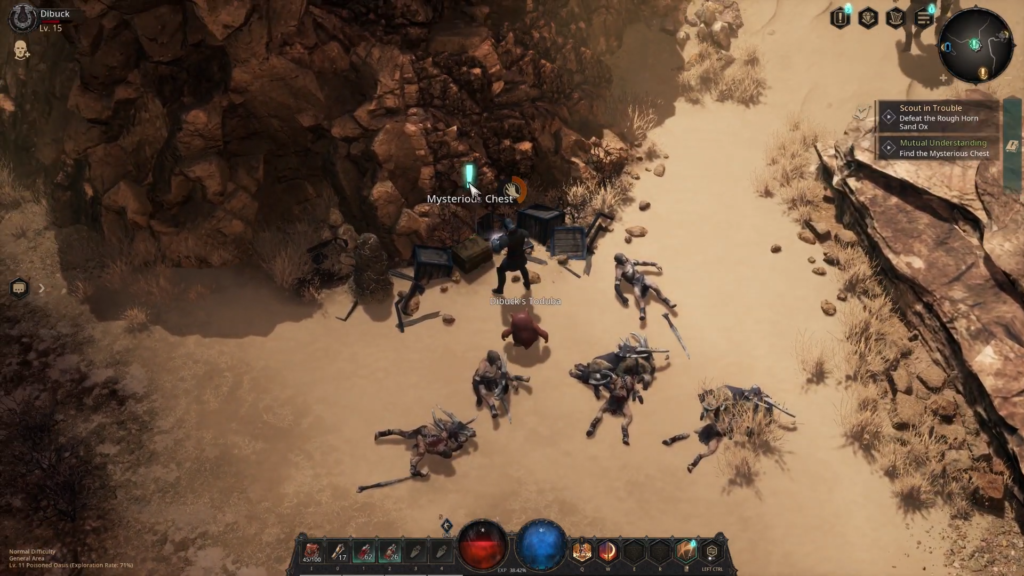 Opening the Mysterious Chest will complete the Mutual Understanding Quest and you will get Essences, Runes, and Currency as rewards.
That is all for the Mutual Understanding Quest in Undecember. We have covered plenty more of Undecember guides for players new to the game. For more guides on Undecember be sure to check out Retrology.