Having fancy vehicles or bikes in Tower of Fantasy is amazing and resourceful. In this fantasy world, you should have ideal resources to survive. In this guide, we have the Tower of Fantasy vehicles guide for you to utilize in the game.
This anime-inspired sci-fi game Tower of Fantasy is packed with action and adventures. This open-world RPG game is impressive with a great futuristic game story. To travel in the Aida world, you must access these vehicles. These resources can be useful when you're tired of running and walking around. Let's read to know more.
Tower of Fantasy: Vehicles
Unfortunately, you wouldn't be able to access the vehicles from the start of the game. If you're progressive, you can get access in Chapter 1. A special menu will give you access to them. The accurate start point is when you have to visit Hykros. You have to follow a series of steps and watch some clips of the main storyline. It might look tiring but actually, it's worth it.
After all the hustle, you will be informed that a good gift is waiting for you. And that is Falcon, a fancy signature bike of Tower of Fantasy. As you have your hands on Falcon, you get access to the primary vehicles menu. And in case you can't access it, press V (PC) to get it. No matter how fancy it is, you need to be careful with it when trying high jumps.
Here is the list of all vehicles in the game. Here are also the details of what you need to do. Remember that the details here are just the information from the pre-release version of the game and it may vary when it's released.
Chaser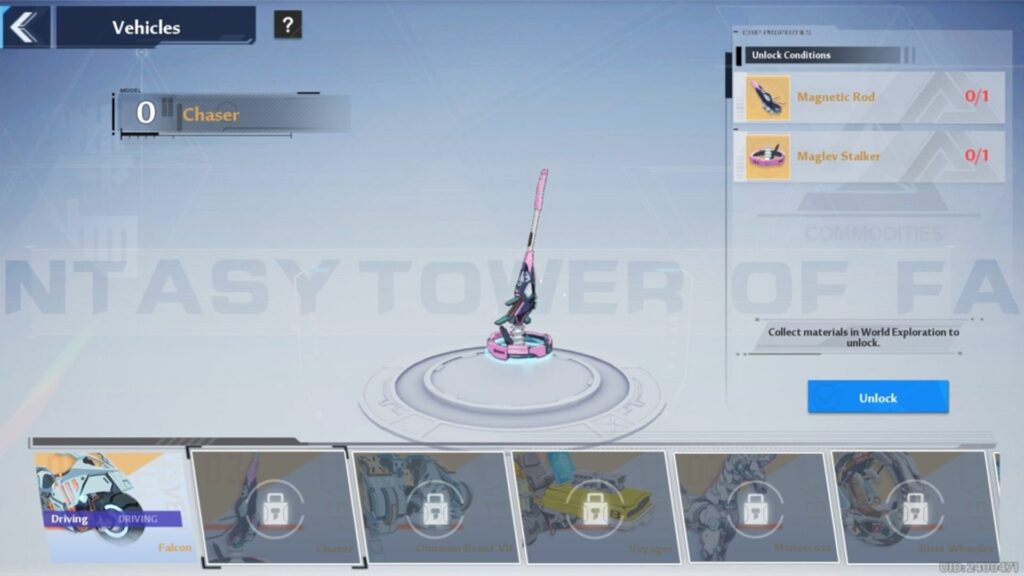 This futuristic ride has two parts. The upper part will be found on the top portion of the pinky head tower. And the lower part will be found when it is dropped from the Vermin brothers. You can easily get it on the first try.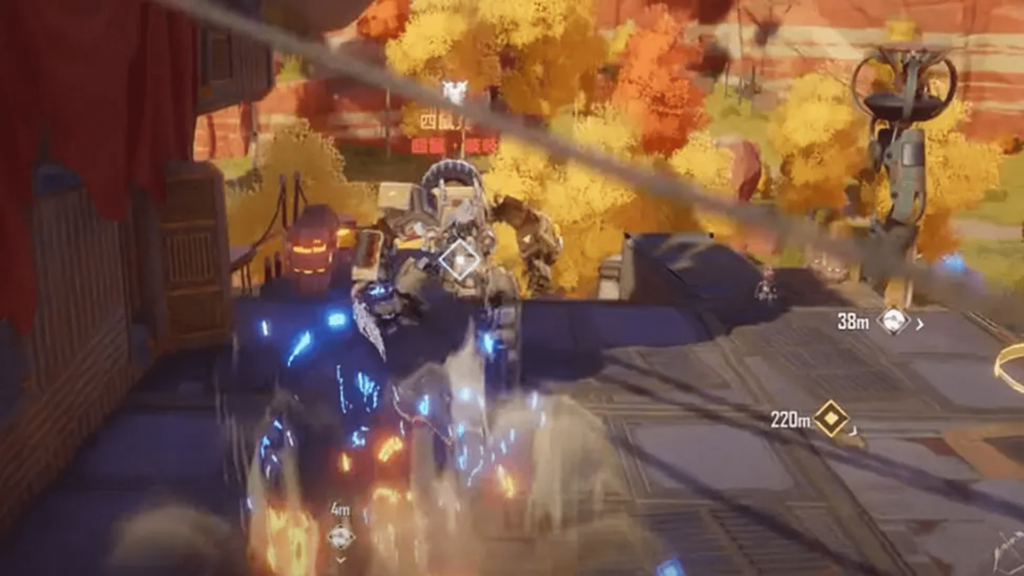 You need to fight four Vermin brothers to get the lower part. They can be an easy target if fought individually. But it will not be easy as they have a very low drop rate. The ideal approach to defeat them is to hit and run.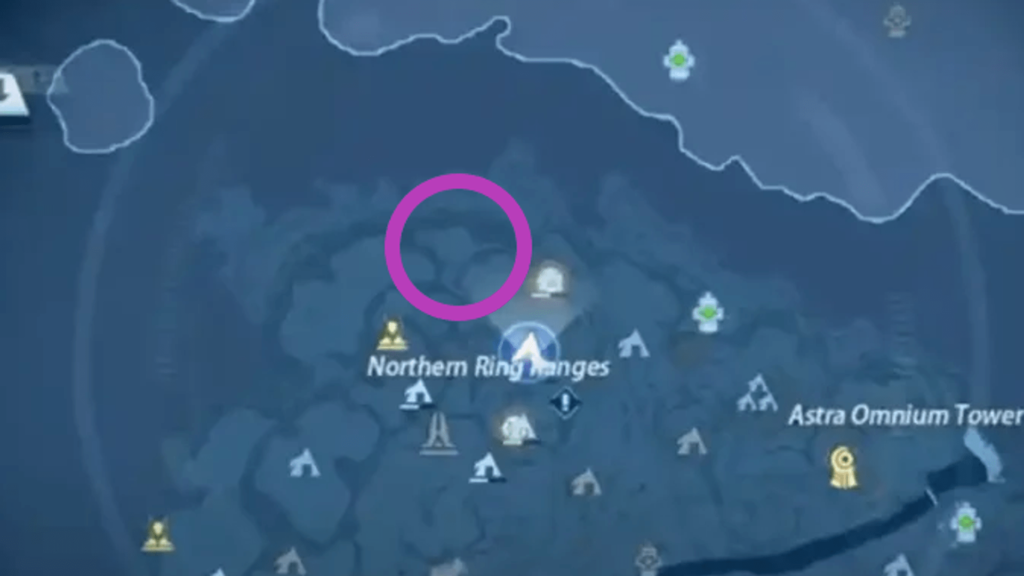 The upper part will be located on the coordinates on the map. You will find a building and head to the stairs. Reach the top and get the golden orb. There is the upper part. Just combine both parts to form the Chaser. It looks like a neon-lit hoverboard.
Omnium Beast VII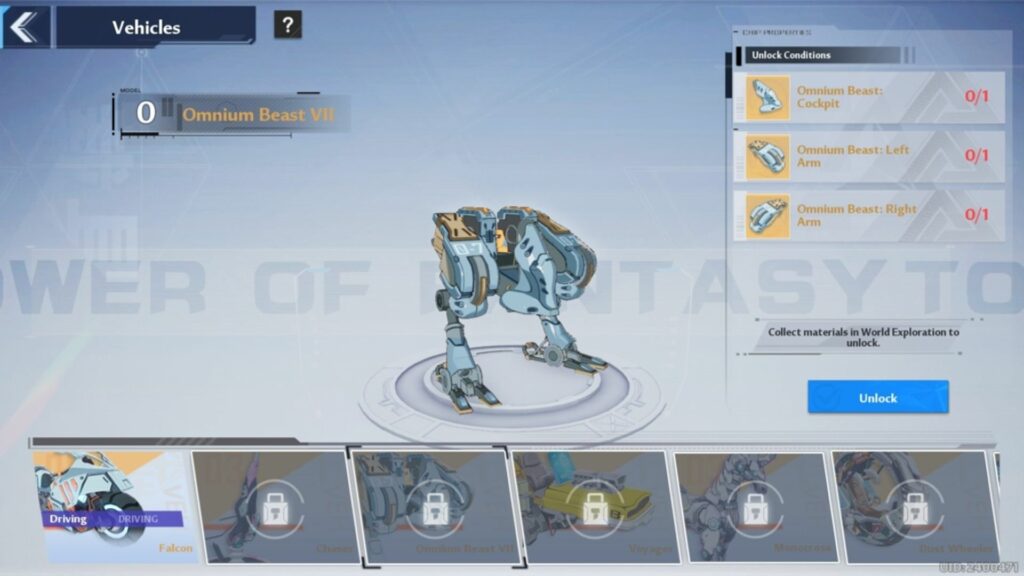 This bipedal mech has three parts. It consists of a cockpit with both arms. You need to have them unlock this vehicle.
Voyager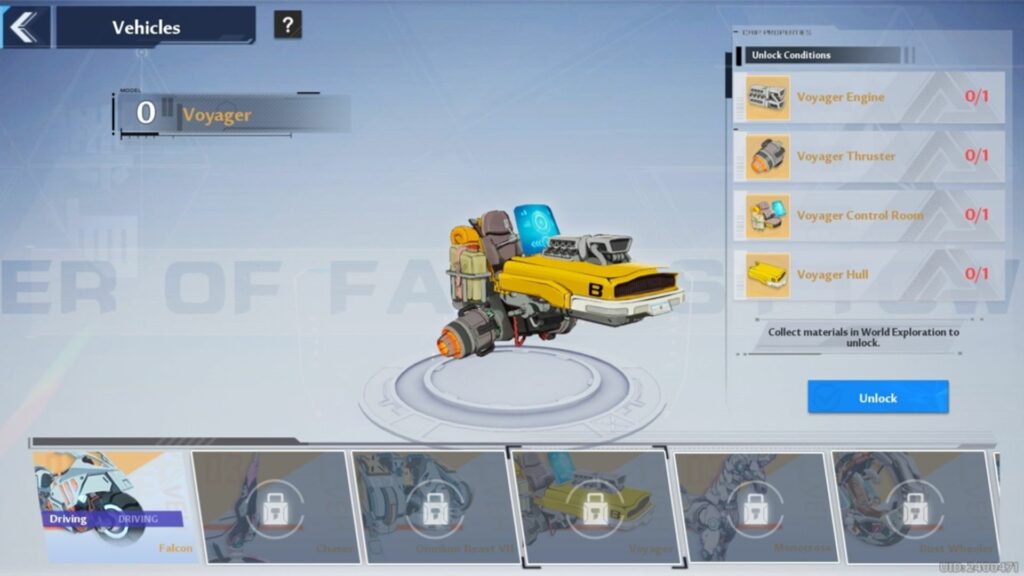 This flying car has a distinctive look. It has few thrusters and a giant engine block. It looks like a power car. To unlock this one, you should have a Voyager thruster, engine, a control room, and a hull.
Monocross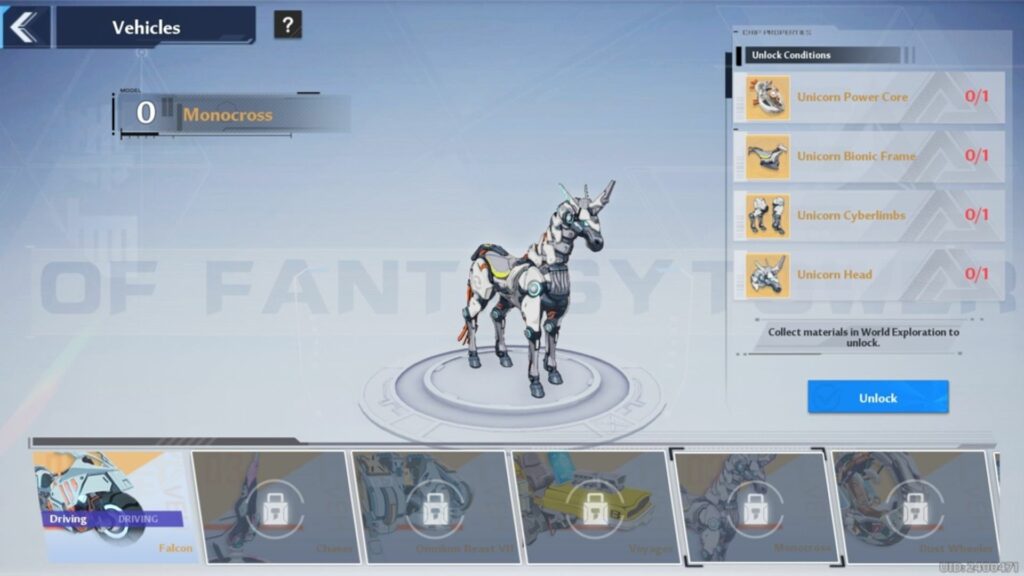 This mechanical horse can be your machinery Unicorn. It has its parts with the name Unicorn. You need Unicorn Power Core, Bionic Frame, Cyberlimbs, and Head. This vehicle is truly a fantastical ride.
Dust Wheeler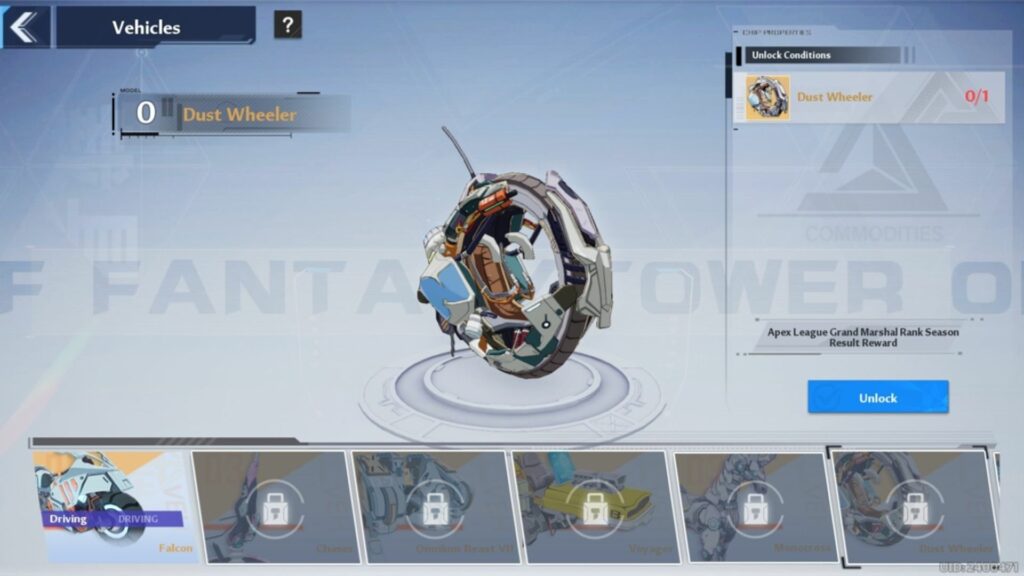 A monowheel ride for this futuristic fantasy world. To find it and unlock it by finishing a quest or a challenge.
This article of the Tower of Fantasy vehicles guide covered all vehicles till now. You can choose yours according to your preferences. There are many more guides related to vehicles from other games on our page. Go ahead and check them out. Having such a fantastic bike in real life would be amazing to ride on.