Since the release of Tower of Fantasy, the SciFi adventure games have got tough competition. This game excites its players with spectacular weapons and resources around the Aida World. If you love games like Genshin Impact, then we can assure you that this open-world adventure game is for you. To survive in this futuristic world of Aida, you should have the right tools live in there. Without any further delay, let's get to the Tower of Fantasy relics guide facts for you.
Tower of Fantasy Guide: Relics
This survival game has amazing characters with stunning visuals with revolutionary scenes. With the right tools like relics, you then conquer the Aida World. Relics are the proper resources to utilize in your quests. It has various reasons according to its type. Like it performs different purposes, acts as a supporting object and also boosts the attack damage caused.
Relics improve the overall performance of the characters. Here are the 19 relics of our guide to let you know about all of them and their specs so you can use them accordingly.
Jetpack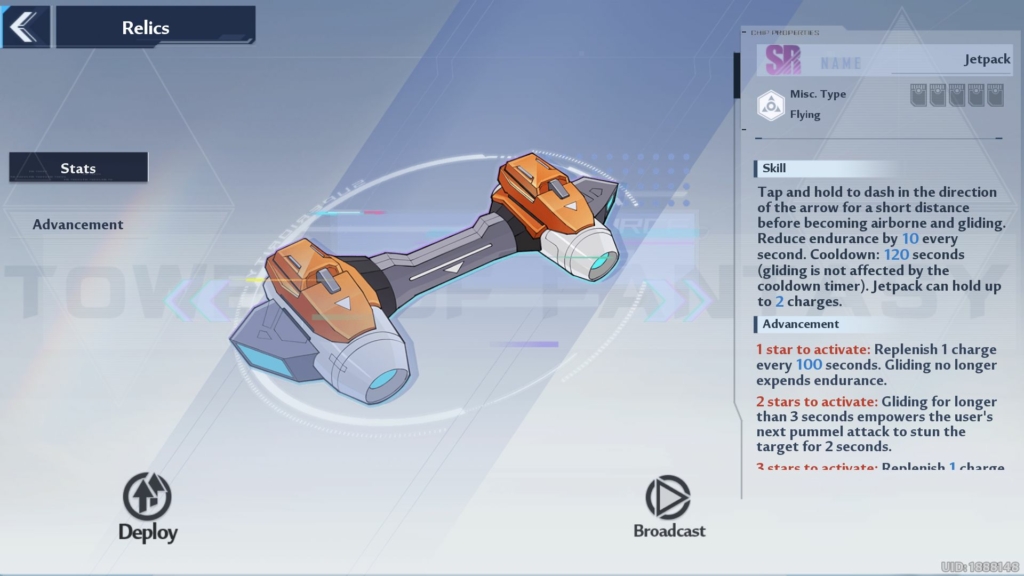 This flying pilot jet has a stunning appearance and abilities. You have a cooldown timer of 120 seconds. It reduces endurance after every 10 seconds. You have to use them for jumping and gliding. And if you're good with timings, then you can switch just before you hit the ground. It's ideal for jumping and gliding at higher places.
Cybernetic Arm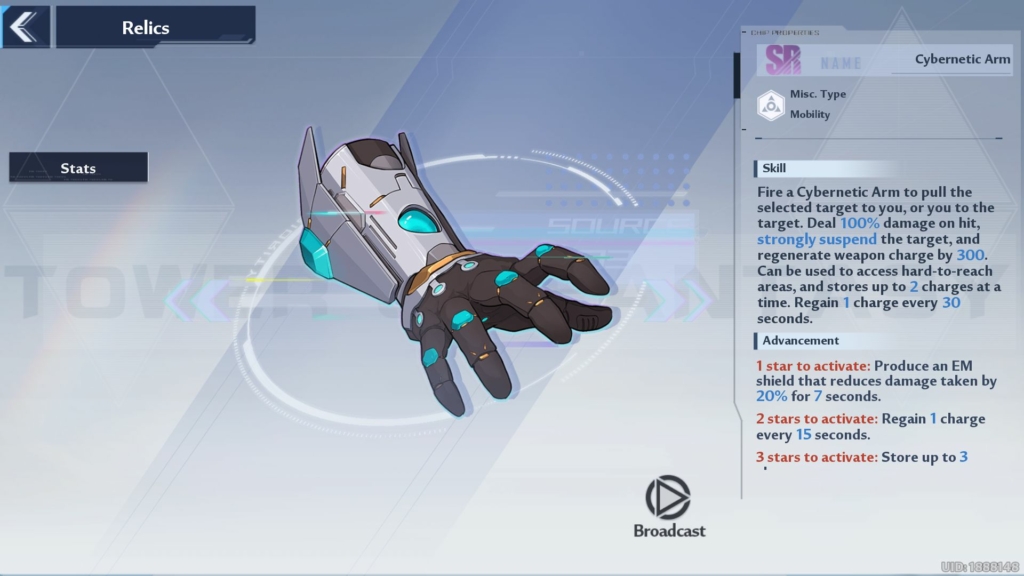 This robotic arm has amazing power and special impacts. It's ideal to use with Jetpack as a hook. It causes 100% of damage and regenerates the weapons by 300%. This arm has the best charging rate as it holds two charges at a time and each recharge after 30 seconds. It can be best used for climbing mountains and grabbing enemies in combats.
Mech Armor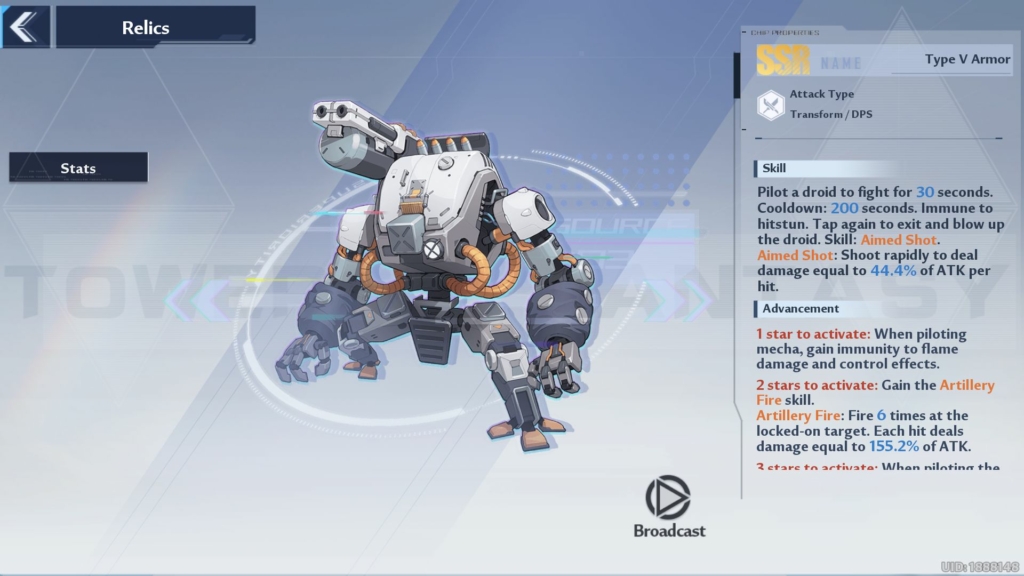 This mechanical armor has a powerful impact on enemies. It has a cooldown rate of 200 seconds and is immune to hitstun. It can be the ideal weapon against flames and remote-controlled enemies as it can render them useless.
Jet Board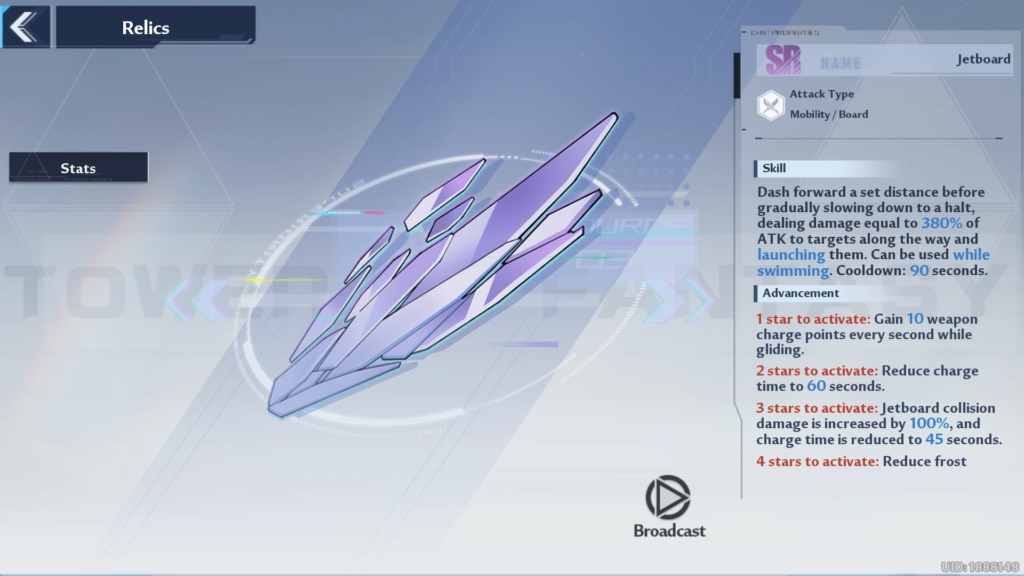 The floating board is the next generation of power-packed relics. It can deal damage by 380% of the character's attack and also has a cooldown rate of 90 seconds. This board is the most famous relic next to Jetpack. It can be supreme relics for floating on water. And can be used ideal to explore islands in Aida World.
Magnetic Storm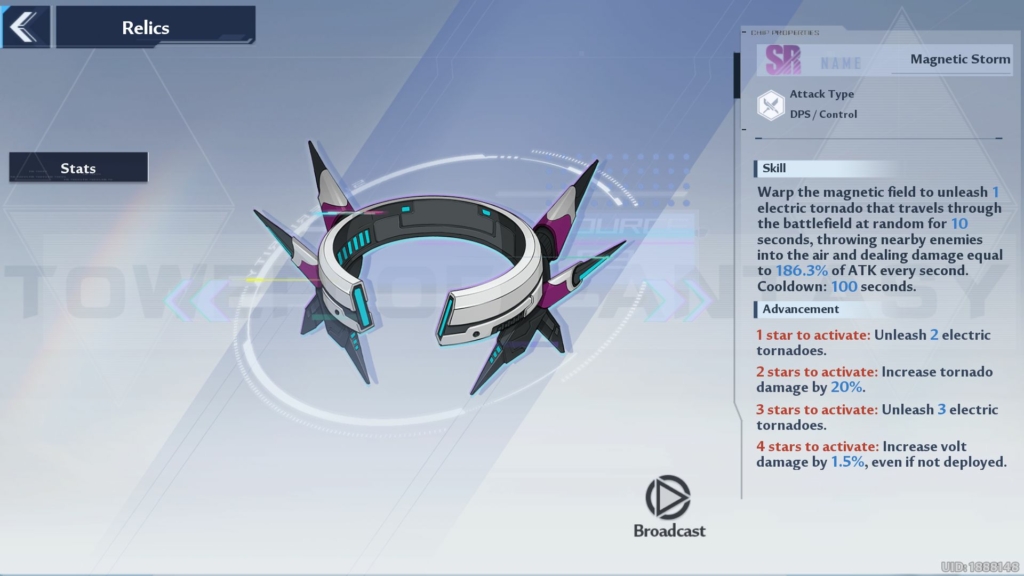 This relic has a purple electric tornado to blow at your opponents. It has a cooldown rate of 100 seconds. It is the perfect relic when you are cornered by your enemy. But it can be very painful if you're attacked.
Missile Barrage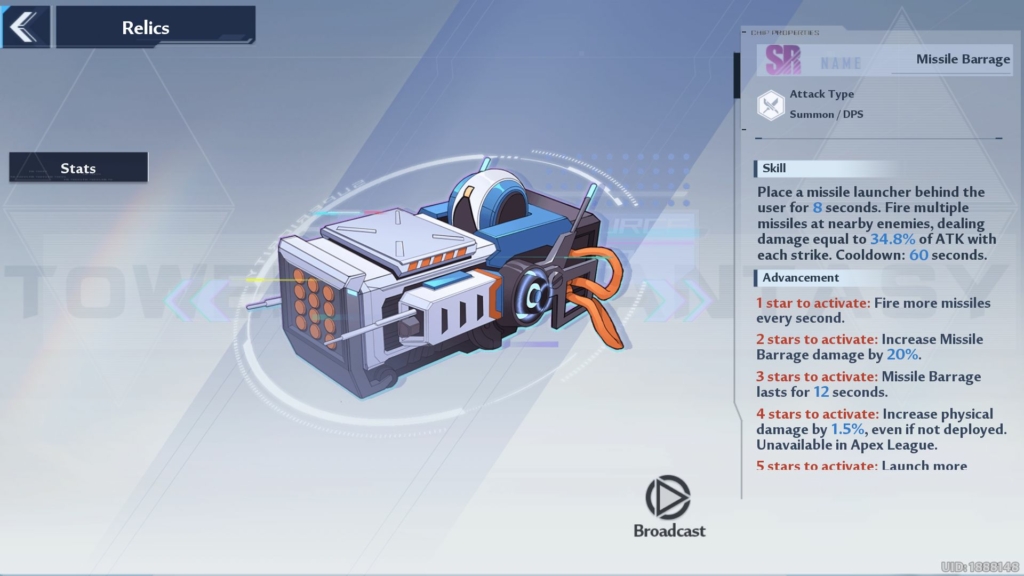 This missile launcher is the death row of your enemy. This relic has a cooldown rate of 60 seconds and increased damage by 35%. With this missile launcher once targeted, a group of missiles is launched and hit the target randomly.
Couant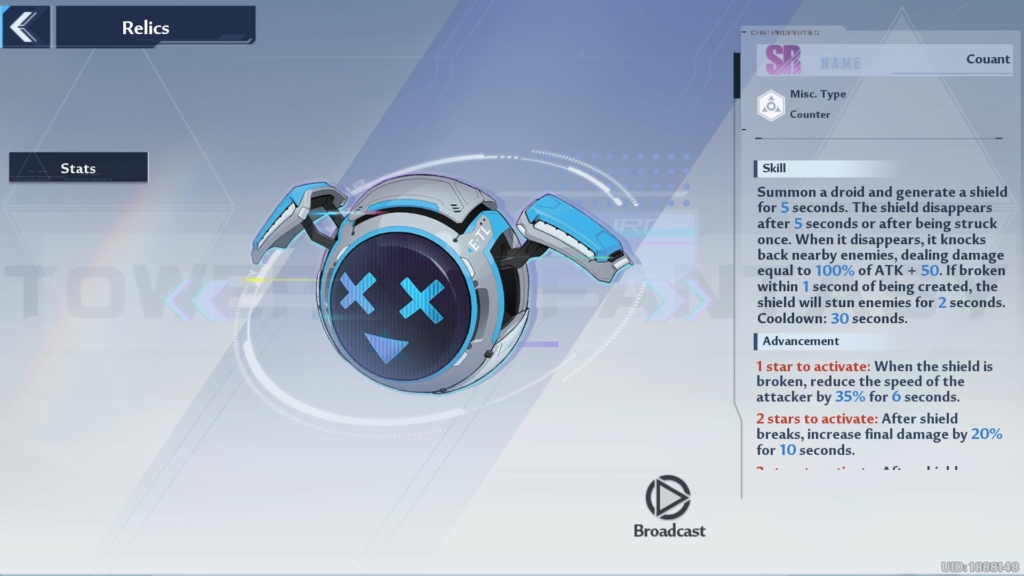 This protective shield has a cooldown rate of 30 seconds. This shield last for five seconds. After five seconds, it damages the enemies by exploding itself. It slows down the enemies rapidly and also increases the final attack damage.
Strange Cube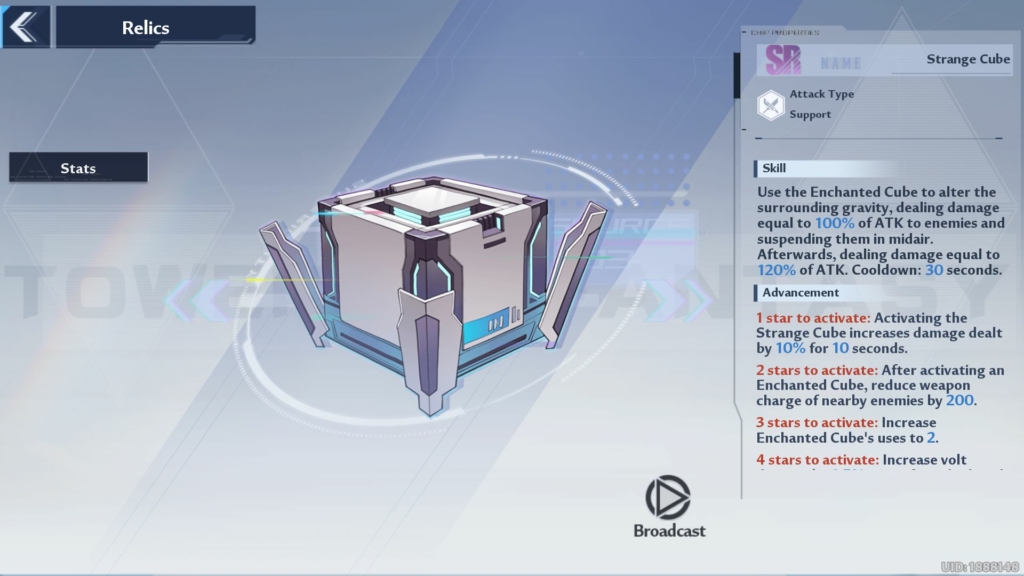 This explosive cube-shaped arm is the perfect bomb you need. With the cooldown timer as 30 seconds and increasing the damage up to 100%, this ultimate relic should be yours. It can be used for exploding the enemies back or clearing the rocks for your path.
Magnetic Pulse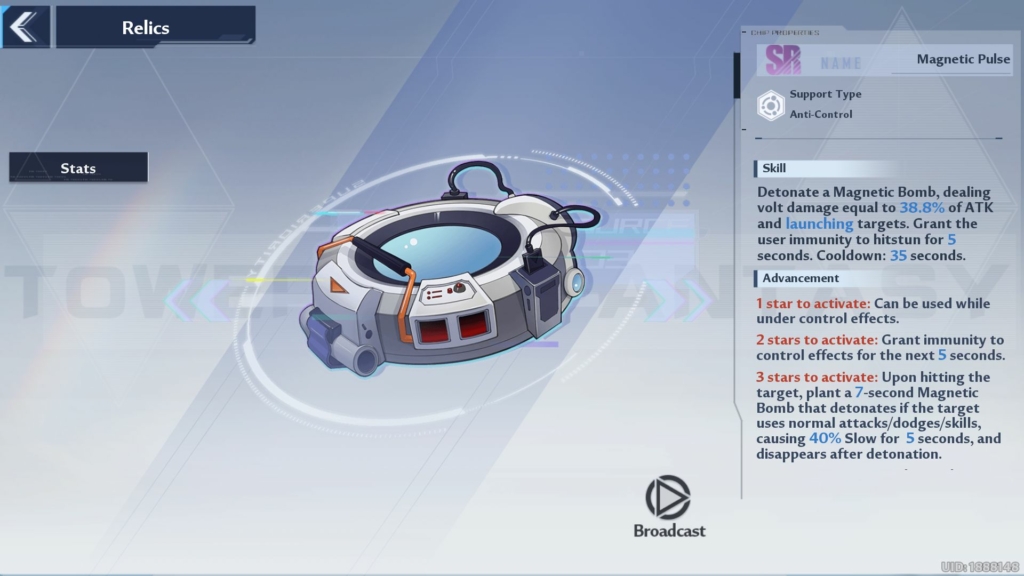 This magnetic force bomb is amazing to get rid of all your enemies. It has a cooldown rate of 35 seconds and gives control immunity to the user. This bomb is perfect as its damages the enemy and gives immunity.
Colossus Arm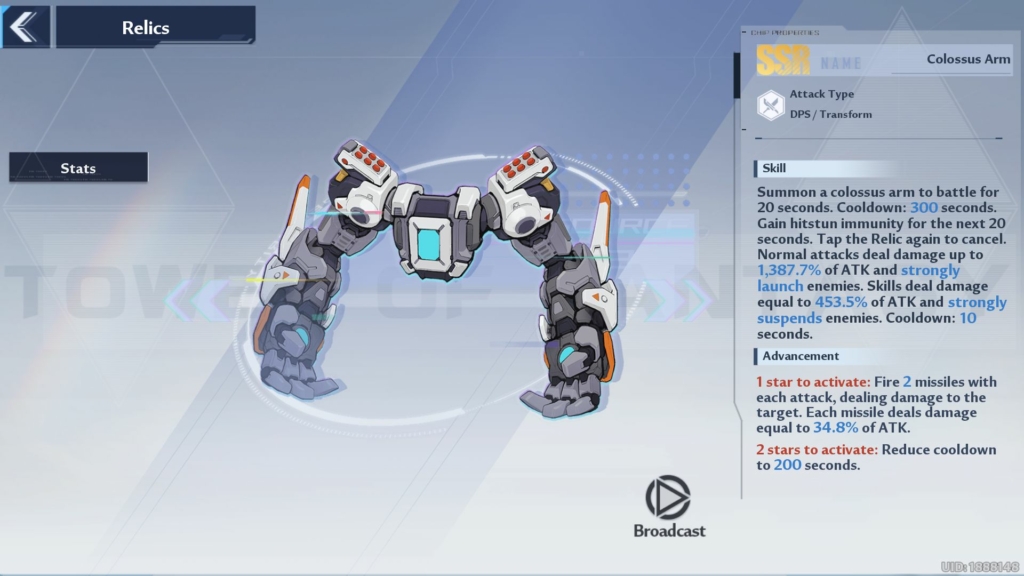 This exceptional relic has terminal power and can cool down in 300 seconds and grants hitstun immunity for the next 20 seconds. Just target the enemy and press its button to launch a missile.
Omnium Sheild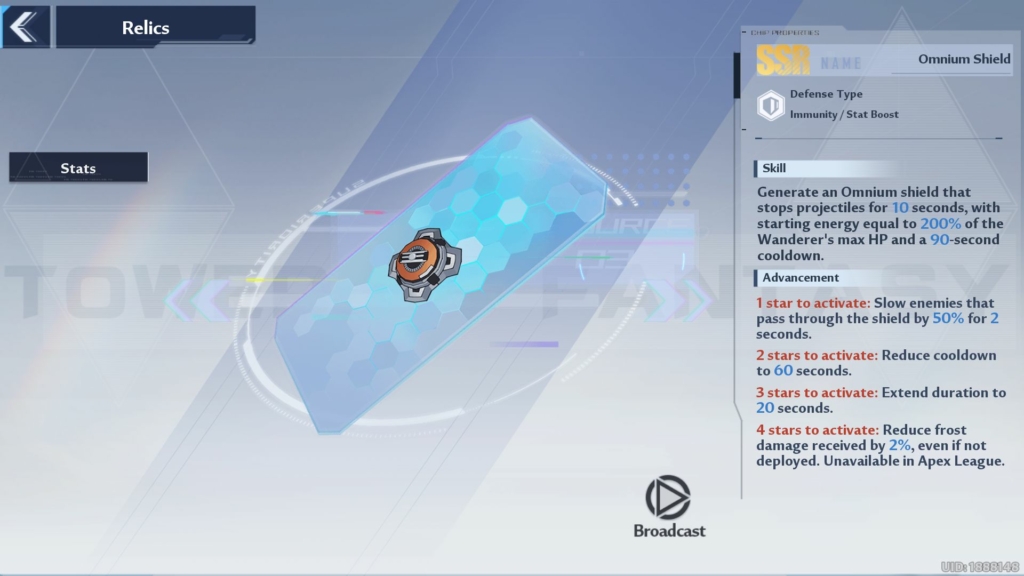 This protective shield protects you from the opponent's missiles for 10 seconds. With a cooldown rate of 90 seconds, Omnium Sheild never disappoints you. If the enemies pass the shield, they will slow down by 50% for the next 2 seconds that providing you a small window to escape.
Spacetime Rift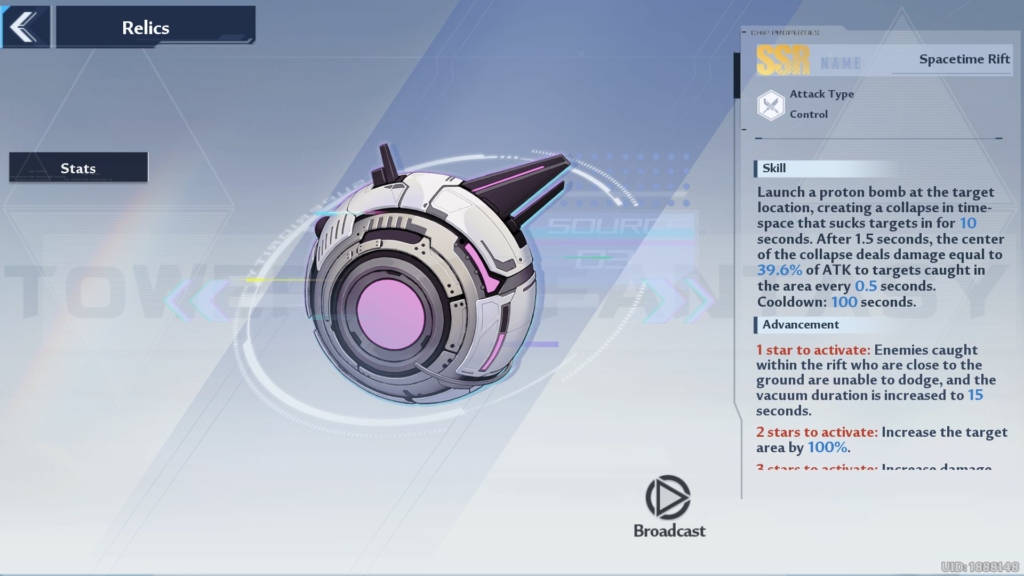 This space proton bomb explodes when hit at a target and sucks in the enemies. It has a cooldown rate of 100 seconds and guarantees you to win.
Confinement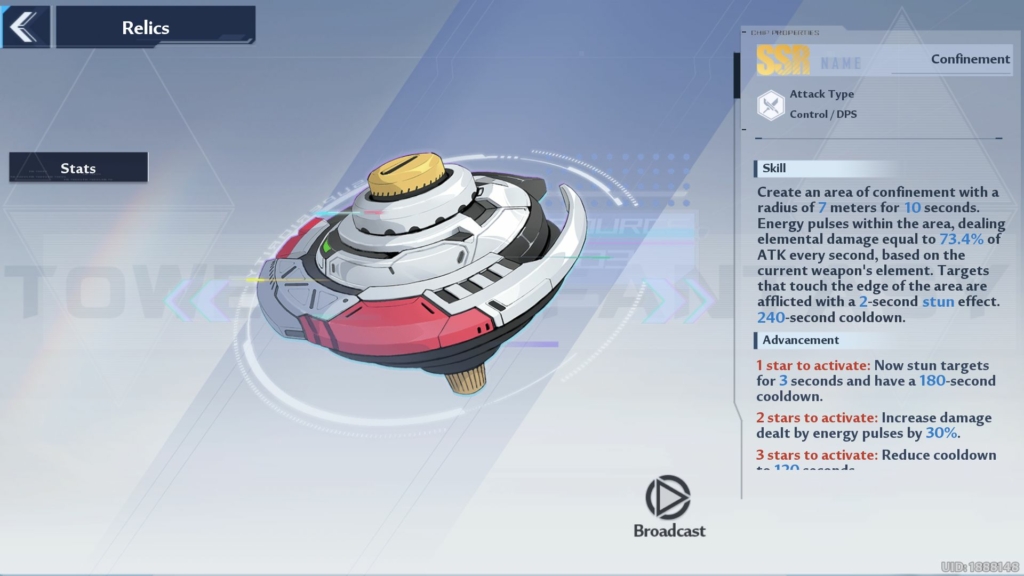 The Confinement sets a field of a 7-meter radius. This energetic field release a pulse on the enemies confined in it. If the enemies try to escape, they get stunned for 2 seconds. This confinement is the torture cell for your enemies.
Drone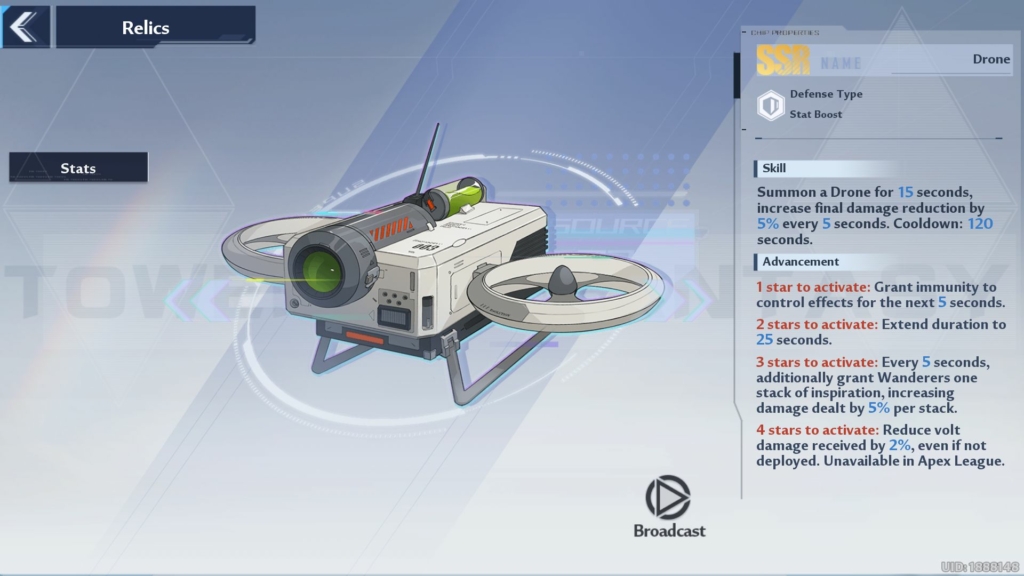 This flying drone follows you on the battlefield for 15-20 seconds. This provides you with damage reduction, allows you to have control immunity for 5 seconds, and increase the attack damage.
Hologram Projector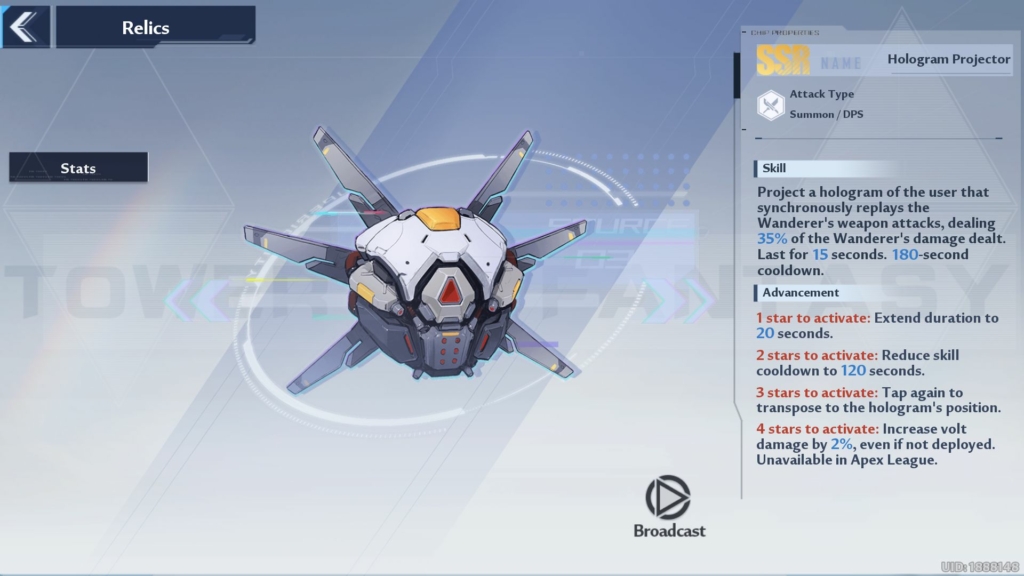 This combat assistant is the best partner you need in battlegrounds. It clones your moves and attacks for the next 18 seconds. And if you positioned it at the right place, it will prove to be the best decision in your fight.
Alternate Destiny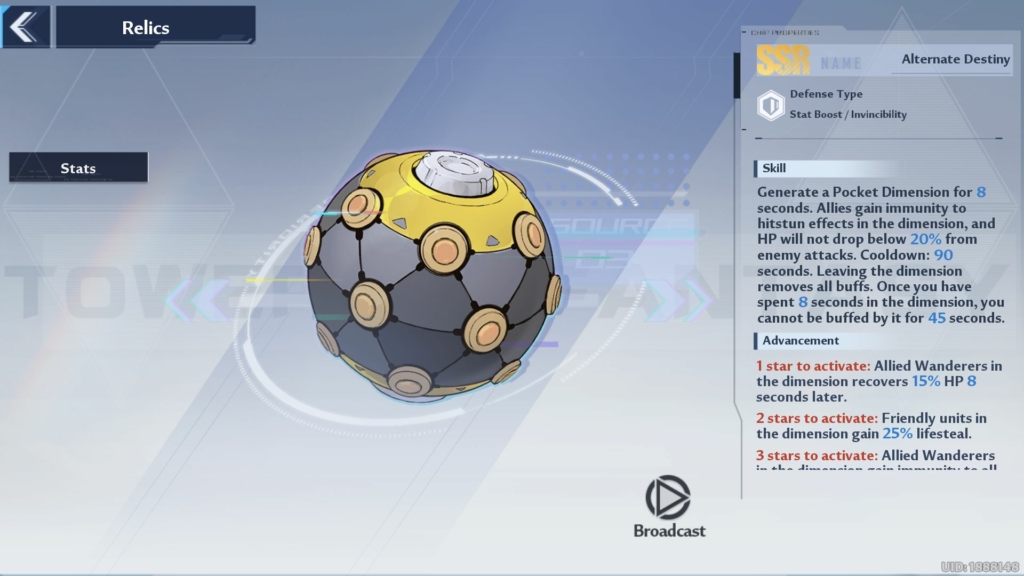 This relic is perfect when your health is low and your enemies are very close. This creates a pocket dimension for you to be in the safe zone. Once, you enter it, you are protected from all hit stuns and lock your hitpoints up to 20%. You can reclaim it after 45 seconds till it recharges.
Hovering Canon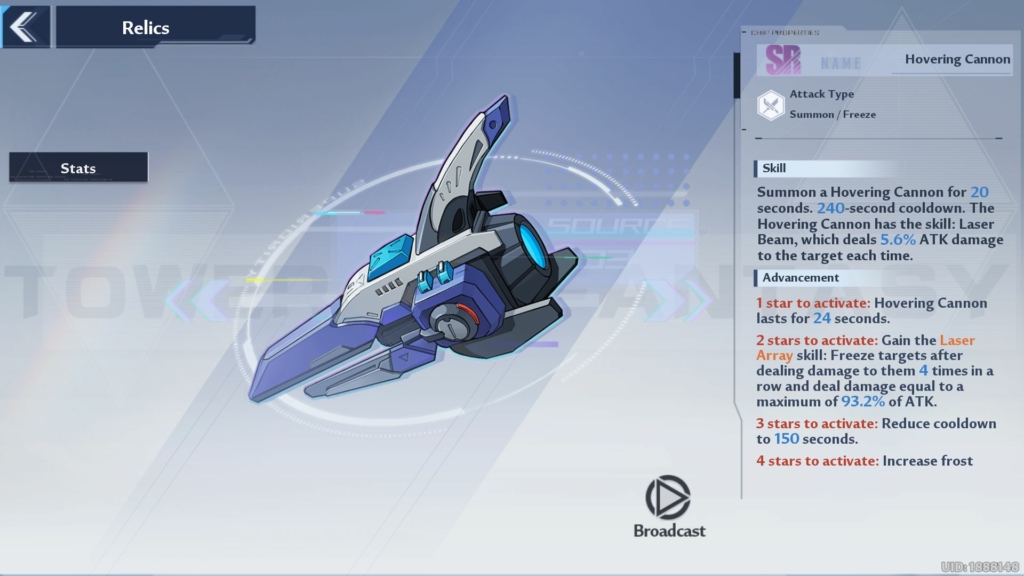 Summon this freezing attacker to freeze your enemy to death for 20 seconds. It freezes them and increases their continuous damage. This premium relic is for increasing ice damage.
Quantum Cloak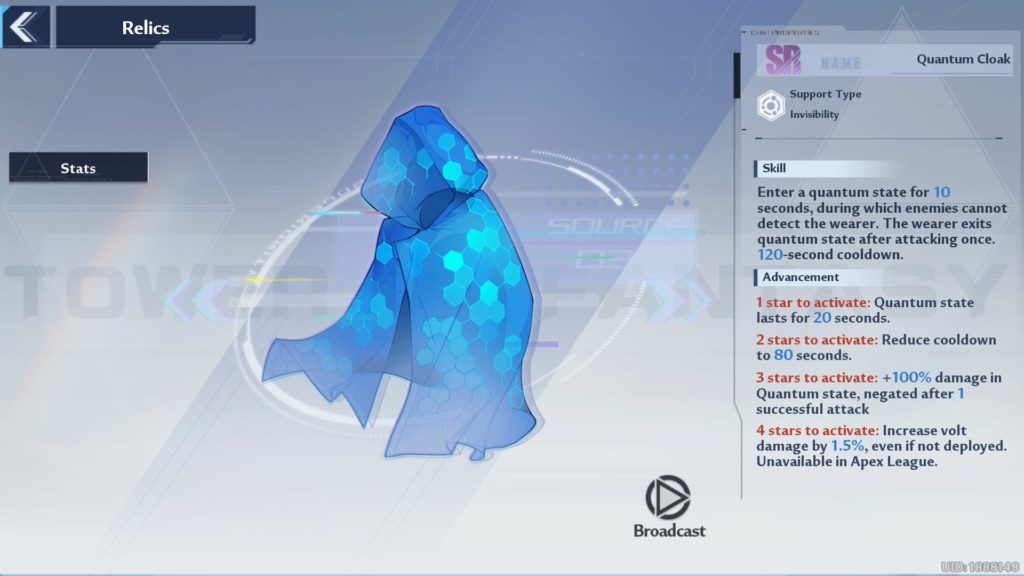 This invisible cloak is your last resort. Once you activated it, you will be invisible for 10 seconds. You can escape from the scene and your foes.
Lava Bomb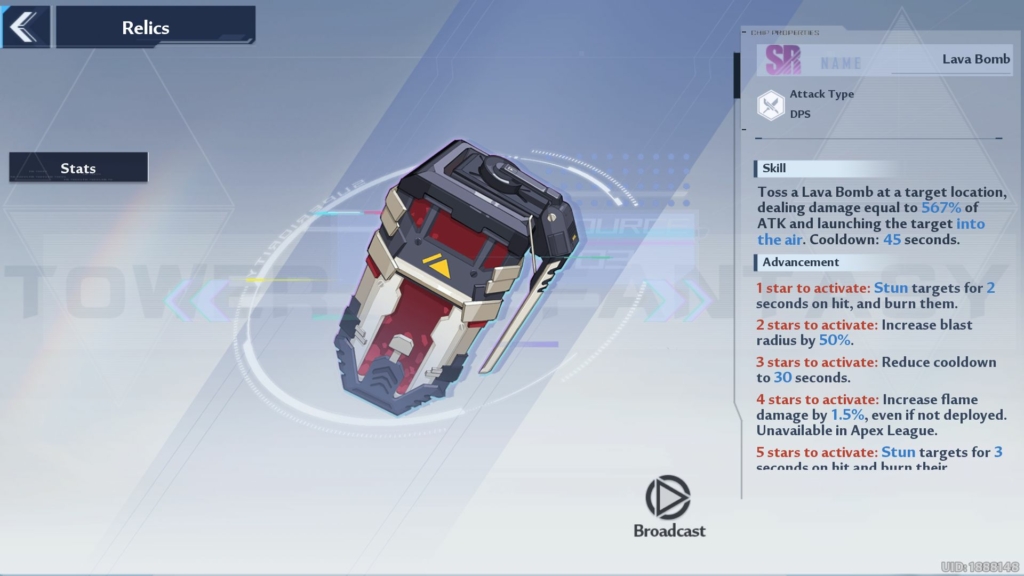 This blazing bomb can stun your enemies for 2 seconds. Lock your target and hit them with this relic to stun them. This is the top-most stun-effect relic to defeat the enemies. And even increase the burn damage on enemies.
In the end, we have got all the relics for you. Go through their names or remember their effects. So that next time you play Tower of Fantasy, you own that title of Invincible Enemy.