March was a great month for movie lovers because movies from all genres were released. It started off with Batman pulling us all to theatres while he took on to unmask the culprit, the adam project also proved to be a very heartwarming time travel story. However, last month we brought you Top March 2022 movies that you should really watch, this month we bring you Top April 2022 movies that would be worth watching. So without wasting any time, let's get into it.
6. Agent Game
Release Date: 8th April 2022
Genre: Adventure, Spy, Mystery
Cast: Mel Gibson, Jason Isaacs, Katie Cassidy
Agent Game follows a CIA interrogator Harris (Dermot Mulroney) at an agency Blacksite, who has become a target of a rendition operation after being accused of an interrogation that went extremely wrong. The team tasked to bring him in has started questioning their orders and each other. A senior intelligence officer and his subordinate are now forcing Harris to Uncover the truth.
5. Sonic the Hedgehog 2
Release Date: 8th April 2022
Genre: Sci-fi, Animation, Comedy, Action, Adventure
Cast: Ben Schwartz, Idris Elba, Colleen O'Shaughnessy
Sonic the Hedgehog 2 is basically a sequel to Sonic the Hedgehog, which was released on June 26, 2020. In Sonic the Hedgehog 2, Sonic the speedster will be teaming up with Tails the fox. Eggman who was left stranded on a mushroom planet in the previous part will also be returning back to take his vengeance upon sonic on April 8th, along with his new friend Knuckles the echidna.
4. The Bad Guys
Release Date: 22nd April 2022
Genre: Animation, Adventure, Comedy
Cast: Sam Rockwell, Marc Maron, Awkwafina
The Bad Guys movie is based on Newyork times best selling book series by Australian Author Aaron Blabey. The bad Guys follows a team of career criminals who are trying to turn straight as good guys, though they soon realize that they are very good at being bad and very bad at being good. The Bad Guys is definitely one of the Top April 2022 Movies.
3. Ambulance
Release Date: 8th April 2022
Genre: Action, Thriller, Drama, Crime film
Cast: Jake Gyllenhaal, Yahya Abdul-Mateen II, Eiza Gonzalez
Ambulance follows two brothers who have decided to become bank robbers, but things went extremely wrong during their heist. The two brothers escape the crime scene with a doctor to save everyone's life, including a wounded police officer in an ambulance. The whole Los Angles police force is chasing them, jake immediately feels guilty for including his brother in the heist.
2. Fantastic Beasts: The Secrets of Dumbledore
Release Date: 15th April 2022
Genre: Adventure, Family, Fantasy
Cast: Ezra Miller, Mads Mikkelsen, Katherine Waterston, Jude Law, Eddie Redmayne
Fantastic Beasts: The Secrets of Dumbledore follows a powerful dark wizard Gellert Grindelwald who is working to get control of the wizarding world. Professor Albus Dumbledore who knows about plan of Gellert is unable to stop him alone. He assigns Newt Scamander to form a team of wizards, witches, and brave Muggle Baker to clash with Grindelwald's growing battalions.
1. The Northman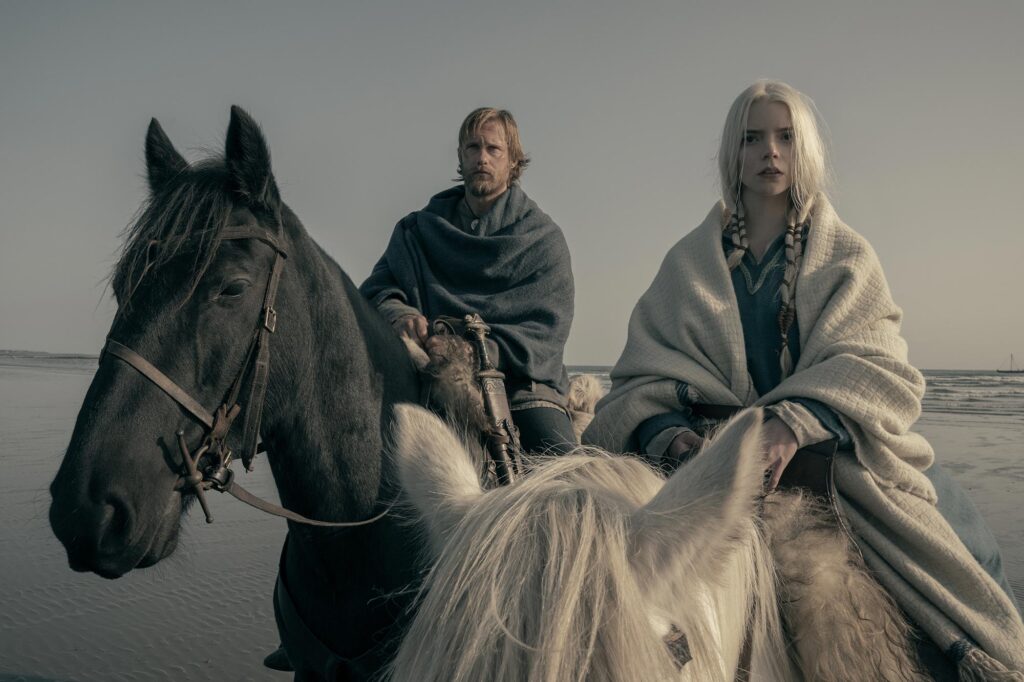 Release Date: 22nd April 2022
Genre: Action, Adventure, Drama
Cast: Alexandar Skarsgard, Nicole Kidman, Claes Bang, Ethan Hawke
The Northman follows a Viking revenge story that is focused around a Vikings prince Amletth. Amleth is setting out to avenge his father who was brutally killed by his uncle when he was just a boy. Decades later when he's finally a Viking, he's on a journey to avenge his father, kill his uncle and save his mother who was also kidnapped by his uncle.
Other Movies for April
In Cinemas Already
That is all on Top April 2022 Movies. Check out Top March 2022 Movies if you haven't already, and for more content like this, keep following Retrology.