With a new update to a game, there comes a lot more to be explored and to learn about. Similarly, in Monster Hunter Rise: Sunbreak, Centuria Ore Location has become a hot topic. It is simply due to its importance and high value.
Here we will tell you how to gain access to it in full detail. But first, let us tell you what Centuria Ore is and where it can be used or sold for.
What is Centuria Ore?
Centuria Ore is a new Ore in the new Sunbreak expansion. It is a master rank crafting ingredient that is both beneficial and necessary to accomplish various in-game objectives.
Centuria Ore is an 8 Rarity Type item that you may keep 99 of at once. You can use it to build both new Sunbreak weapons and armour, so if you enjoy the appearance of the new additions, you'll need to farm a lot of it.
If you just want to sell your Centuria Ore, you can do so for 1,420 money, which isn't low at all, making it one of the most profitable Ores to trade for cash.
Sunbreak Centuria Ore Location in Citadel
Centuria Ore can only be found during Master Rank quests or expeditions. These ores can be found in the citadel map only in the mining camps. This is the second region in the DLC, but you won't be able to visit it until you've completed all of the main tasks.
It is not confirmed which ones of the mining crops would be the the ones having this ore but all are worth giving a shot. There are two types of mining outcrops, one being blue and other being white.
Blue is for common mines while white is for not so common ones. So white is where you would find Centuria Ore as its a somewhat rare ore. These are all of the white outcrop locations: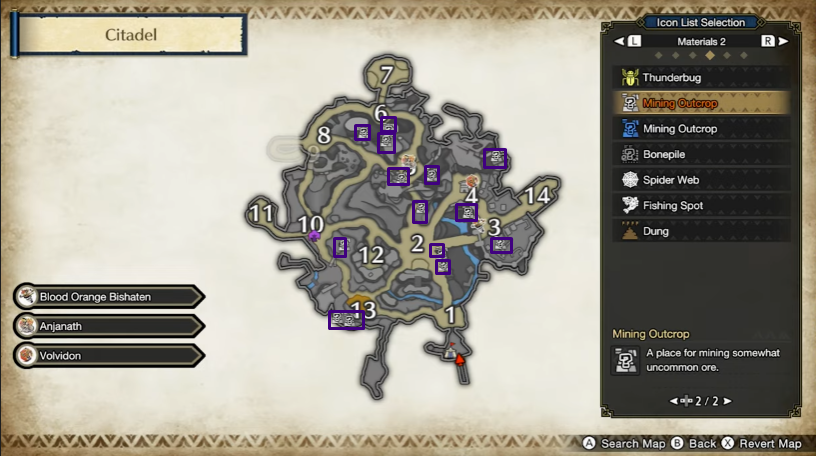 South between area 6 and area 5
In the southwestern portion of area 5
A short distance east of area 5
Far east of area 5 near the edge of the map
South of area 3
Southeast of area 2
North of area 2
Slightly southwest of area 13
In the middle of area 10 and area 12
Most mining outcrops in the Citadel are carefully concealed, and you'll need to go to higher ground to discover them. If you're up for a little exploration, there are several more dispersed about the countryside and concealed in caverns.
This is all about Sunbreak Centuria Ore Location on the Citadel Map. If you want to know about Aeonian Coal in Monster's Hunter Rise Sunbreak, we have you covered. Visit here: Monster Hunter Rise: Sunbreak Aeonian Coal Guide.