Developed by Haemimont Games, Stranded: Alien Dawn is a survival game that follows the story of a group that has gotten stranded on a planet and is under constant threat from aliens. Your job is to make crucial decisions to protect your survivors from starvation, disease, extreme weather, and more. Additonally, you will also have to take care of Stranded: Alien Dawn Survivor Happiness level, let us explain how.
Before taking care of external threats one has to take control of the internal threats because if the survivors are not happy it might cause them to have a psychological meltdown and start turning to each other causing them to fight as if there are no aliens already out there ready to take their lives. So, in this guide, we will be helping you with everything you need to know in order to keep your Stranded: Alien Dawn Survivor Happiness level consistently high. So without any further ado, let's begin.
Stranded: Alien Dawn Survivor Happiness
In Stranded: Alien Dawn unlike in real life, we are not dependent on someone's capacity to communicate their emotions. We have meters for fullness, rest, and relaxation in addition to one for overall happiness.
Below the happiness meter, there is a tiny arrow that you can see. This arrow shows you where their mood is trending and indicates if it is gradually getting better or worse. Right under the happy tab, it allows us to see exactly what and how much is something influencing someone's mood right now.
Sleep
One of the best hacks for survivors' happiness is to allow them to sleep because it is the only time when the survivors' happiness will not fluctuate. However, do keep in mind not to give your survivors bonuses and mood-boosting effects before they are going to sleep because just like in real life our memory fades, in this game the effect of the boost will keep on running out.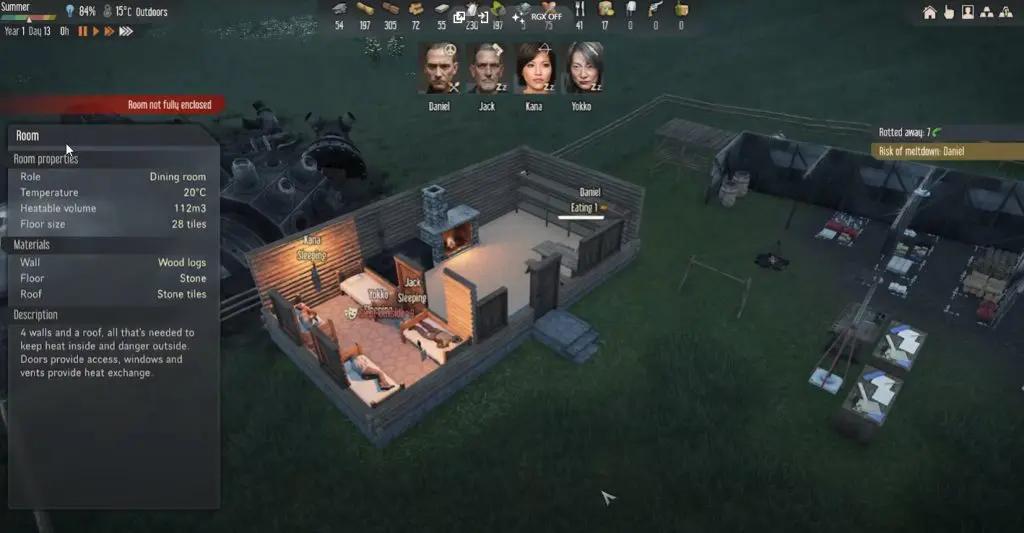 So it's better to let your survivors go to sleep even when they are cranky and then prepare accordingly about what you can do for them when they wake, try to schedule your boosting techniques with the time your survivors wake up and not when they are about to sleep. This will also help you to use the mood-boosting effects at the right time in the right situation.
Routine
Another happiness tack tick that has worked for players is to keep a routine for your survivors each and every day and not to change it every now and then. Also, it has been noticed that sometimes, especially after work, your survivors prefer sleeping over relaxing.
So, after work, be sure to send them directly to sleep and allow them to relax after they wake up. Apart from routine, sleep, work, and relaxation keeping your survivors well-fed is also something that you have to take care of otherwise the survivor will choose to eat rather than sleep if they are hungry eventually breaking the routine.
Every bliss matters
Although giving your survivors happy lives seems like good advice, doing it on a distant planet with irate animals is a little trickier in practice. The only thing left to do is to gather as many wonderful and cheerful things for our unfortunate survivors as we can. Every bliss matters, from having some food at the table to some chat with other survivors, from practicing instruments to playing games all of it actually counts
Well, that is it on how to keep Stranded: Alien Dawn Survivor Happiness level consistently high. Let us know in the comment section below if there are more ways to do so. To know about the High On Life Weapons Guide or for more guides like these, keep following Retrology.