Saints Row (2022) is the second sequel to the popular franchise, Saints Row: Get Out of Hell. This game features an open-world map that the player is free to explore. With several vehicle options, you can surely use them in your exploring, such as cars, bikes, etc. These vehicles are also completely upgradeable in the game. Here's our guide to Saints Row (2022) All Vehicle Special Upgrades which will take your already good vehicle up a notch.
Ball & Chain
Vehicle: Dustrider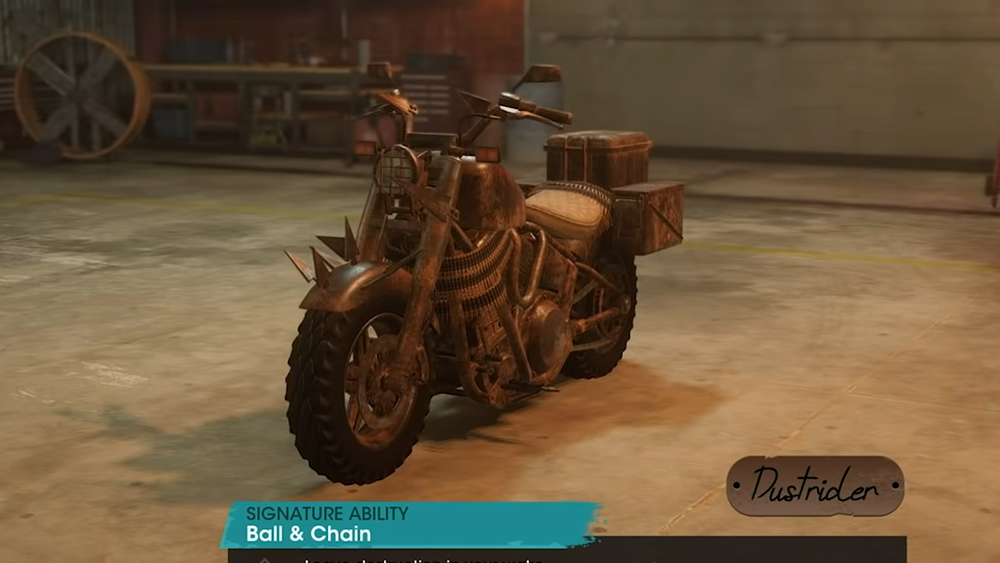 After completing 100 Towing Payload Smashes, you can unlock it. First, you'll need to customize your vehicle in the garage and purchase the "Towing Cable" equipment for $7500. Connect the cable from the back of your vehicle to another vehicle. The car is then to be towed and smashed against roadside obstacles such as traffic cones, trees, shrubs, and so on. Each time it counts, a notification "Payload Smashing" will appear on the right side.
Jump
Vehicle: Ridgelord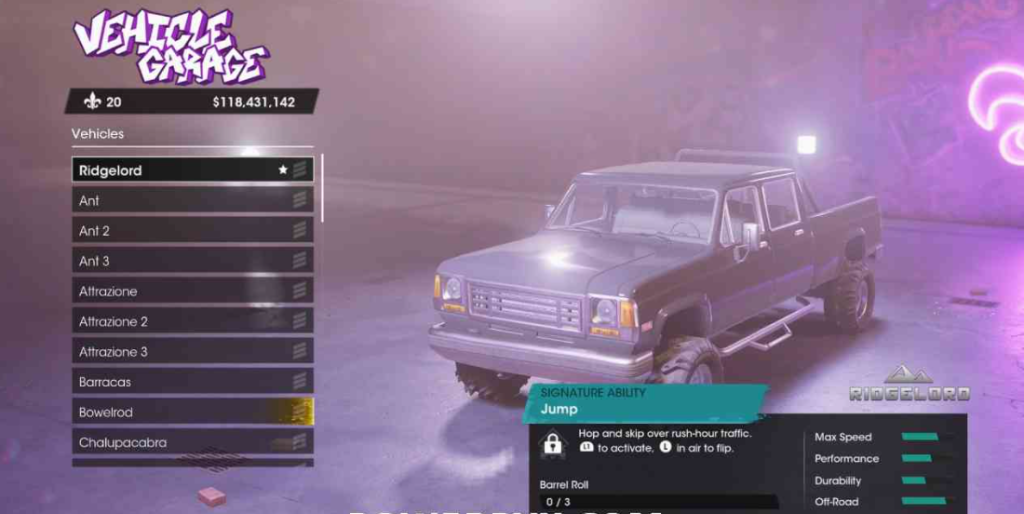 You can Unlock this after doing three barrel rolls with your vehicle. To do barrel rolls, drive up the ramp at maximum speed, then leap off while holding Drift Key + Right or Left. This will launch your car into the air and it will do the barrel rolls. You can find any place with high hills or ramps to leverage your jump.
Keep keeping the buttons pressed until a full barrel roll is completed. If it's done correctly, the counter in the bottom right corner of the screen will rise. You'll need to do this three times.
Crab Steering
Vehicle: Ride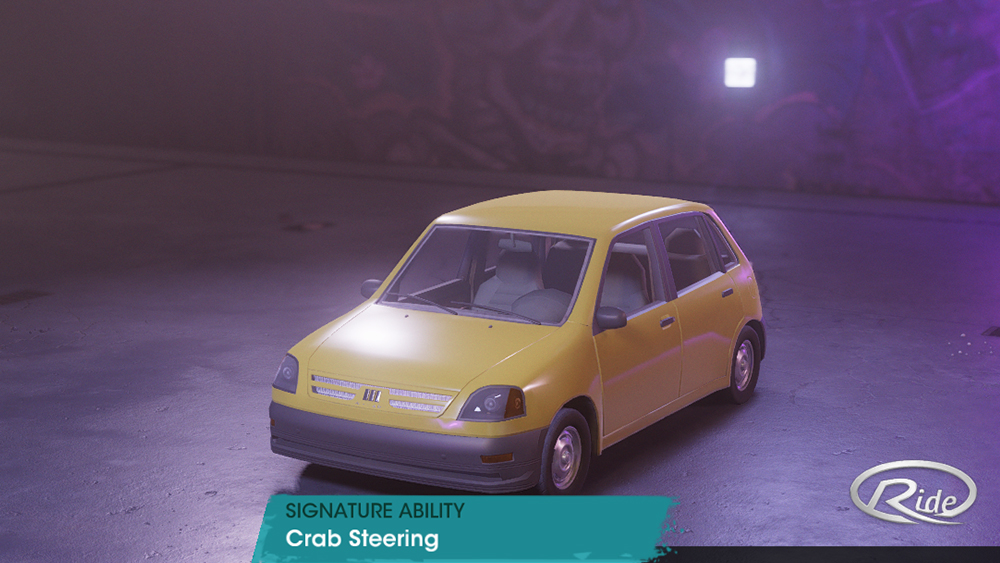 This allows you to shift your vehicle horizontally and is unlocked after sideswiping eight enemy cars. To sideswipe automobiles, push the left button to the side with a good drift. This only applies to ENEMY vehicles, not civilian vehicles. The simplest solution is to engage in a chase with the police or an opposition gang and sideswipe their vehicles.
Kneecappers
Vehicle: Any Car but Shifty is preferred.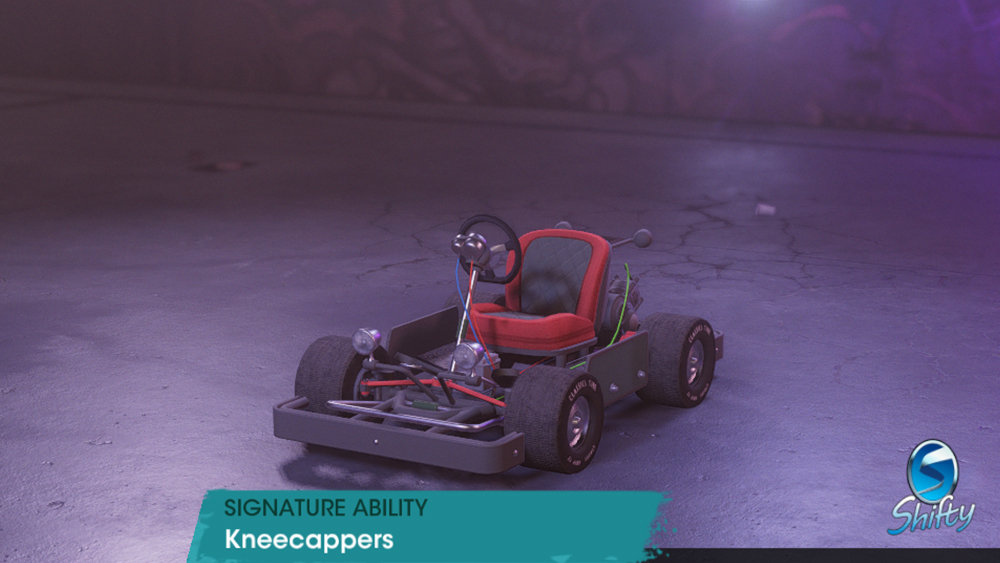 Spikes will shoot out from the sides of your tires if you complete the task in which you'll need an eight-near-miss streak with your vehicle. To get a "near miss," drive on the wrong side of the road and very close to approaching cars. Repeat this 8 times in a row. It's possible to do it anyplace.
Ejector Seats
Vehicle: Saguaro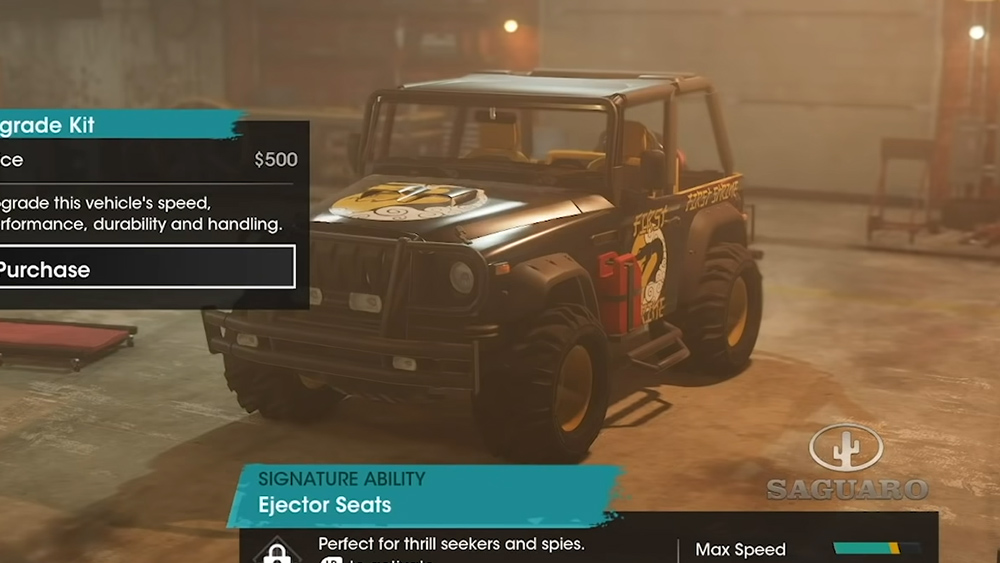 These will launch you from the car and require you to wingsuit off the roof while riding on the roof. Drive fast and build up speed. Then, interact with the button needed when it reads "jump to wingsuit." It is possible that your car will not work if you do not drive at a high enough pace.
Air Boost
Vehicle: Shield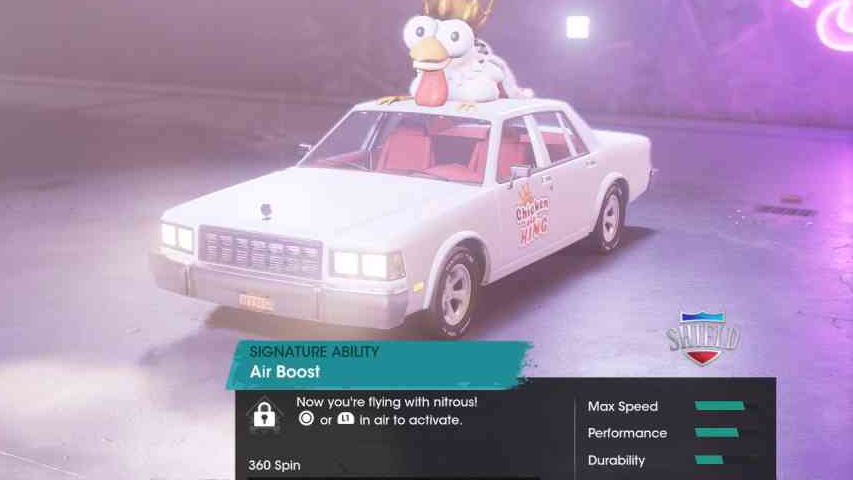 This lets you use nitrous to lift your car off the ground and is unlocked by performing three 360 spins. Jump off a ramp and perform a 360° spin (L left or Right). While in midair, do not hold any other buttons. You must complete a complete sideways turn. Can do one per jump for a total of three.
Super Air Control
Vehicle: Ant (Mini Monster Truck)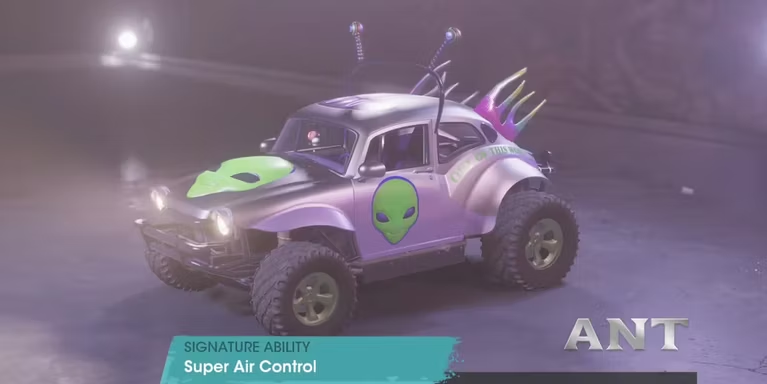 The task to unlock this is to do 2 double back flips. For this, you'll need to jump off a ramp while holding L Down (in the controller) down. Check for a button alternative for it in PC gaming. This will result in a backflip in the air, but you must complete two at once. If you're having problems, consider upgrading the vehicle you're using in the garage to a faster pace as speed is the key.
Tank Gun
Vehicle: MDI-344T tank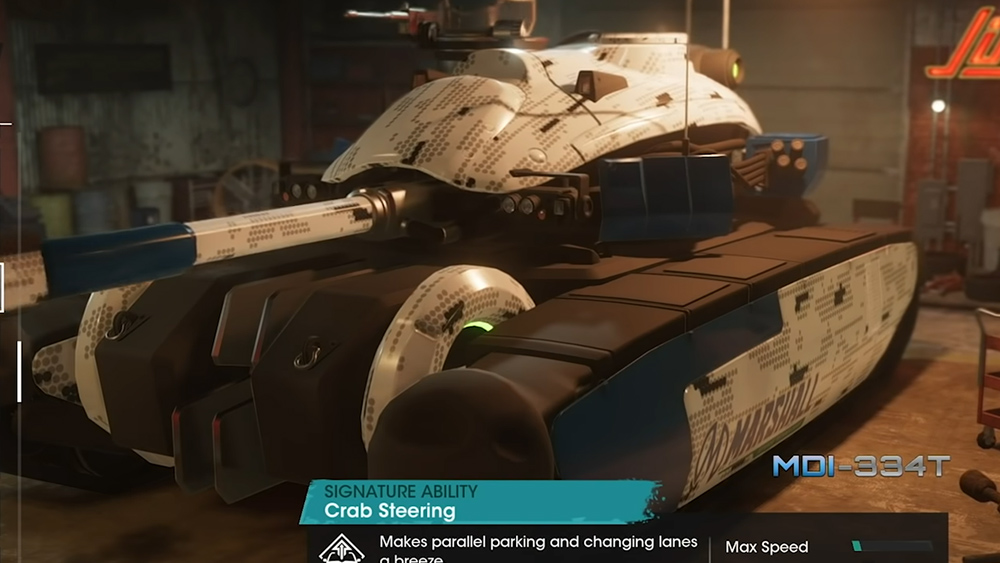 After completing the 30th Main Mission "Severance Package," you will receive the MDI-344T tank. When you complete the assignment, the special ability should be enabled automatically. You can inspect it later in the garage.
Bowelrod Roar
Vehicle: Bowelrod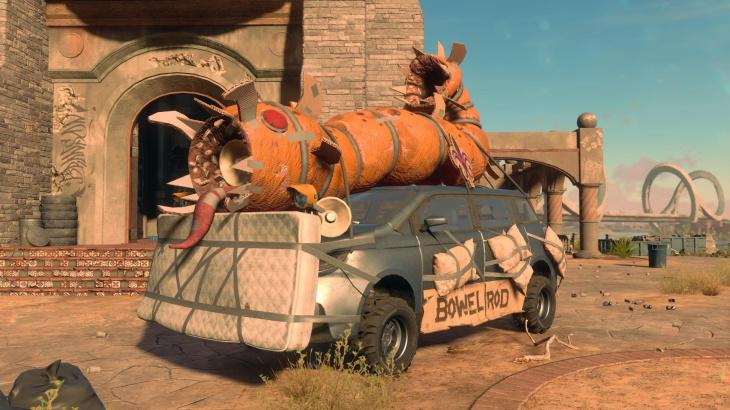 You obtain the Bowelrod after completing the 17th Main Mission "The Rod Warrior." When you complete the assignment, the special ability should be enabled automatically. You can inspect it later in the garage.
Infinite Boost
Vehicle: Attrazione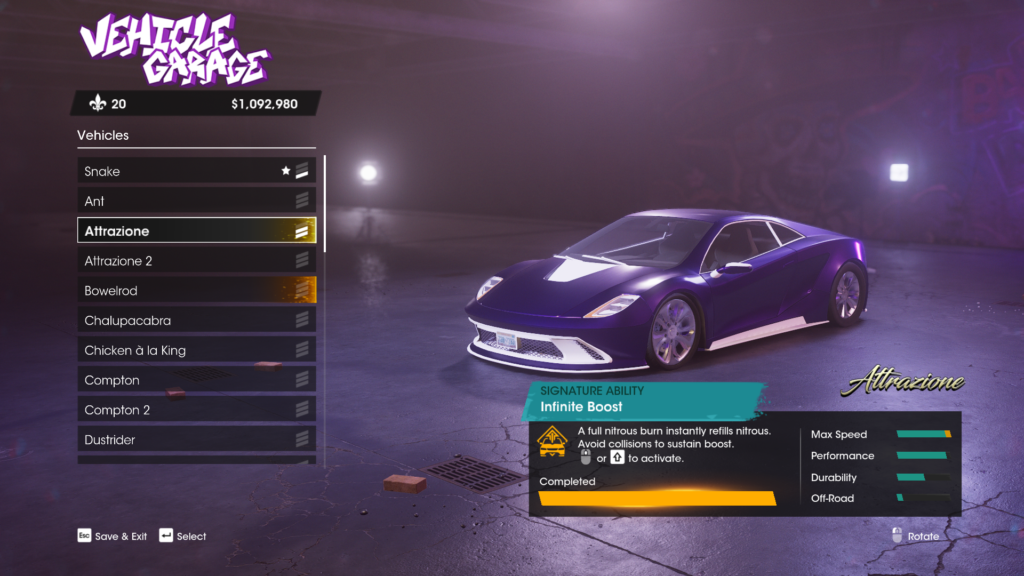 This upgrade causes your boost to reset after a short period of depletion and may be unlocked by burning through your whole nitrous tank three times. While driving to burn a complete Nitrous bar, as seen in the bottom right corner of the screen. It will automatically refill. Repeat this process three times. For in-depth details check out this guide for Infinite boost.
All of these Saints Row Vehicle Special Upgrades provide a unique way to explore the streets of Santo Ileso. Once you have unlocked the ability, you must drive to the local garage and pay to have it installed. Then you can use it to the fullest. To know more about vehicles, here is a guide that might help you: Best Vehicles in Saints Row (2022)