The chronicle title of both anime and manga, Naruto had a long journey and celebrated its 20th anniversary. The fans were excited about its mega event. And were emotional over the great achievement. The development team didn't leave them unattended and reanimated the most classic scenes from the series for its fans. Here, I will inspect the Naruto anime 20th-anniversary video.
Naruto's Claasic Scenes Reanimated
The most classic highlight scenes from the anime were reanimated in a special reel by the artist of the original manga, Masashi Kishimoto. The video was released by Studio Pierrot. This ten-minute long video has the best ironic moments from the Valley of the End to Pain's Invasion.
Animes like Naruto don't turn 20 every day. And Studio served it right with the reanimation. On the special event of the 20th anniversary on 3rd October, the featured video was released on Studio's official YouTube Channel. The video has potentially boss fights series and emotion-packed scenes.
Anime featured after Three years of Naruto Manga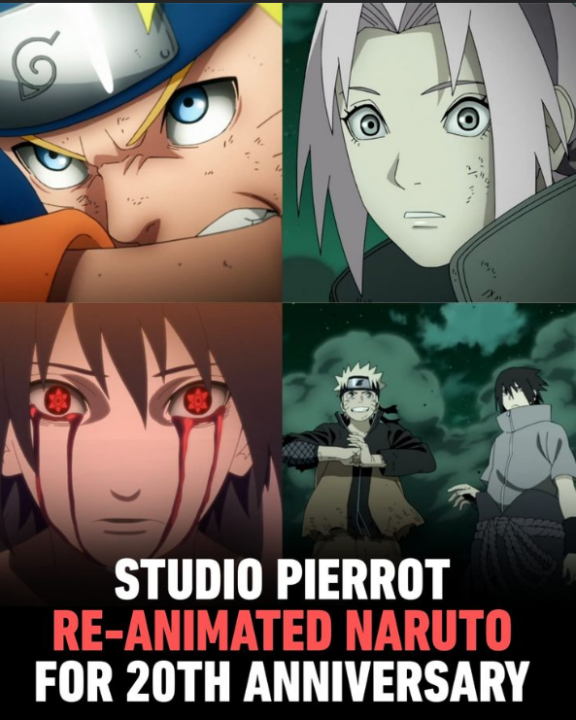 The original manga was serialized in Weekly Shonen Jump magazine from 1999 to 2014. And the anime debuted starting 3rd October 2002 and ended in February 2007. It has 220 episodes with an amazing storyline and energized characters.
The storyline is about a boy named Naruto Uzumaki. He lived in a world of people with internal energy. He dreamed to earn the title of Hokage, the strongest ninja in his hometown, Hidden Leaf village. His early years at Ninja Academy were a series of struggles. He faced difficulty doing simple Jutsu. And villagers use to tease him for having a hidden beast called Nine-Tailed Fox in his body.
But he didn't give up. And eventually, became a ninja to join Sakura Haruno and Sasuke Uchiha. This trio pack determined to take the missions from a known replica ninja called Kakashi Hatake. With folds of time, Sakura's identity was revealed as he was serving the villagers. But he was seeking revenge for the massacre of his parent and clan by his brother Itachi.
The series also has a sequel as Naruto Shippuden with 500 episodes from February 2007 to March 2017. And a follow-up series titled Boruto: Naruto Next Generations that continue with the chain of adventures by Naruto's son. Naruto Anime 20th anniversary event made the fans happy and satisfied with the memorable reel of the anime. And if you're interested in any other anime updates, check the Anime section of Retrology.