One Piece has reached new heights in recent times as it is coming toward the end of the Wano arc. Luffy and Kaido are face to face in what seems to be the greatest fight in anime history. One Piece fans are absolutely loving it. Luffy has now fought Kaido more than once and has failed to beat him but Luffy's Gear 5 finally becoming a reality in the manga, and the fight is getting more and more interesting. Here we have for you some of the best Luffy vs Kaido fan art from various amazing fan artists.
We can see multiple different scenarios of the fights in the fan art. Fans have maximized their imagination when it comes to this. We can see Gear 4 Luffy fighting off Kaido. In the other two, we can see Kaido's hybrid form taking on Luffy.
Above we have some very beautiful fan art. You can actually see how small Luffy is compared to the gargantuan Kaido in the first art. The second piece offers a really sleek black-and-white design. And third drawing shows us the two formidable enemies fighting off as their eyes glow.
On the left, we can once again see a gigantic Kaido going off against Gear 4 Luffy, who has his left arm recoiled for what could possibly be his King Kong Gun attack. The art on the right gives us a very 2D look with a very abstract background. It is rich in color and details.
And last but not least, the full version of Duke +Ran Luffy vs Kaido fan art can't be missed.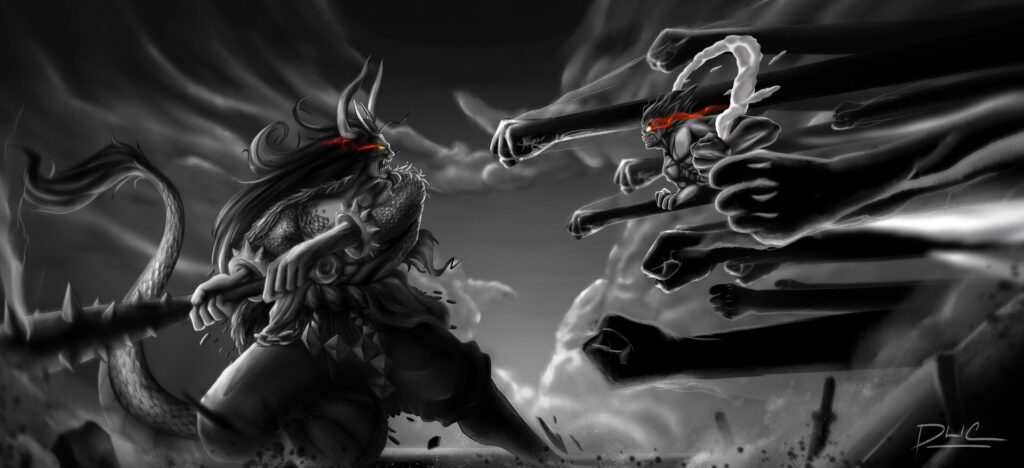 That wraps up the Luffy vs Kaido fan art. We have more astounding fan arts that could interest you, including Luffy's Gear 5 fan art and Spy x Family's Anya Forger fan art. For more interesting content, keep following Retrology.