The all-new vampire survival game V Rising has been making rounds on the internet. The game features an open gothic world and has multiplayer gameplay. Released on 17th May 2022, V Rising is both developed and published by Stunlock Studios. It gives players control of the blood-thirsty beings. The main objective of the game however is to build a castle, hunt for blood to survive and grow an empire which will conquer the world it is set in. Previously we have also covered Pristine Hide Location in V Rising. In this guide, we will tell you the location of The Shadow Priestess in V Rising.
V Blood Carriers
This game takes on a very intriguing approach when the player has to unlock new characters and technologies. The game follows eliminating creatures with special blood. If you've spent any time exploring V Rising's locations, you've probably noticed the presence of formidable foes. The so-called V Blood Carriers are formidable opponents who not only provide a plethora of fantastic gifts, but also V Blood, which is essential for progressing through the game. The Shadow Priestess, Leandra is also one of these V Blood Carriers.
Where to find Leandra The Shadow Priestess?
You can find Leandra the same as any other blood carrier in the game like the Ferocious Bear, Beatrice the Tailor and Putrid Rat. You should start by interacting with your Blood Altar.
To figure out where her location is you will need to turn on the "Blood Tracking" while you view her entering into the Blood Altar. You need to follow this and this will take you right to her. You will find her in the northeast corner of Dunley Farmlands in the Church of the Damned.
Dunley Farmlands is likely to be the first region you'll visit after leaving Farbane, as it's densely populated with humans and all the trappings of civilization you'd expect. Expect stronger resistance from armies and militias than from disorganized bandits, but more rewards for breaking into their villages and towns as a result, mainly in the form of good construction and building materials.
Location on the Map
Leandra is a Level 46 Boss and this is why low levels should steer clear. To get to her follow the location on the map below. You will need the proper gear and power to bring her down.
A quick tip: As she is located outdoors you will need to plan on the sunlight if you want to go after her.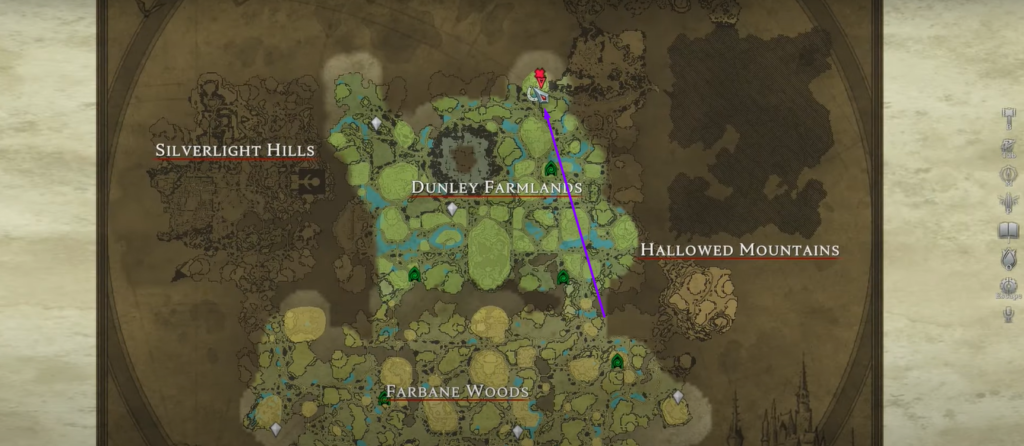 This is all on the Shadow Priestess V Rising location. We also cover a lot of gaming and guides so be sure to check those out as well. For more content like this keep following Retrology.