On the icy floors of Second Extinction, there will be many massive monsters. But T-Rex has truly at the top of the list of humongous competitors. And Here is how to defeat one of the most terrifying monsters in Second Extinction T-Rex.
Second Extinction: T-Rex
T-Rex or Tyrannosaurus rex is a massive monster that you might have just seen in Jurrasic Movies. But when you will encounter it in-game, you will see the real power it possesses. His sharp big teeth with claws-like hands will surely tear you into pieces once you get caught. I'm sure you don't want to have a horrible ending. So, I will provide you with certain steps and guidelines that will help you survive and kill T-Rex.
How to survive T-Rex in Second Extinction
In a furious confrontation with T-Rex, you need to be prepared. You will need a good strategy and power-packed weapons. There are certain combat tricks that you can try to survive.
Jump Slam: This will help you to get far away from T-Rex. And have an escape route in front of you.
Tail Shockwave: This attack trick works when are close to T-Rex. It will form a shockwave through the ground and cause huge damage to anything in its path.
Acid Spit: This attack will work when T-Rex is stuck and you can avail this opportunity to get back at it. Use this attack in its direction.
Stomp and Bite: In case T-Rex tries to bite or stomp at you, you can cause huge damage with his trick to escape its jaws.
You can use all these tricks by dodging mechanics. It gets activated by moving or jumping backward or to either side. This will save you from T-Rex attacks. The idealistic way to survive T-Rex is to be on move. Stay at a safe distance and just circle around it to cause good damage.
How to kill T-Rex in Second Extinction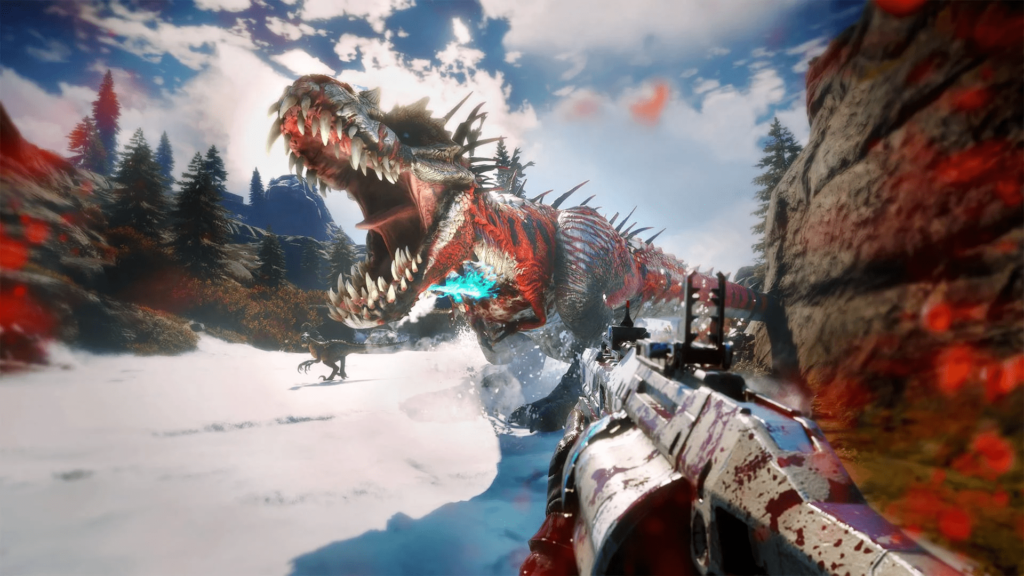 It will be best to survive to attack in the team. As Second Extinction has the team coop operation. As a team, there is a higher chance to survive as it has a lot more health and weapons than a single player.
For selecting members of the team, you should try Operative and Enforcer. For Operatives, it will be best to use the Grenade Launcher as its causes a good amount of destruction. And Enforcer should use Minigun as it gives good damage output. And if you aim at its neck, it gives good stun.
T-Rex's neck is the weak point and best point to attack. Try to open fire at its neck from a safe distance. You can interrupt its attacks too. Make sure to look for the Raptors. They will keep coming to attack you and cause huge damage if you let your guard down.
With these guidelines, you can easily defeat the Second Extinction T-Rex and survive in-game. These tips will surely be a great help. In case you're looking for more gaming guides, check the Guides section of Retrology.