Matchpoint – Tennis Championships is a modern take on tennis, with a true-to-life on-court experience with a distinct career mode and championships. The game emphasizes tactical realism, placement, and targeting, allowing the user to maneuver their superstar in precisely the perfect way to maximize the effectiveness of their shots.
Along with being a good game, it also offers a good range of customizations. From rackets to clothes, the game includes equipment from all of the top tennis brands, including Babolat, YONEX, HEAD, and many others. You have to win competitive matches to unlock this unique equipment.
Customize Character in Matchpoint – Tennis Championships
There are many ways you can customize your character in Matchpoint – Tennis Championships. Although this game was just released, it does have considerable customization options which can be characterized according to your choice.
Select the Identity of your character
The first panel opens up to the options of choosing a name, and nationality if you want a left-handed character or a right-handed one. It also has a surprising option of keeping the backhand stroke from both hands or one.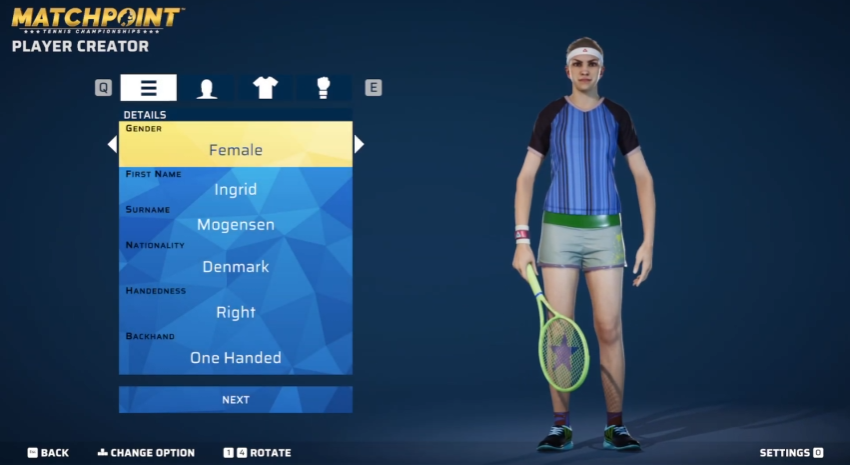 How do you want him/her to look like?
Facial features come next. Although there isn't much you can do in this part, there is still enough to do the basics. Hope so in the future, there are more options present in this section. Here is how you can customize them.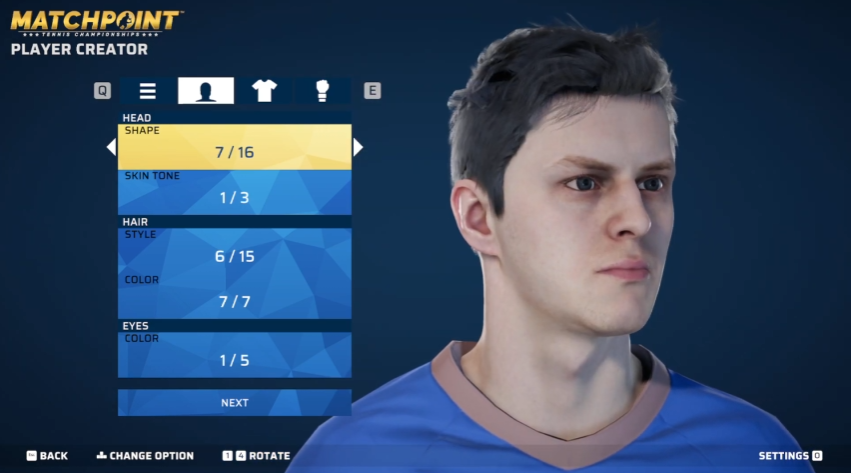 Customize the clothes!
Next are clothes. Clothes don't really serve a purpose so they are just for show. Select whatever you want. The styles are limited but the colors can be chosen from the whole spectrum.
Accessorize with Wrist bands
Wristbands are one of the most important accessories for playing tennis. They serve as muscle support basically. Also, they are used to wipe off sweat for clear vision and stop sweat from reaching the hand so the racket won't slip. Similar to clothes, you can choose the color from the whole spectrum. Unfortunately, the styles aren't there for wristbands. You can only choose if you want to wear them in right hand, left hand, both or none.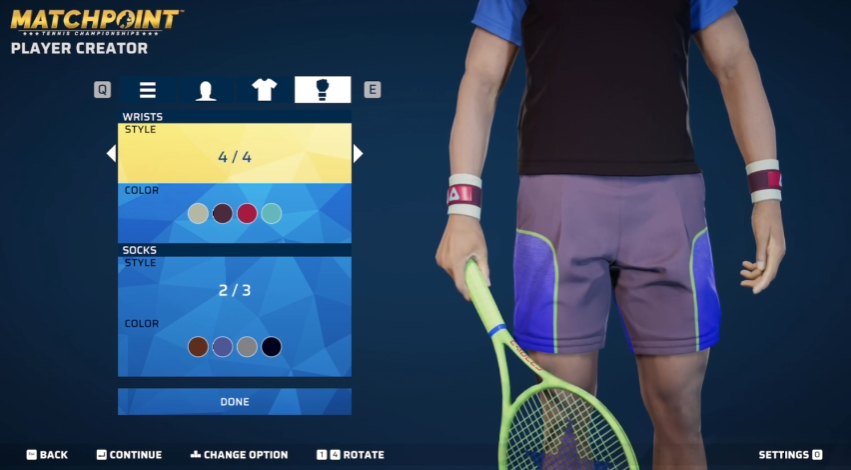 What's missing in customize options for characters in Matchpoint – Tennis Championships?
If you were waiting for Rackets, they won't be here in the customization portion. You can get them as you progress in the game and then you can equip is separate. According to the same sources, it is quite clear that they have added many good brands of rackets in the game so hopefully, they would be available soon to the players.
Options for customize character in Matchpoint Tennis are not as advanced as in other games, yet. That is not really a bad thing as it has just been released and there is a long way to go so hopefully, we will get more options soon.
For more updates on Matchpoint Tennis Championship, click on our gaming section and keep following Retrology.