Azure Striker Gunvolt 3 can with a new option, allowing you to choose between the two main characters to switch. This switch is a very good addition as it allows the players to analyze the opponent and then choose the one with the advantage over them. Regarding the Azure Striker Gunvolt 3 change character feature between Kirin and Gunvolt, this guide will help you understand it. From the limit and how the change can happen.
What is the Fetters Gauge?
The Fetters Gauge reflects the consistency of a character's control over power. The character's strength may be stronger than ever, yet he or she may be unable to handle it correctly. When the Fetters Gauge is at 100% or above, employ Special Attacks to release their power and sometimes swap to let them rest.
This is only applied to Gunvolt as he needs this energy to attack while Kirin's attack fill it up.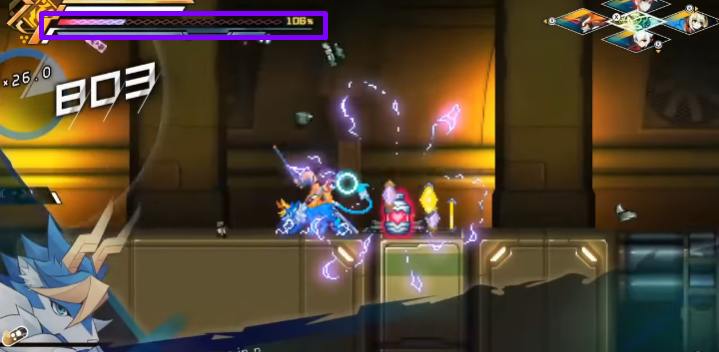 Use Special Abilities
The fetters gauge fills up as a sign to use special attacks. In the case of Gunvolt, when the lightning strikes, filling up the whole screen, he will get the energy and control back as this is his power. Unfortunately, slowly he will be drained of energy as this gauge begins to deplete.
When the Fetters Gauge reaches zero, control will immediately revert to the other player; in this case, to Kirin, as Gunvolt was being talked on previously. The Fetters Gauge will progressively build when battling as Kirin. This allows the gamer to balance the special attacks and get chance for one character to rest during the battle. The rest makes it easier to play through hard levels.
The Fluctuations of the gauge
The Fetters gauge fills up as Kirin successfully lands hits on the opponent. The attacks can be anywhere from minor to combo attacks. As for depletion, the use of special attacks eat away at the fuel, which are done by Gunvolt. You can use a special attack only once so be careful.
Conclusion:
This phenomenon of switching characters automatically makes the Azure Striker Gunvolt 3 change character. Both Kirin and Gunvolt are opposites as one can make the energy while the other uses it. This makes them a good and beneficial combo for boss fights. At the moment, this ability is only shared by these two but there may be more in the upcoming updates or games.
If you like platforming games with 2D animation, you may also enjoy the game, Webbed – a platforming spider game. Check out its review to know more about it. Or maybe, if your interest is in games that provide builds and different characters, check out our Xenoblade Chronicles 3 guides. Do visit our site Retrology for more content to your liking.