In the world of roguelike games, you can enjoy Dwarf Fortress. There are multiple jobs that you have to do in the game, such as getting the tools and accessing the rooms. Apart from these, there are other important tasks that you need to do. Such as building military squads. In this guide, I will help you to create the Dwarf Fortress Military Squads with all the components that you need to do and how to create them as well.
Dwarf Fortress: Military Squads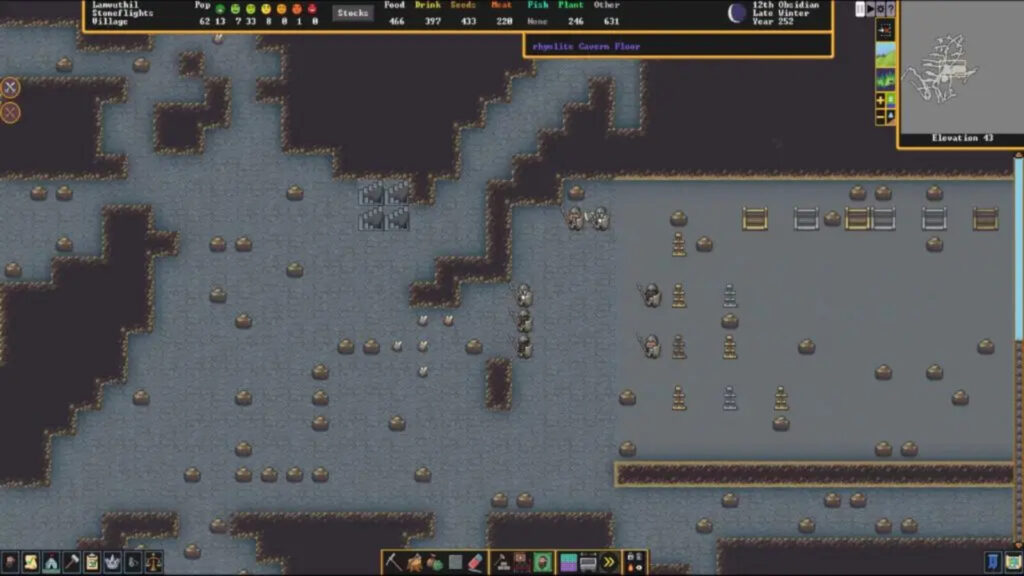 Building a strong force with your dwarves is essential as they will be the front-line force. You have to assign them and allocate duties on their sends just like real soldiers. The Militar Squad is an essential group of dwarves that will keep your barracks safe. If you don't know about them, then read this guide carefully to know the details.
Let's begin with the basics and if you are a newbie, then better to remember the main points. Here the most important point to remember is to always have a weapon. No matter which it is, even a spear is good than being empty-handed. Each one of them should have a weapon. Once they have a weapon, create a squad now.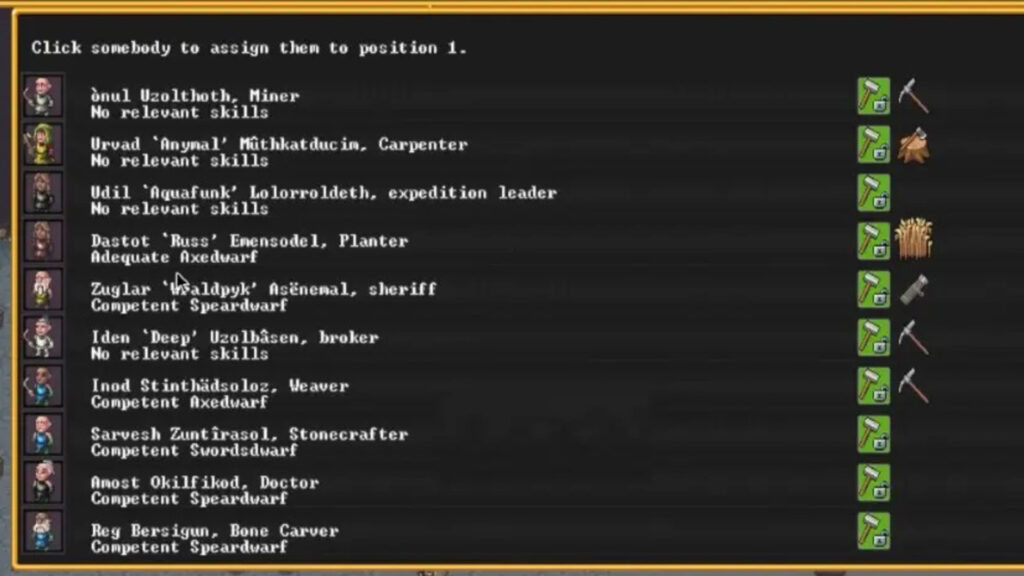 As you create it, they should be a leader to monitor them. For this purpose, you have to add a militia commander. To add one, you have to click a plus sign on the Nobles Screen. Now, let's move to creating a squad. Just click the lower right corner of the screen and then, click the blue banner icon or press q.
As you click there will be a tab on the side where you can see Create A Squad option. Here you can choose the type of squad that you want to create and assign it a leader as well. In the end, you can rename the squad as well.
Another good thing is that you will automatically get the best-suited leader. While assigning the leader, the game will provide you with the clue to do so. Their skills will be displayed under their name which will help you choose the best one. After you have assigned the leader, you can choose any 10 dwarves and allocate them the position of 1 to 10.
You can see all the squads on the side panel. You can tick the check box beside each squad and click the Schedule options s well. As you proceed with eh Schedule option there will be the details of all the soldiers in the squad. You can see their off days, training, staggered training, and when they will be available. And make sure to give constant training first to every new squad.
Construct Barracks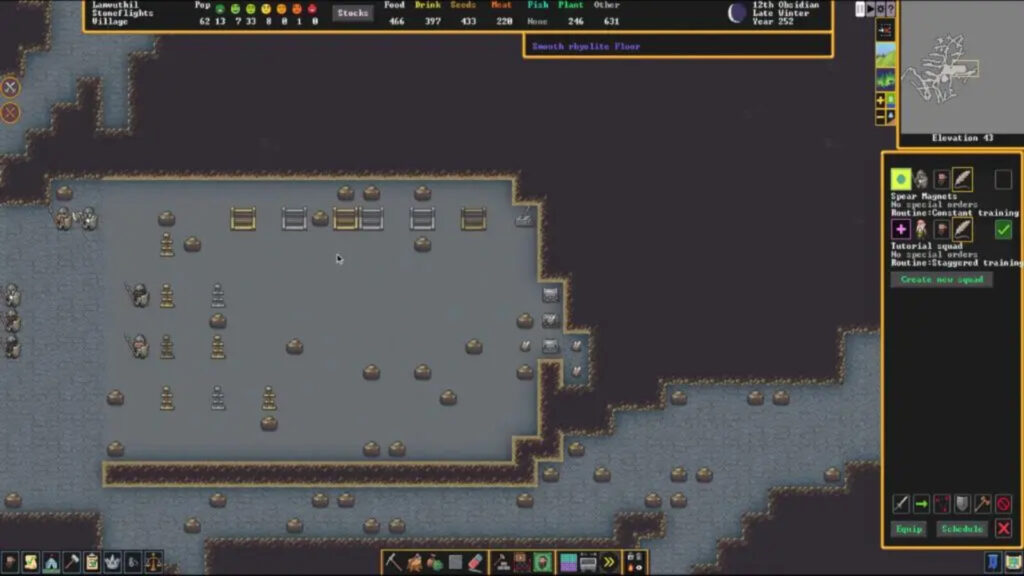 Your squads have to rest in the barracks so build them. For them you ah to first look for some vast area, assign a zone as Barracks, and highlight that area as you assign it. Once it's highlighted, click the plus button on the side panel. You are in full control to design it as per your needs. Like you can specify where beds will be placed, weapons storage, and their training area.
Assigning Uniforms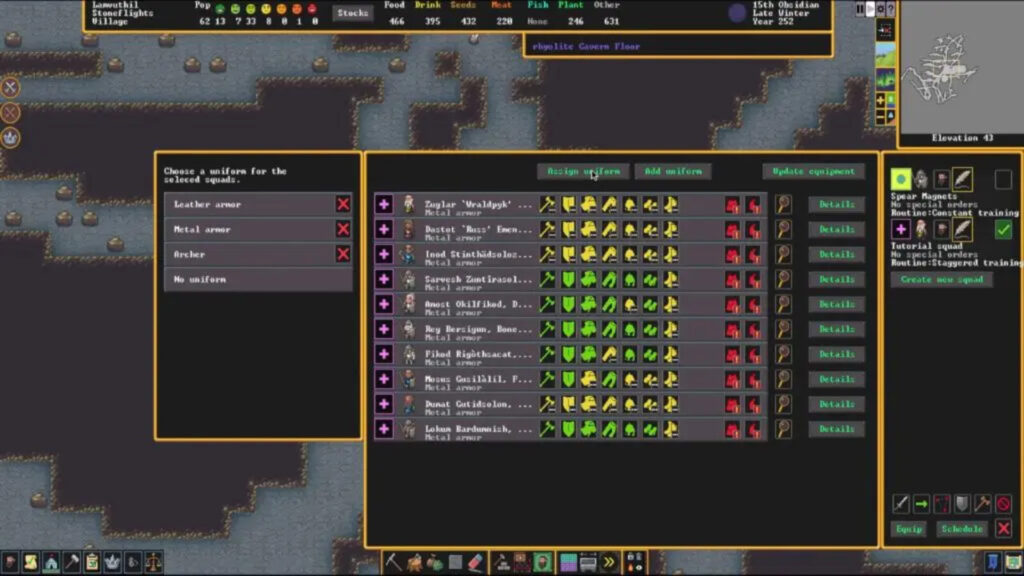 After training your squad will be ready to land on the battlefield. You have to get them their uniforms, and guard duties and alert them to be ready for attack. For uniform, you have to click the Equip button on the lower right panel. Select the Assign Uniform. A pop-up appears that will allow you to choose the leather, metal, and archer uniform.
There will be another option to choose from. Such as headwear, bodywear, legwear, handwear, footwear, and even shield and weapon. You have complete control to design the uniform and settle it with a name.
Give Orders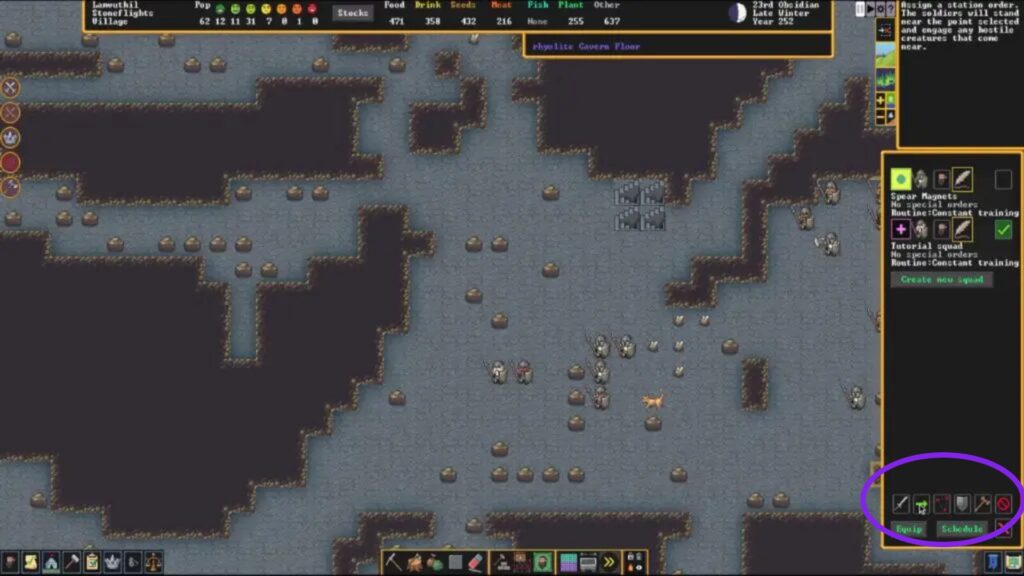 You have to order them to see your squad in action. Get to the lower right panel of the screen, there will be many icons for different attack features. The first one is for the attack, second is for station order which means that a dwarf will move to guard a specific area. The third is for patrol orders. Fourth is the burrow defense and the last one is the training.
In the end, the Dwarf Fortress Military Squads guide will provide all the details that you need to know about. From creating your own squad to giving them orders, every detail you need to know is here. Start your own Squad now.