With over 12,922 overwhelmingly positive reviews on Steam, this Resident Evil 4 remake has undeniably made all of us feel nostalgic. We can consider this particular release as one of the major releases of 2023, the remake has introduced quite a few additional features however the aesthetic of the remake has been kept similar to the original one. Nevertheless, the game is also known for its fictional bosses and one such boss that we are anchoring on today is none other than Mendez in Resident Evil 4.
You will have one final showdown with Mendez in the burning toolshed in Chapter 6. However, considering how overpowered this boss is, it will definitely take some time and experience to defeat Mendez. To make it handy for the players and to save you some time, here we have compiled all the necessary preparations and strategies that you can use in order to successfully defeat Mendez in no time. So without any further ado, let's beat some bosses.
Defeat Mendez
To begin with, make sure that you head to the merchant shop and purchase the TMP weapon for 10,000 Pesetas. Purchasing this particular weapon is not necessary, however, it will surely make the battle a lot easier.
Secondly, it is highly recommended to get yourself a second knife as well because we will be parrying many of the Mendez attacks. While we do it there is a high chance that the primary knife might break. So it's better to keep more than just 1 knife.
Last but not the least, before you enter the battle consider going to the merchant once again and buying some healing items (if you can afford obviously). The merchant regularly refreshes its stock of healing sprays. There is also a chance that you might get them at affordable rates at times.
Once all the necessary preparations are complete, engage in the battle and keep in mind that there will be two phases of Mendez. Here is how to counter both phases of the battle:
Phase #1
Consider breaking all the boxes and barrels on the first and the top floor first to get your hands on all the resources like ammo, health, and crafting resources.
Now to begin with the fight, head to the top floor to get yourself a higher ground. Now, try to aim at the head of Mendez because the head has the highest damage multiplier.
This is where the TMP also comes in handy because of its high fire rate, it will be easier to hit the head of Mendez multiple times
Also, consider moving around a lot in order to dodge its attacks and counter your own attacks. Once you have damaged Mendez enough, he will fall to the ground. Now, get close to the boss and use the knife in order to begin the second phase.
Phase #2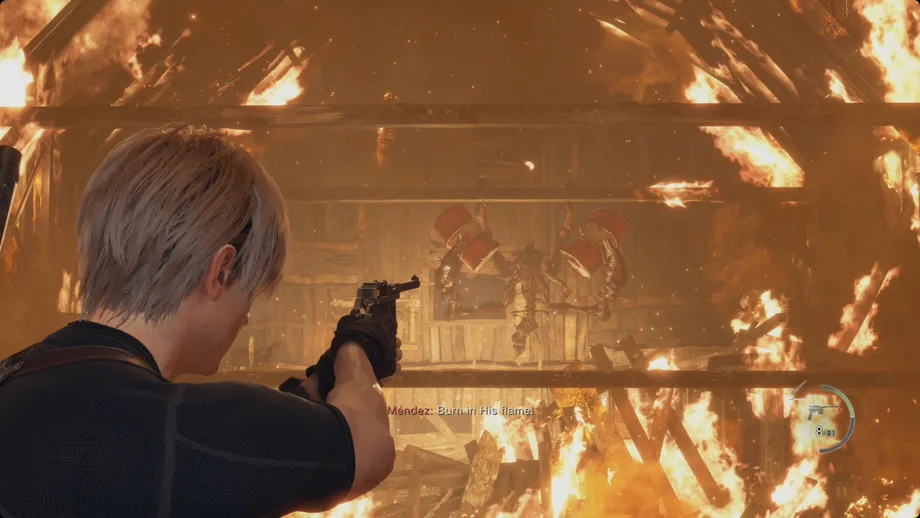 In the second phase of this battle, Mendez will now move to the back wall. Your strategy will now change a little bit in this phase. Consider targeting the red barrels as soon as they appear in the hands of Mendez.
Secondly, whenever you see that Mendez is about to through the wooden plank at you, move around to a different location, and the same goes for the melee attack as well. Mendez attacks where you are and not where you are moving to. So do consider switching your position whenever you see him coming.
That covers everything that you need to know in order to successfully defeat Mendez in Resident Evil 4. Do let us know in the comment section below how tough was this boss for you. Also, to know about Guide to Cargo Depot Blue Medallions Locations or for more guides like these, stay tuned to Retrology.