Developed by Studio MDHR, the news franchise of Cuphead the Cuphead – The Delicious Last Course has just been released on the 30th of June 2022 and has already made its way to the screens of many players. This new franchise is wholly packed with new weapons, characters, and monstrous bosses.
One such boss is Esther Winchester and oh boy it's quite a tough one to defeat without proper guidance. Many players do struggle when it comes to defeating Esther Winchester and after analyzing all of his phases and his attacks, here we have a guide to beat Esther Winchester just for you.
However, before running into it, you might also want to check out:
That said, now without any further ado, let's begin
Beat Esther Winchester Boss
Defeating Esther Winchester Boss is not an easy task since it has numerous phases and it will change its attack in every one of them. So you will have to figure out how to dodge each and every one of them. Here we will go through every phase of Esther Winchester Boss, its attacks, and how to dodge them.
Esther Winchester – Phase 1
In the very first phase, this boss will appear as a cow inside a saloon. Make sure that you keep shooting at the cow, and dodge all of its attacks.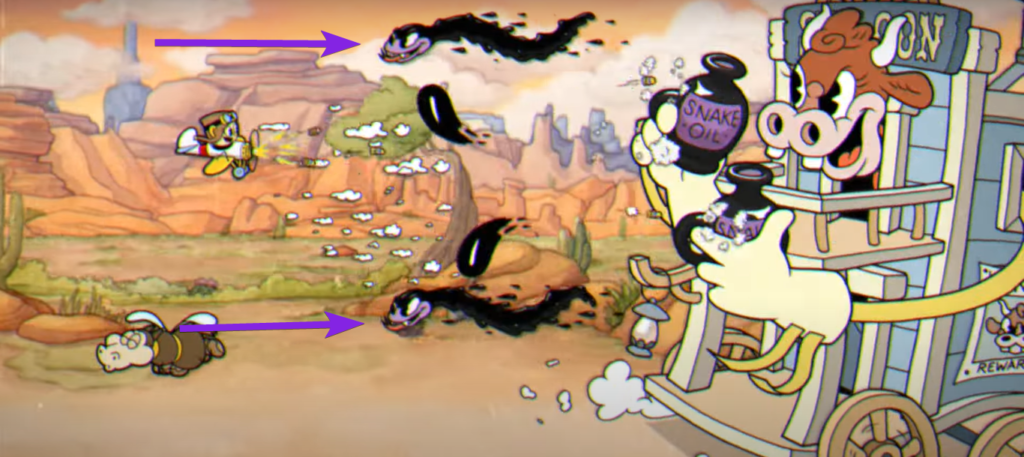 Ink: In one of its attacks, the boss will take out two ink bottles and shoot ink at you that will only reach half of the screen. However, the same ink will then bounce back and will come towards a straight path. These ink projectiles will be easy to judge as they are not so fast. You can easily dodge them by moving out of the way. These attacks can happen numerous times in a row, so you also might have to dodge it more than once.
Cactus: The second attack it will use is the cactus. The cow will throw a rope across the screen and will pull out a cactus into the battlefield. This attack can also be easily predicted. In order to dodge this one move out from where the cow is about to throw the rope until the cactus unblocks the screen.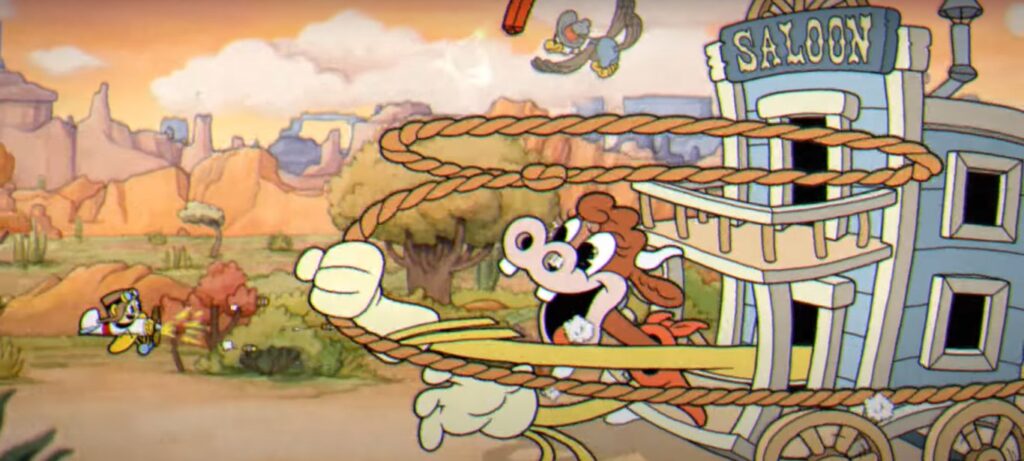 Esther Winchester – Phase 2
In the second phase, the cow will now come out of the saloon with a vacuum cleaner. Now, there are two important attacks that you have to be careful with.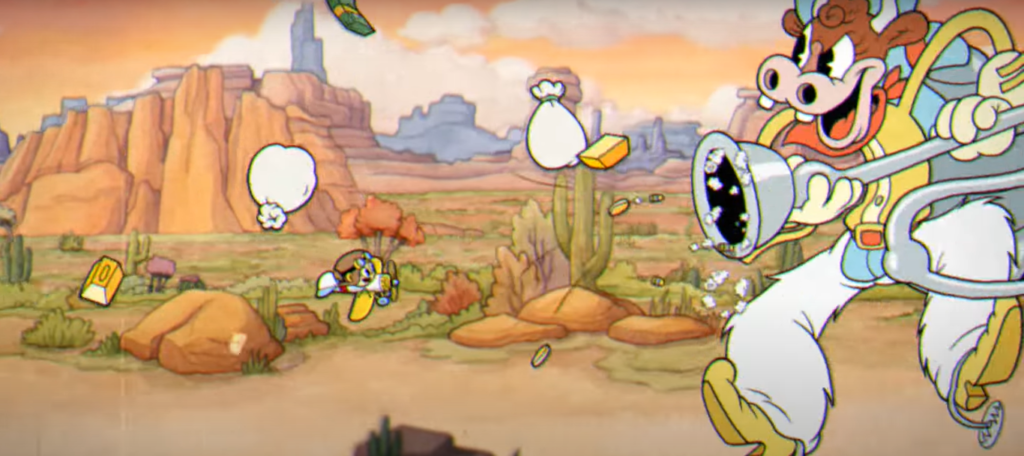 The first attack is when the vacuum cleaner will be turned on and numerous items will appear on the screen ending up inside the vacuum. Keep hovering around and make sure that you dodge those items coming your way.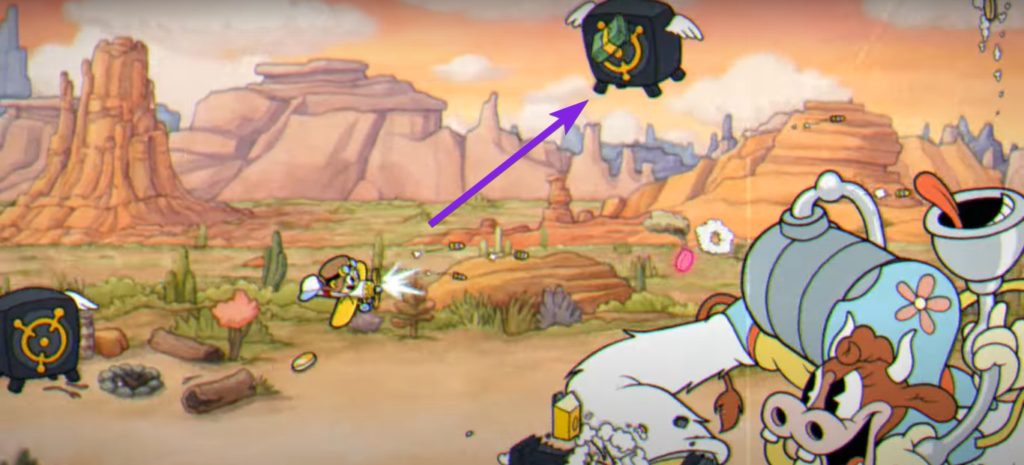 After that, the cow will now shoot out everything that it took inside the vacuum. Once, again make sure that you don't stick to just one place and keep moving around. Try to dodge the items coming toward you. All these projectiles will be in a straight line so it won't be a hackle to dodge them. Also, make sure that you don't stop shooting.
Esther Winchester – Phase 3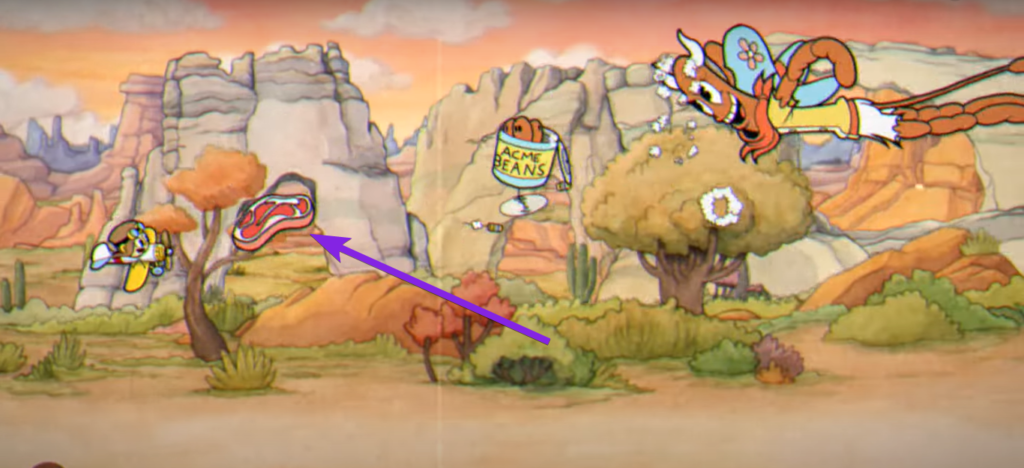 The cow will now get sucked up into its own vacuum and will turn into a sausage. This time the boss will be using one attack, it will throw steaks at you which will travel in an irregular motion, which makes it hard to predict in order to dodge them. Also, the steaks can be pink so it's better if you use your special attack here.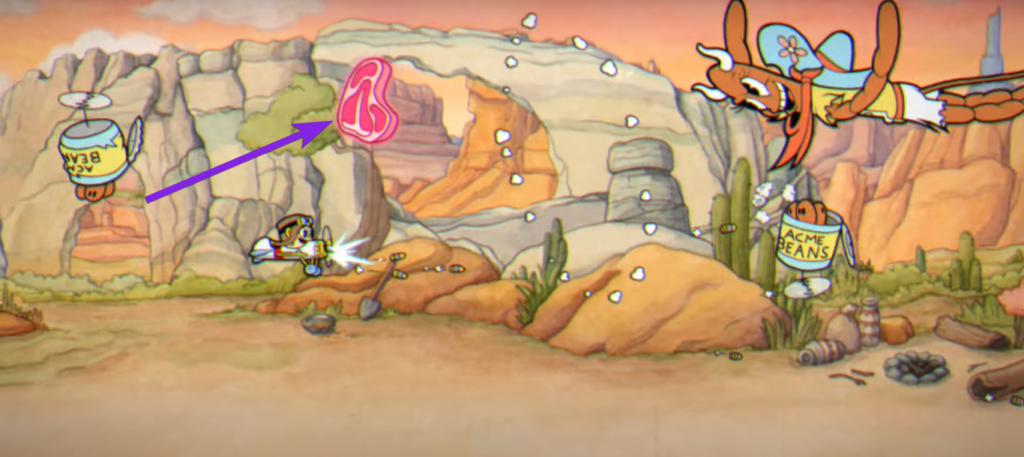 Other than this attack some cans will also appear on the screen, meat will be coming out of the cans that are open. Make sure that you stay away from those and move out of the way ASAP when they come close.
Esther Winchester – Phase 4
In its fourth phase, the boss will turn into a can of sausages. There will be two attacks the boss will be using this time.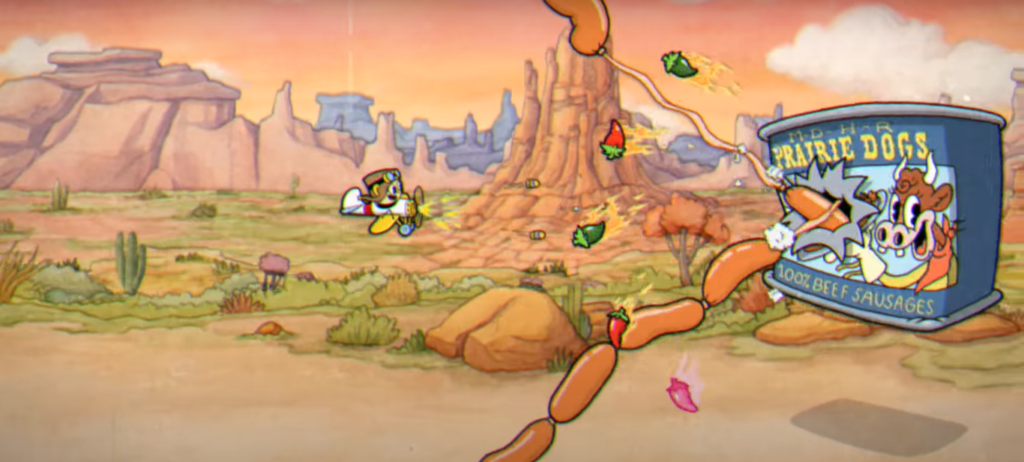 Sausages: The first one will be 2 strings with sausages on them. The string itself is not harmful, however, the sausages are something that you have to dodge. To dodge them, you can look for spaces between the sausages and move through them to the other side.
Chillis: The second attack will be green and red chillis. The boss will continuously throw these at you, however, these are quite easy to dodge as they move in a straight line. You can just hover around to avoid them.
Make sure that you collect the pink chili that will also be thrown at you by the boss. After that you can now use your special attack to finish it off.
That is all on Guide to beat Esther Winchester Boss, Cuphead DLC. To know about Guide to beat Cuphead DLC Secret Boss (Angel and Devil) or for more guides, keep following Retrology.