With unique gameplay and various superheroes, Gotham Knights have made the competition tough for the games out there. The best suit with powerful weapons and ranged arms that you need to gear up. Nightwing as your character we have got a lot of options. If you're confused or need suggestions, I will guide you to the Gotham Knights Nightwing Build then you are at the right place. Let's get to know about our Nightwing.
Gotham Knights: Nightwing
Once you unlock all the suits, Nightwing will have the best Momentutem abilities, various weapons, and protective armor. Along with this long list of weapons, you can get more from in-game purchases as well. There is much more to explore let's begin.
Best Nightwing Build in Gotham Knights
My recommendation for Nightwing Build is to look for stats first before you gear up. So, I will recommend you make the proper use of both skills and weapons to maximize the powers of Nightwing. Here is the best Nightwing build from Gotham Knights.
Dartdevil
Daredevil is amazing with the perfect combination of tools and skills as those mentioned below.
Momentum Ability 1: Dart Storm
Momentum Ability 2: Shotgun Darts
Element: Poison
Melee: Gold Escrima Sticks
Ranged: Gold Toxic Darts
Mod: Elemental Effect Buildup
Suit: Gold Armour
Best pair-up skills: Elemental Smart Darts, Elemental Smart Darts +, Triple Darts.
Starting with the dart. This is a kind of weakness for Nightwing. As they are used for one time only and have a short range as well. It should have been better. Next comes the Poison. The Poison is the best option to provide significant elemental damage. You can also use the Toxic Darts as they are also a good option if you're on lower levels.
Next for the mod, I would recommend the Elemental Effect Buildup. That's because it increases the effectiveness of the Poison. Once again, remember to choose the highest rarity of the mods. But make sure they work up well with fewer rarity weapons.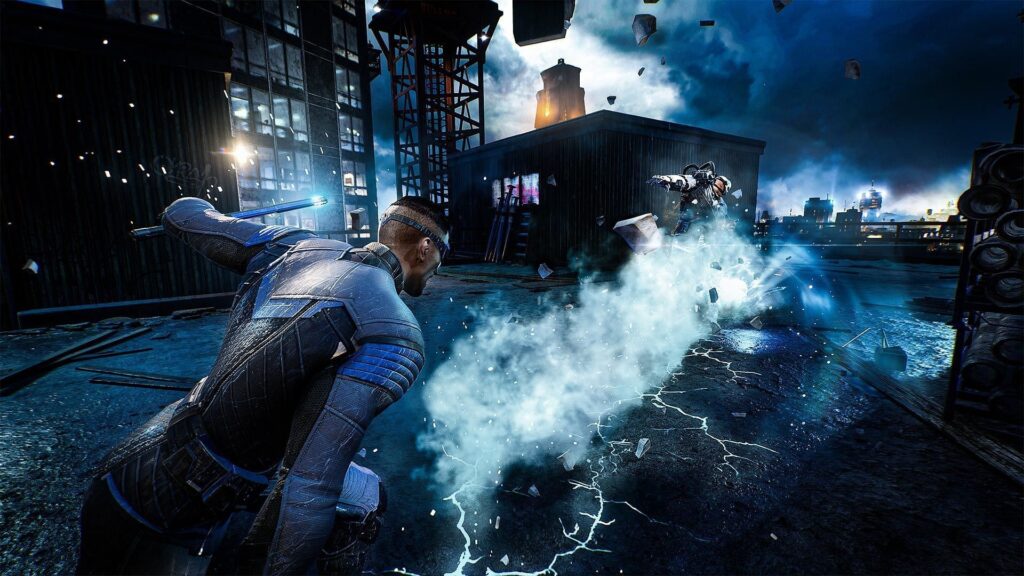 Next is both melee and suit, this notion is totally up to you. Starting with melee we focus on strength for defense. And the weapons that you can use. For the suit, I would say get the best defensive one. As you have to be protected then your Momentum weapons ate getting recharged.
Both Dart Storm and Shotgun Darts are brutal. As the first one causes a lot of damage to enemies by reducing Elemental Effect resistance. And the second one is merciless as this lowers enemies' guard and gains you time to aim more darts. But they will cost your Momentum powers.
Triple Darts are dangerous as they fire three darts instead of one at a time. Elemental Smart Darts+ are dangerous as they reduce the defense by 10%. And increase the damage by your partner by 5% for the next 10 seconds.
In the end, my recommendation is to gear up your weapons as Ranged and Elemental Effect Buildup as you get in battles with the enemies. Go ahead and boost the power of Nightwing.