Farthest Frontier is the latest strategy game developed by Crate Entertainment. Since its release on August 9, 2022, many players have been complaining about the Farthest Frontier low FPS issue, lagging, and sometimes the screen going blank.
While the developer has been continuously trying to debunk some of these concerns, a lot still remains to be fixed. As we wait for better updates to fix these issues for good, there are some recommended methods you can try on your own for a better gaming experience.
In this guide, we will discuss the Farthest Frontier low FPS and other issues and also how to resolve them on your own.
Game Issues
These are some of the issues players have been complaining about:
Low FPS
Crashing
Black Screen
Lagging
Screen Tearing
Stuttering
Check System Requirements
If you are acquiring any of the above-mentioned issues, your first task should be to check system requirements as it can be that your system might not support the game.
Minimum Requirements
OS: Windows 10 (64bit versions only)
Processor: Processor: Intel Core i5 3470 @ 3.2 GHz | AMD FX 8120 @ 3.9 GHz
Memory: 8 GB RAM
Graphics: NVIDIA GeForce GTX 780 |
AMD R9 290, with 3 GB VRAM or better
DirectX: Version 11
Storage: 4 GB available space
Sound Card: DirectX-compatible using the latest drivers
Recommended Requirements
OS: Windows 10 (64bit versions only)
Processor: Processor: Intel Core i5 4690 @ 3.5 GHz | AMD Ryzen 5 1600x @ 3.6 GHz
Memory: 16 GB RAM
Graphics: NVIDIA GeForce GTX 980 | AMD RX 590, with 4GB VRAM or better
DirectX: Version 12
Storage: 4 GB available space
Sound Card: DirectX-compatible using the latest drivers
Update Graphics Driver
If you meet the minimum system requirements of the game and it still continues to lag, it might be because of your outdated graphics driver. This can cause your game to repeatedly crash and your progress to lose.
We highly recommend getting the latest update for your PC. You can visit your hardware manufacturer's official website to get the latest update for your device.
Change Graphics Driver
Additionally, we strongly advise you adjust the graphics settings in the Nvidia or AMD control panel to resolve the low frame rate issue with Farthest Frontier on PC. Users of Nvidia should set Shader Cache Size to Unlimited in the driver's Manage 3D Settings. For many players, this setting alone has improved performance.
Visit Nvidia Control Panel -> Adjust Image Settings and Preview -> Select 3D Image settings -> Advanced 3D settings to see additional settings. then make the modifications listed below.
Max Framerate: 165
Low-Latency Mode: Ultra
Texture Filtering Quality: High Performance
Power Management Mode: Maximum Performance
OpenGL Rendering GPU: Graphics Card
Change the settings for Farthest Frontier AMD to the following:
Texture Filtering Quality: Performance
Radeon Anti-Lag: Enabled
Surface Format Optimization: Enabled
Radeon Chill: Disabled
Radeon Boost: Enable
Tessellation Mode: Off
Anisotropic Filtering: Disabled
OpenGL Triple Buffering: Disabled
Morphological Anti-Aliasing: Disabled
Verify Integrity
If boosting your driver fails to get rid of the game issues, you should try verifying the game integrity of Farthest Frontier. By this process, Steam will scan all your needed files or fix any corrupted files associated with the game. To do this:
Open Steam and go to Library.
Select Farthest Frontier from the game list on the left side.
Right-click and select Properties.
Click the Local Files tab.
Click the Verify integrity of game files button.
Wait until Steam completes the file verification for Farthest Frontier.
Lower Graphics
If you are still having low FPS issues, we recommend that you try lowering the graphics settings. The graphics settings that greatly affect the game performance are:
Anti-Aliasing
Shadows Quality
Texture Quality
Texture Filtering
Effects
Foliage
Lightning
Disable Background Apps
Try disabling all the extra background applications to decrease the load on the system. Even though it doesn't look like much, it can make a huge difference.
Enable Game Mode
Enabling Game Mode allows the game to get more FPS and better performance. You can do this by typing "Game Mode" in Windows Search Bar and selecting Game Mode settings.
Install The Game On SSD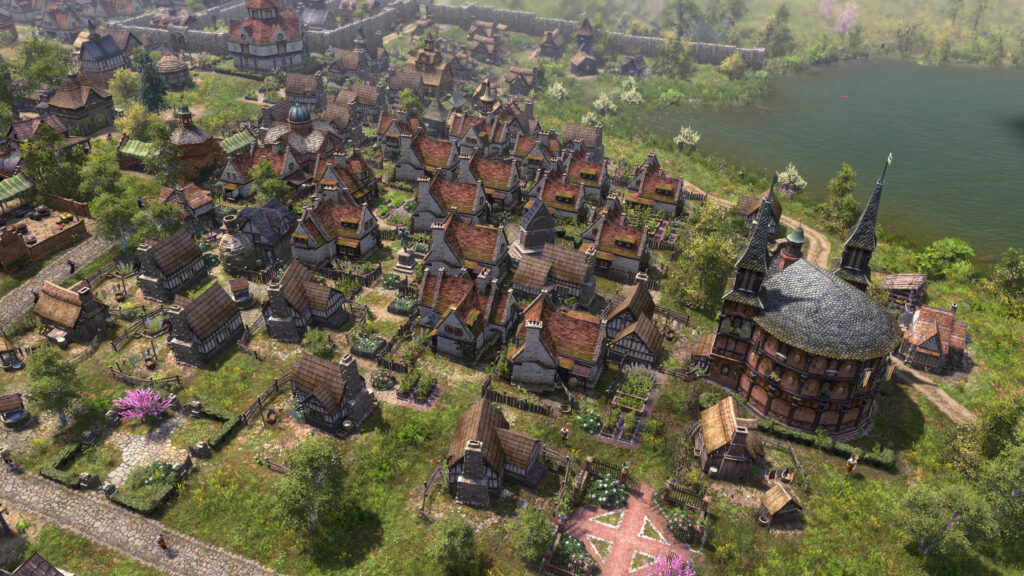 If all fails, you can always install the game on SSD. This can help speed up the loading of the game files which will give you a relatively higher frame rate.
Contact Support
If this happens to be your last-ditch stand, then we salute you for your efforts. However, if all the above-mentioned methods fail to work it does mean there is a defect in the game. It is wise to sort the game's official support then.
We hope this helps you get rid of the Farthest Frontier Low FPS issue. For more helpful guides on gaming issues, keep following Retrology.