Developed and published by Saber Interactive, Evil Dead: The Game is a survival horror video game based on the American horror film franchise "Evil Dead". Evil Dead: The Game was just released on the 13th of May and it has already made its way to the screens of not just the gamers but also the movie enthusiasts. It features some of its characters that were taken from the films and TV series which many movie enthusiasts couldn't just resist. The game consists of two main classes, you can either play as a survivor or as a demon. And in this article, we will be discussing both of the Evil Dead: The Game Classes. So without any further ado, let's get into it.
Evil Dead Survivor Class
The Survivors class is further broken down into four categories. Each of them has a variety of characters with different abilities and skills. However, you might have to complete a few missions first to unlock some of the characters, so make sure to put your time into the game in order to play as characters like Pablo Simon or Amanda.
1. Leader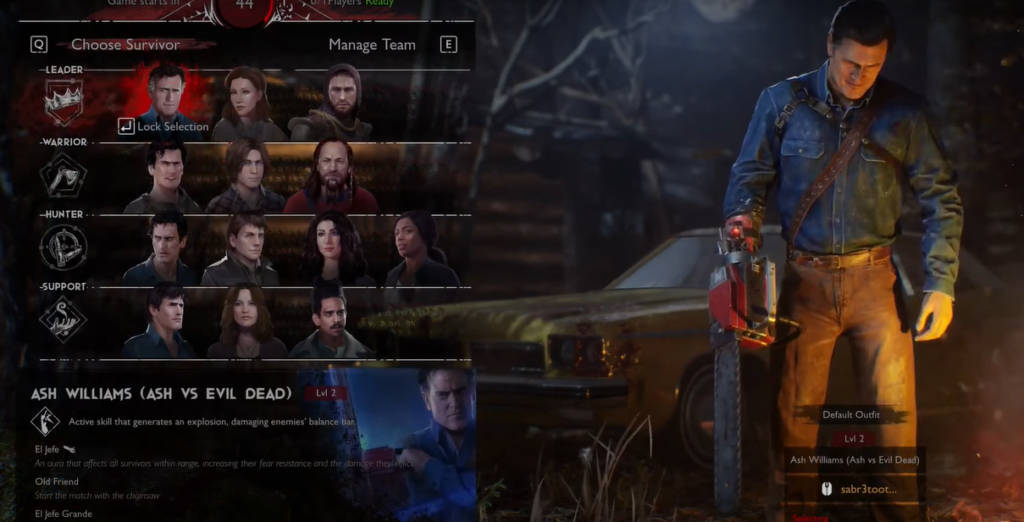 The Leader-class for Survivors is centered on being Fear-resistant which means that if you play your cards well, your chances of being possessed by an opponent Kandarian Demon are somewhat lowered.
Each character in the class has unique skills, but in general, the leaders will go on enhancing their squad by reducing incoming damage, increasing other Survivors' fear resistance, balancing bar damage, and damage dealt. While there is no obligation to follow the Leader, they can assist in effectively organizing and rallying players. For the optimum effect, stay close to them.
Characters in Leader class include:
Ash Williams
Annie Knowbury
Lord Arthur
2. Warrior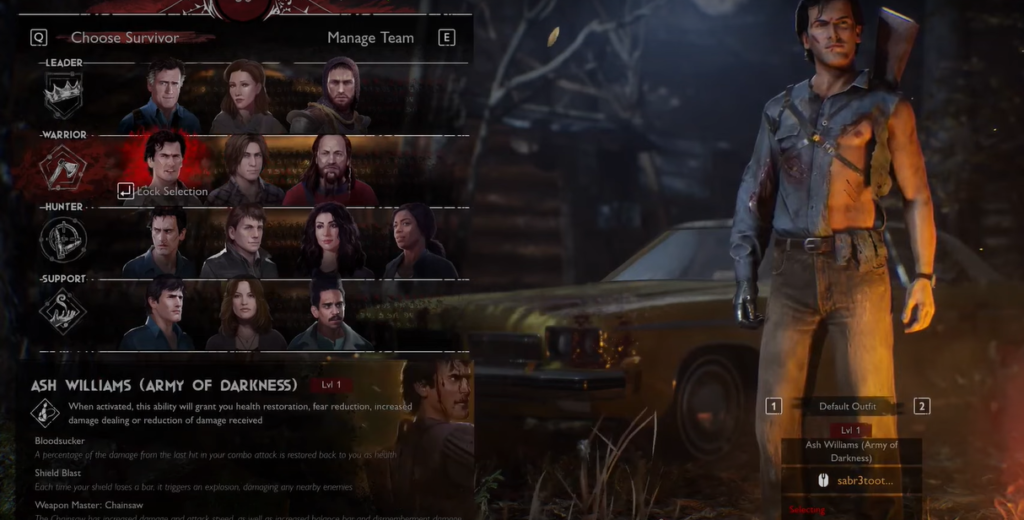 The Warrior focuses on melee fighting and dealing as much damage as possible. Warriors have much more health and have the ability to speed up melee attacks and do dismemberment damage. While fighting, the warrior skills also allow you to control the region around you so you can recover your strength. Although they don't have much range, which is irrelevant because their duty is to stay between the approaching demons and your less durable allies.
Characters in Warrior class include:
Ash Williams
Scotty
Henry the Red
3. Hunter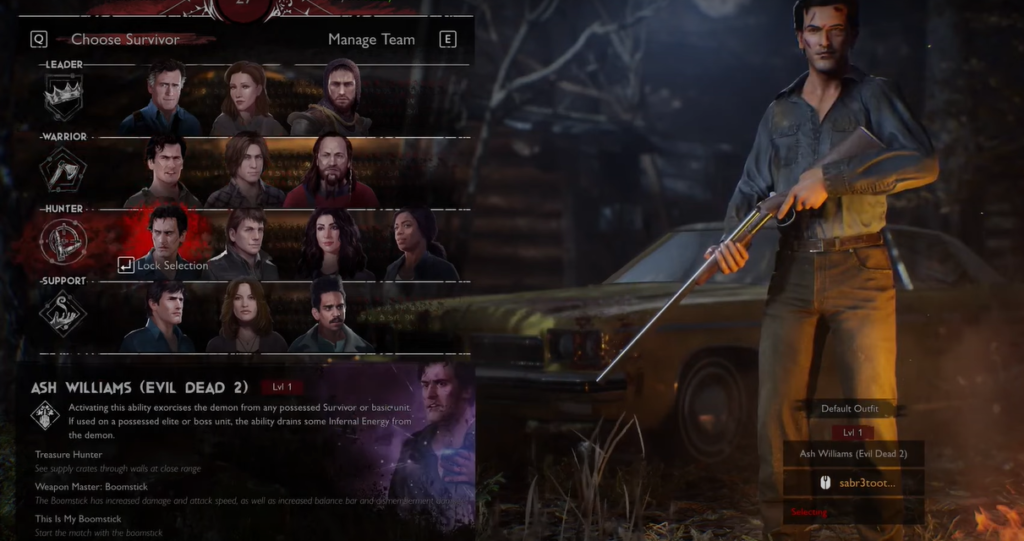 With every class having three characters Hunter's class has four of them. Hunter abilities center on employing ranged weaponry to combat threats from afar, being able to discover supplies in the environment, and increasing your resources. They can also carry heavier armor and have greater stamina.
Characters in Hunter class include:
Ash Williams
Amanda Fisher
Ed Getley
Kelly Maxwell
4. Support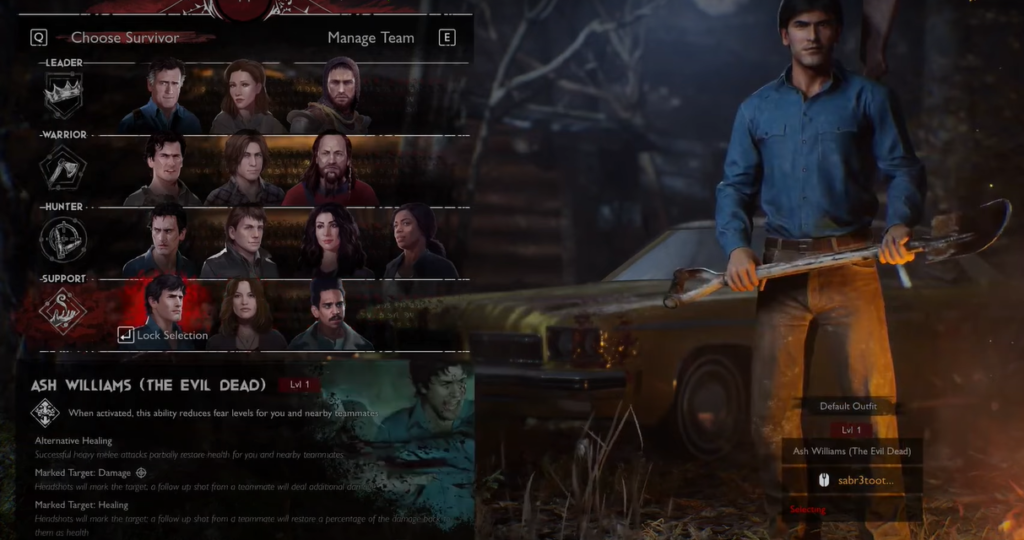 Characters of the Support class are dedicated to removing status effects from themselves and other Survivors, as well as healing and providing shields. They can also use more consumables and mark targets than other classes. While Leaders assist allies on the front lines, Support stands back a little more and uses various healing powers to retrieve loose teeth and daggers from their allies.
Characters in Support class include:
Ash Williams
Cheryl Williams
Pablo Simon Bolivar
Evil Dead Demons Class
From Evil Dead: The Game Classes, Demons class is further broken down into three categories. Each of them has a variety of characters with different abilities and skills. However, you can only control one demon character but that one character might be more resilient than any of the humans.
1. Warlord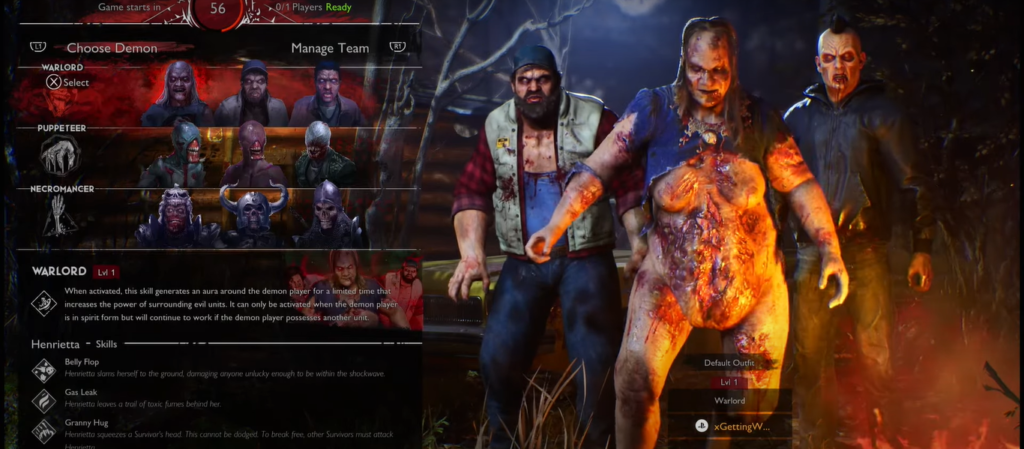 The Warlord focuses on dealing direct damage to players while also lowering any incoming damage. Every demon of this class has a major ability to generate an aura that raises the strengths of enemy units nearby.
Warlords are tanky brutes who use heavy hits, short-range AOE assaults, and even their own severed limbs to brutalize adversaries in close proximity. They have limited ranged attacks, but as a Warlord, you may inflict a lot of damage on survivors by getting right in the thick of them and flailing at every face you see.
Characters in Support class include:
Deadite Berserker
Demi Eligos
Eligos
2. Puppeteers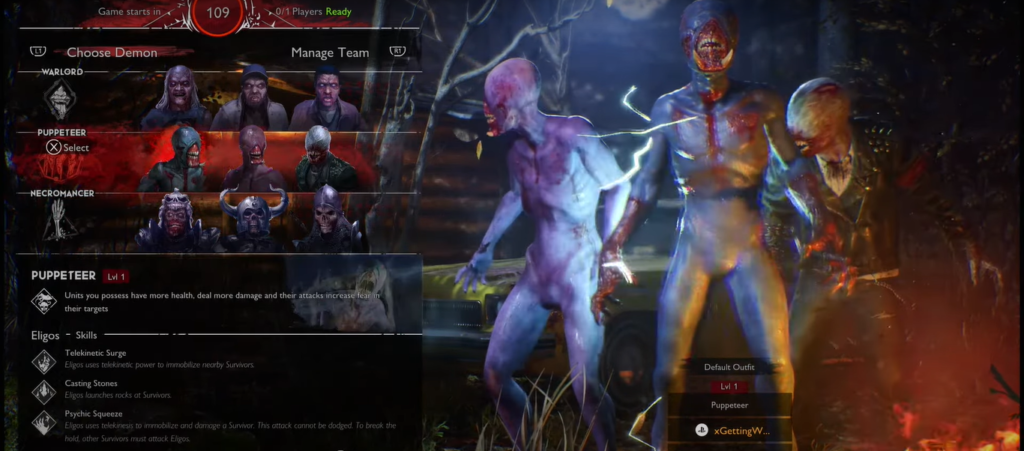 Eligos, the Puppeteer boss, is the best place to go if you want to try your hand at some skillful possession. This class requires a little more thought because it uses more sophisticated attacks, but it rewards tactical hitting and careful target selection. Their main skill focuses on increasing the health and damage-dealing abilities of the units you control. They also make the Survivors more fearful.
Characters in Support class include:
Deadite Berserker
Demi Eligos
Eligos
3. Necromancer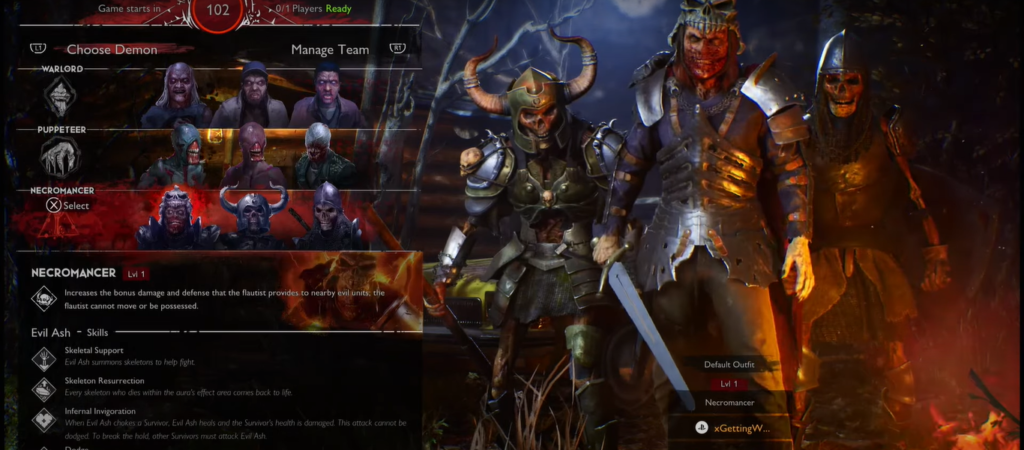 If you enjoy the movie Army of Darkness, the Necromancer class will be ideal for you. Necromancers use a combination of summoning and melee warfare, fighting alongside other minions as part of a communal horde. Their main skill boosts additional damage and defense while summoning skeletons and other demons in general.
Characters in Support class include:
Evil Ash
Skeleton
Skeleton Elite
That is everything you need to know about Evil Dead: The Game classes (Survivors and Demons). For more guides, keep following Retrology.