Dwarf Fortress is a building and management simulation roguelike indie video game. The game gives a free role of building and setting up everything in the way you prefer it. The most crucial thing you will have to accomplish here is to design the entire fortress for the dwarves that will occupy it. It should be suited for them and correctly designed so that they may still access their necessities.
Aside from the necessities, these dwarves want a particular location where they may rest or socialize with other dwarves. One of the buildings which fulfill this purpose is a temple. If you don't know how to build a temple in Dwarf Fortress and want to know everything about it, keep reading and find out.
Temples are an essential aspect of the Dwarves' civilization since they allow people to rest, interact, worship, and meditate to their gods. It's something that a lot of people overthink, and it's quite a straightforward system, so we'll go over the fundamentals. It's a Zone, like taverns and other establishments.
Building the Temple in Dwarf Fortress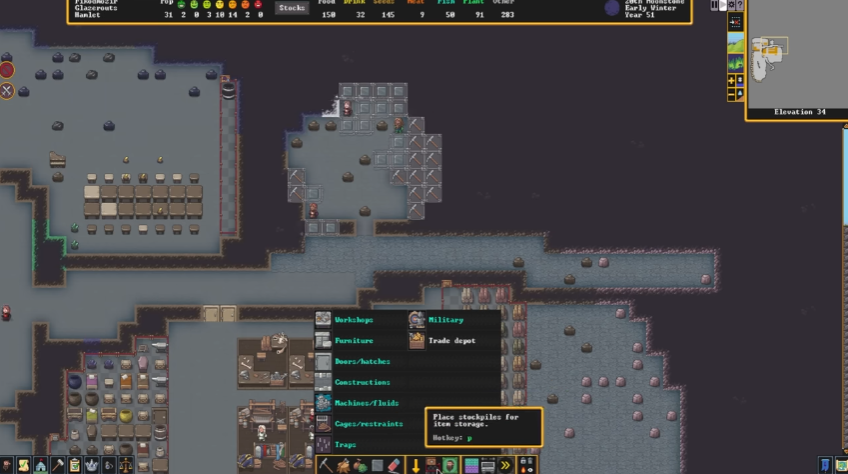 The initial step should be to pick a suitable location for it. After you've decided, mine the blocks and create the area whatever you like. So for that, we'll need to make room for it. Temples can be as little or as large as you like, but we'll keep it sensible.
The next step is to select this zone tab or press z and select Meeting Area. Then, click and drag the tiles to cover the entire temple. When the mining is finished, go on to begin smoothing the flooring; we don't want rocky stubby floors around.
Next, add a door onto the exterior of this just to make it appear like a room or a Space. We can either press B on the keyboard or click on the build key, and then we'll go to doors and hatches and grab a door, which can be created at the stoneworker business.
The most significant furnishings to be placed within the temple come next. It's the offering plate. Press b or click the button one more. Then, under Furniture, search for Offering Place. Once you've decided where you want it to go inside the temple, click on it.
Keep in mind that temples are relatively modular and don't actually require any specific Furniture you can simply construct a temple and open the square in an open field it doesn't even need to be inside.
Assigning a Deity
After designating it as a temple, you may see a list of deities and how many dwarves worship them. You can, however, pick No Specific Deity so that anybody can come here.
Because there are numerous gods in each Dwarves society, you must choose one, or you may go with a generic Temple, building one Temple for everything and then gradually opening it up to new Gods as they are requested. You can assign the temple you are building to one God if you want and if that's what you plan to do, but it's not compulsory.
Hopefully, this guide help you understand the role of the temple in Dwarf Fortress and how to make it. For more similar guides, check out the gaming section given on this site.