The objective-based multiple players game Overwatch 2 by Blizzard is out with new updates. And freshly designed heroes. There are also updates in the previous heroes' kits like Moira. Let's begin with the best defender of Overwatch 2 Brigitte. I have brought all the facts and specifics you need to know you – from induction to the latest updates.
Brigitte in Overwatch 2
Overwatch 2 has made a few changes isn't the gameplay. As of now, you can have a team of only members with one Tank member only. So, it's always good to have a great defender like Brigitte. She is a hybrid of an excellent mixture of both Tank and Support skills.
She has an exceptional kit of powers where she can heal her teammates and protect them from attacks. Mastering their skills take time and practice. But she is still a potential member as she has a good HP with 200 Health and 50 (Base/Armor).
There are some changes in Brigitte's design and kit. Her new armor suit is lighter than the previous one. And has a great chrome finish with a bolder finish. Her looks are sharper with darker and thicker hair. And now, she doesn't use Shield Bash as there are other improvements in her kit.
Brigitte's Abilities in Overwatch 2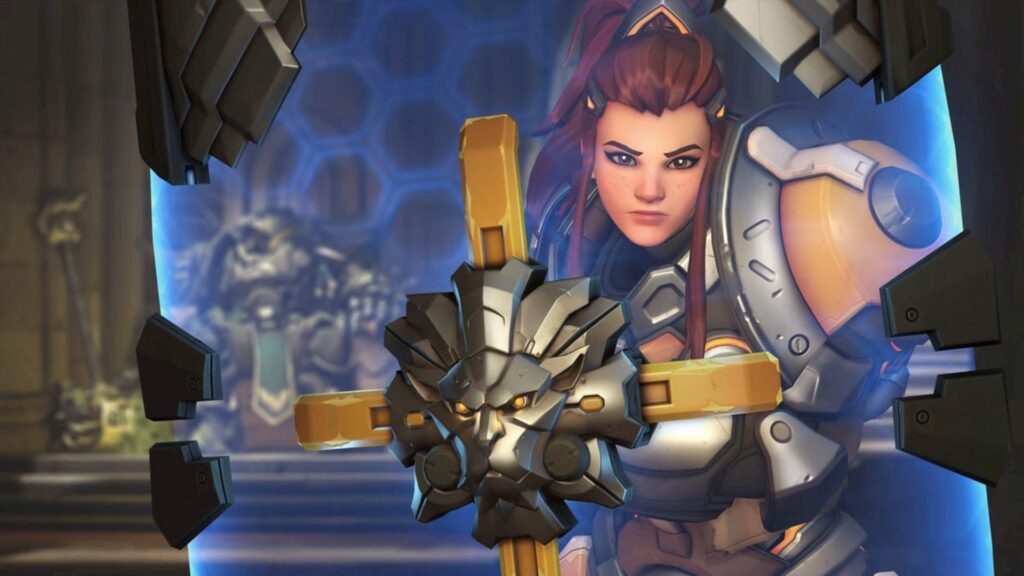 Repair Pack
This ability is beyond amazing. With his power, she can heal their allies when they are out of Inspire's radius (explained below). Brigitte can have three charges with each of 2 seconds duration. And it takes a cooldown time of 6 seconds. The healing power is 110 for the allies. My recommendation is to use the two charges and always have one charge as a backup for any emergencies.
Whip Shot
Whip Shot is like a long-distance frail throw. She can throw it at her enemies to disperse them if they try to push her into a corner. The damage rate is 70 and it needs 4 seconds to cool down.
Shield Bash
This is a moment ability where Brigitte can block the incoming damage. It activates when Shield Barrier is deployed. It bashes into the enemy to push it back.
Brigitte's Weapons in Overwatch 2
Rocket Flall passes primary fire at multiple enemies in one attack with a damage rate of 35. And it has an extended range too. As for the secondary fire, you can use Barrier Shield. It is used to provide a shield under her and her team is under attack that can cause a 150 damage rate.
Rally as Ultimate
Brigitte's Ultimate is Rally. This is her super ability as she can provide extra health and armor to her allies. And also move faster. It has a cooldown of 10 seconds and be used for 10 seconds. In case of extreme conditions, it can be used for extra 30 seconds.
She is a reliable teammate as she can provide over health to her teammates before their rivals bash them with their powers. You can see the health of each character's HP.
Strategies for Brigitte in Overwatch 2
Brigitte is an excellent denfer. And also compatible with other new heroes. Moreover, her Repair Pack is great when teammates are far and need her help. We still respect all her abilities undoubtedly.
With this detailed guide, Overwatch 2 Brigitte is a great choice in terms of the Support member. Then the next time you play Overwatch 2, get Brigitte on your team for long-term defense.