The brand new CULTIC, published by 3D Realms is out. This shooter game is filled with dead bodies from graves. And will fight soullessly to join a strange cult. This is out with many features and different gameplay. And I'm here with the CULTIC review for you before you join the cult.
CULTIC: Gameplay
This old-school-inspired or retro-style shooting game is here to scare your souls out. This gameplay is about a sinister cult with strange beliefs from the unseen evil spirit. You want to join the cult by every means and weapon you have hands-on. Every weapon and each move makes you close your ranks in the cult. So, take all your arms and shots to kill each one in your way.
Battles and Action in CULTIC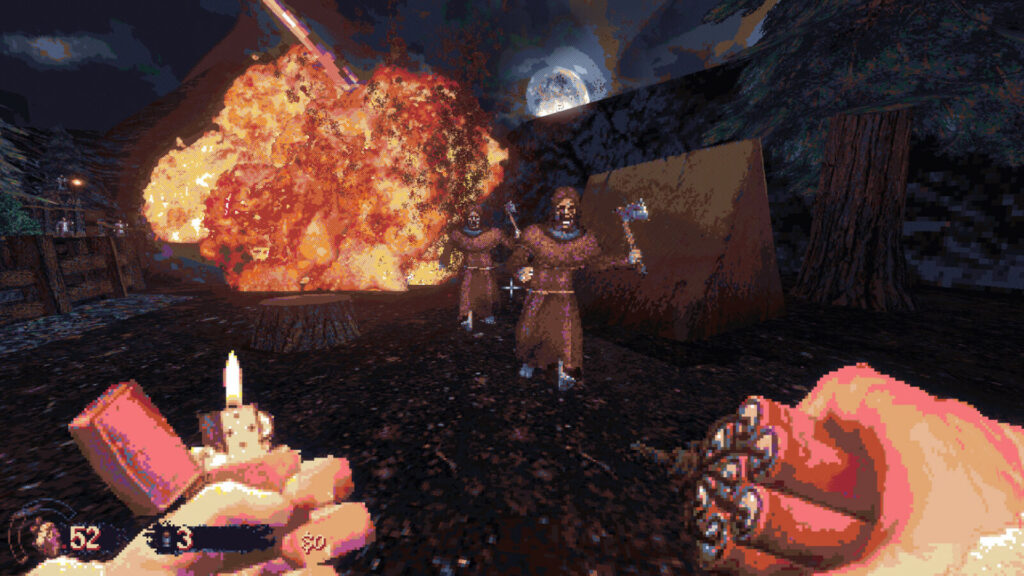 The most satisfying yet gross part of the game is the amazing headshots. Other features are unmatchable and amazing. But the headshot is spectacular as the bullet pierces the skull. And a huge fountain of brain and blood sprays all around is just a perfect homicide scene. I know it's disgusting as well.
There are other crunchy fight scenes like bullets loading guns from the 90s. And the pleasing sound of their loading. There is a bundle of arms and weapons selection in Chapter One. Rattling machine guns, rifles, shotguns, and hatchets is truly retro but gives the true vibes of a savage warrior.
If these weapons seem to you as an amateur thing, here are the big guns. You can have dynamite and explosives with you to carry. And use them, when a swamp of enemies attacks you in a corner place. Just ignite them towards your enemies and see them turning from a swamp of nasties baddies to a hot boiling flesh soup.
Cultists of any type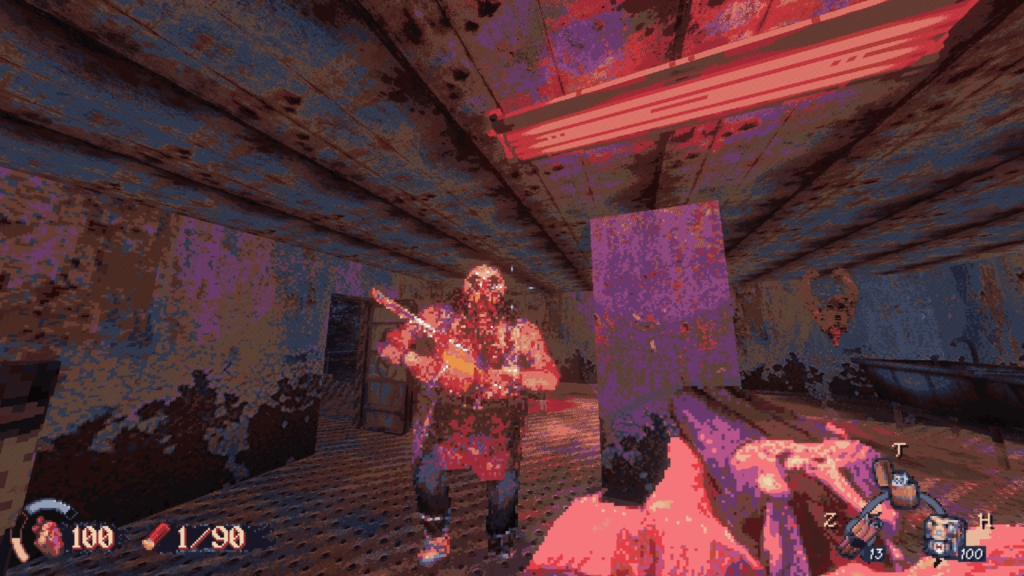 You will see many types of cultists in-game with guns and fight strategies. Walking Zombies, Titan with flesh and guns. Armed ghosts. Crawling Skeletons with shotguns. There's a lot of variety for selection. But look for easy targets, as you don't want to lose your health.
CULTIC Graphics and Visuals
Cultic graphics and gameplay build are extremely – pixelated or crisp. It graphics used are pixelated textures and 2D sprints. It also has a narrow range of color palettes to display the aesthetics of the dirty shot scenes. The scene is giving the proper flex of action-packed moves and oddly satisfying light effects. The 2D enemy with 3D objects is paired well. And truly a good decision.
The CULTIC platform is the only thing that keeps the game a bad star. A shooting game becomes tricky for jump puzzles. And also critical to pass through. Moreover, the movement of the players becomes very shaky to get to the right path. This is the only point I felt needs to be smoothed out in the future.
In the end, the crispy retro game is a must-try for all shooter and creep-loving players. The CULTIC review has details of both perspectives of the game. So try out and experience on your own. And for more gaming content, check our Gaming section on Retrology.