Armour Studios presents the Bear and Breakfast game for its adorable players. If you find bears cute and love management games, then you will be a huge fan of Bear and Breakfast. Here is the ideal article for you to get insights about the Bear and Breakfast resorts guide.
Bear and Breakfast Resorts Guide: How do resorts work?
This adorable game with cute bears in forests will make you addicted to it. In this game, a cute bear Hank and his friends find a deserted cabin in the forest and come up with a great business idea. They renovate it into a new and well-managed hotel. To generate money out of it and to offer shelter to good and naive guests. With their good intentions, Hank gets a good profit. But everything turns upside down when Hank finds himself solving a mystery that was in good of nobody.
This lovely game has 11 cities for you to visit and travel in. Out of which only five have the best five-star hotels to build. In each city with resorts, you need to have specific necessities to fulfill the guest's requests for a comfortable stay at your BnB. Here, we will give you the accurate features of each resort. So, you can build it better and earn more for these profitable resorts. Let's start the tour.
Timber Crossing Resort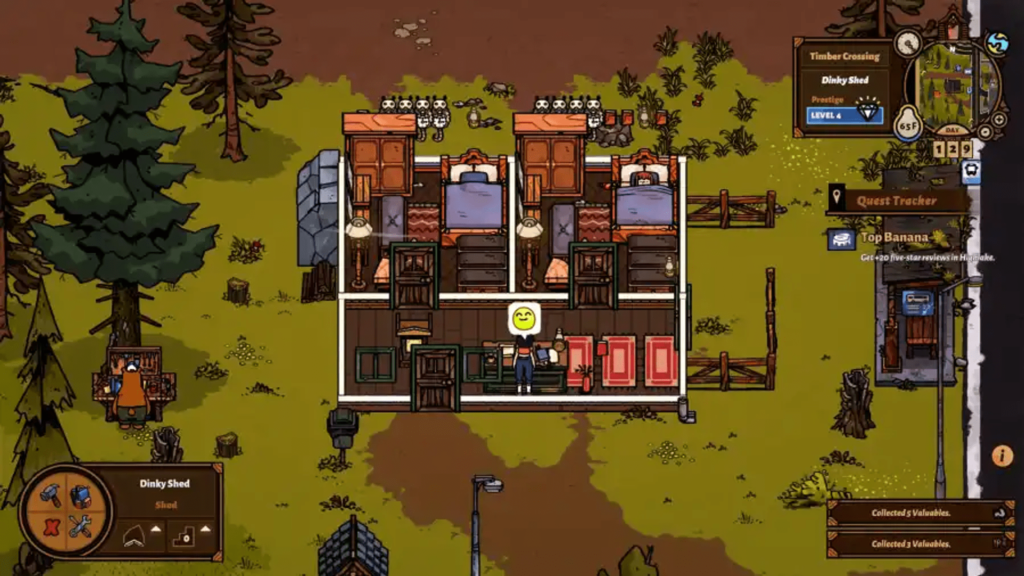 This greenery resort is in the middle of green patches and huge trees surrounded by flowers. As you approach it, you will see a little shed that needs renovation. Here, we come to know that this resort needs decor and comfy beds to revive its inner beauty and make it a better place to stay.
Go ahead and talk with Fin about your first BnB build. And he will happily help you with the materials needed and the work you need to put in. Ask Tony, the beaver for help. Within no time, your place will be ready.
The naive guests get easily impressed. they want a comfy bed to sleep on and stunning rugs. You can use the outside room; just repair it a little and it can be ready to use. Now, head to Took's dumpster to get cute decorations items. Now, you need to craft a comfy bed and add your decor pieces to the room. Your guests will be happy to stay in such a delightful room.
The A4A Resort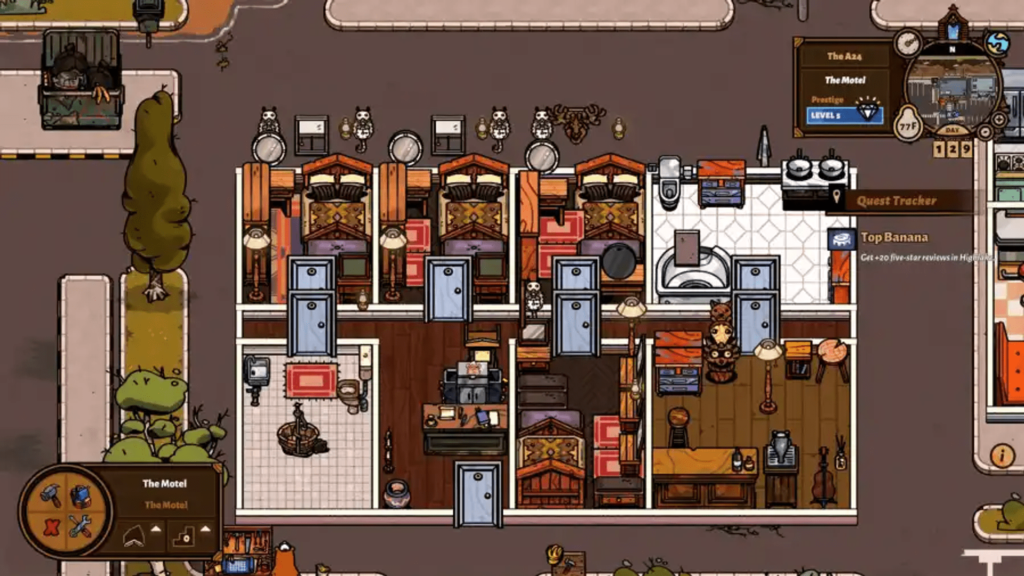 After you complete the main storyline, you have to provide the service to another resort. The A4A resort will be in a far and relentless place without water for a long time.
The demands of this resort are the essentials like comfy beds, decorated rooms, and clean bathrooms. But demands rise with more customers for distilled water and bars in this hot land. Here, you need to build a bathroom in a suitable place for all guests to access, or else the guests will leave with bad reviews. They will not pay the whole bill and won't return for another stay.
After this facility, guests still are hot-tempered after their long journeys in the deserted place. You need to open a bar for your thirsty customers. After completing the main quests, you can have access to the blueprints of the bar by purchasing them in exchange for coins at Pawn Voyage. Now with bar blueprints, you are ready to set up the bar and cool down the tried guests.
Highlake Resort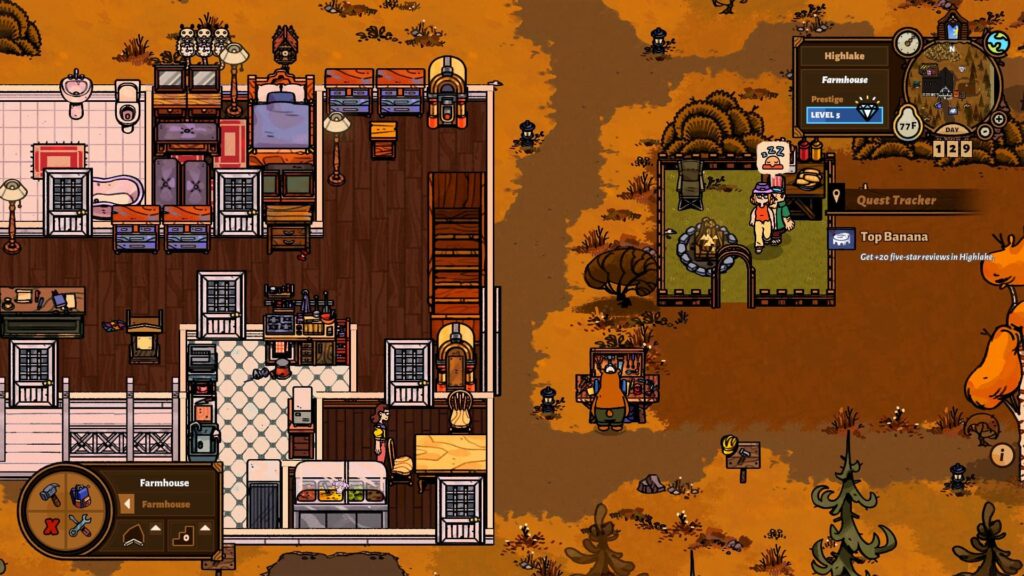 A stunningly beautiful city with fields of grains is the third place where you have to build a high-standard resort. And the main demand is freshly cooked meals for the guests is what you need to focus on.
As you arrive, a lovely goat Julia will welcome you and provide a light tour of her place. She herself is a chef but not good enough to cook meals for the guest. So you have to start with the kitchen to make it work. After completing her quest line, you will get the new blueprints for the kitchen from Pawn Voyage. You have to settle the kitchen with one cutting board at least. It would be ideal to get a stove and fridge in order to cook. And for the dining room, you need a dining room, one buffet table, and at least one chair to serve on.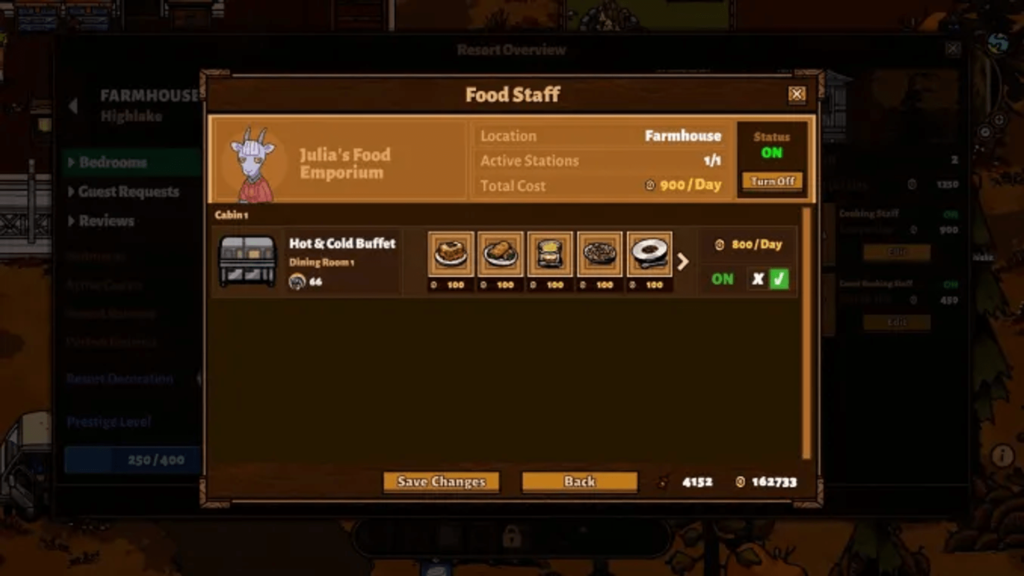 The easy work is over. The hungry guests want their meals served hot. Julia will teach tough and complex recipes. Then, you have to rush outside and gather the recipe's ingredients. Get back to the kitchen and prepare the meals for higher food points. High food points, highly happy customer. Don't forget to check the lowest food points. In that case, you cannot serve meals at the lowest food points.
Next, you will have an upset camper. In Hilllake resort, there will be many campers as your guests. So, set up a campground with smores stock, a smores table, a warm campfire, and a wood log to be seated. Some campers will stay at the resort if the campground is good. This campground needs to be nice and clean as it is linked with the main storyline.
As you keep serving the guests meals, the food points increase and you will keep getting good money. Next, you can hire more chefs to serve more customers and also provide Julia with a cooking station. Remember better dish, better bills paid. Happy customers will make your pockets even happier.
Winterberry Resort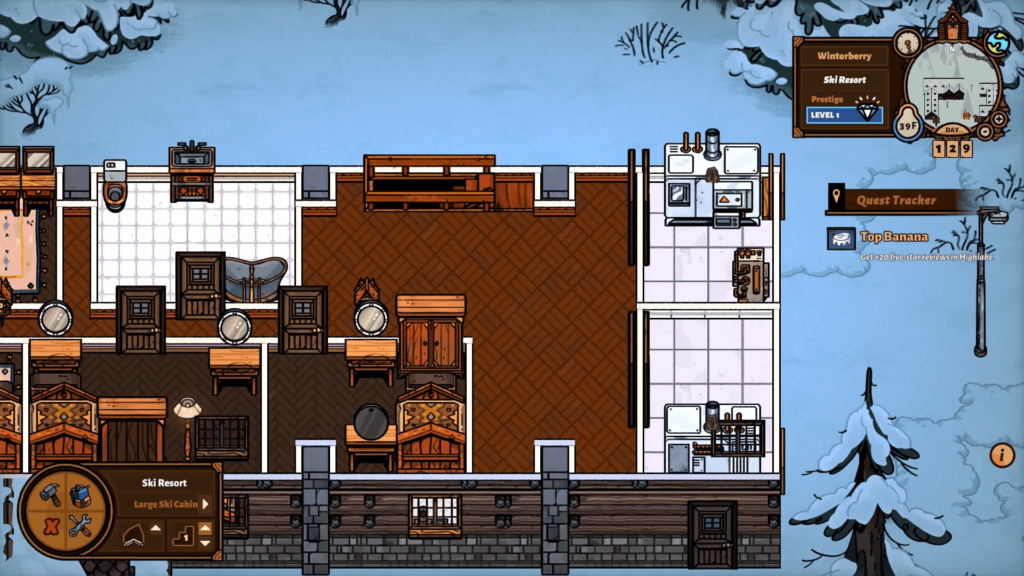 This resort is situated at the top of a snow mountain. The guests in this cold and remote place want a warm place to stay and sleep. The essentials are pretty same but the warm and cozy rooms are a must.
To keep rooms warm, you will need to build a service room for boilers. A cute native dog, Jax will line up the quests for you to complete. And after you are finished with them, you can build a service room and boilers. Moreover, you can also purchase wood logs to fuel boilers.
Make sure to maintain the temperature of the rooms as the boilers should not stop. Keep adding more fuel and maintain the temperature. They have a minimum temperature to maintain or else the room's temperature will drop to the freezing point. Which will make the customers upset. So, keep it running.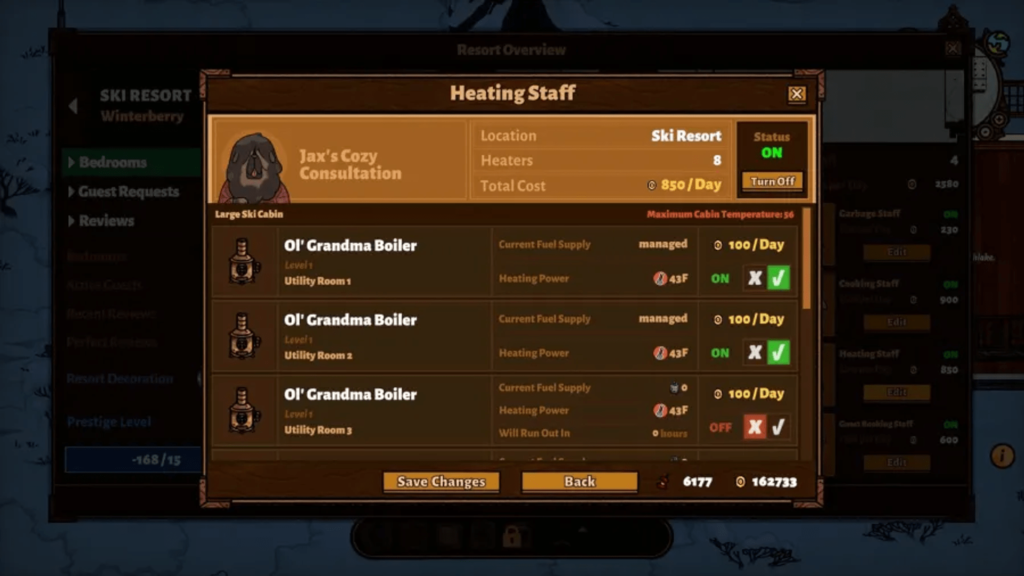 Customers in the cabin want a warm room with books to read. You need to keep managed lounge room with a bookcase, an armchair, and a cozy sofa set. You have to keep ready for any coming frost guest who just wants a warm place to read their book.
Jax is a cute helping puppy who wants to help you with his talents and wants to fuel the boilers at a fixed charge. He will maintain and Julia will make sure of it. This way your warm rooms will never go freezing and the money keeps coming.
Pinefall Resort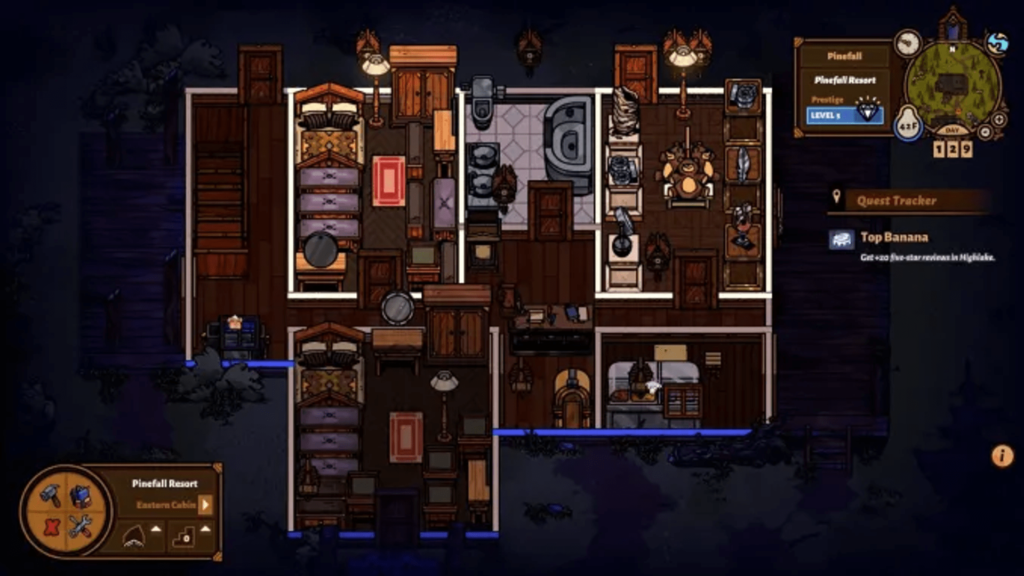 This resort is the last and a bit different from the others. Pinfall is a mid-urban spot with natural landscapes and grounds. You will be needed to have essentials and build a museum over here. Creepy and strange objects will attract guests here to visit it.
You have to follow the main quest line and you will easily build a museum. Once you have an artistic object to display, showcase it in your museum and keep going for more items to display. Keep collecting more items as guests want to see more of them in the museum.
If the museum isn't good enough, then you can also build a movie theater to watch movies. Just fulfill the main storyline and you can get the blueprints for the theater at Pawn Voyage van. And you add a flat-screen and seats for guests to watch movies and enjoy them.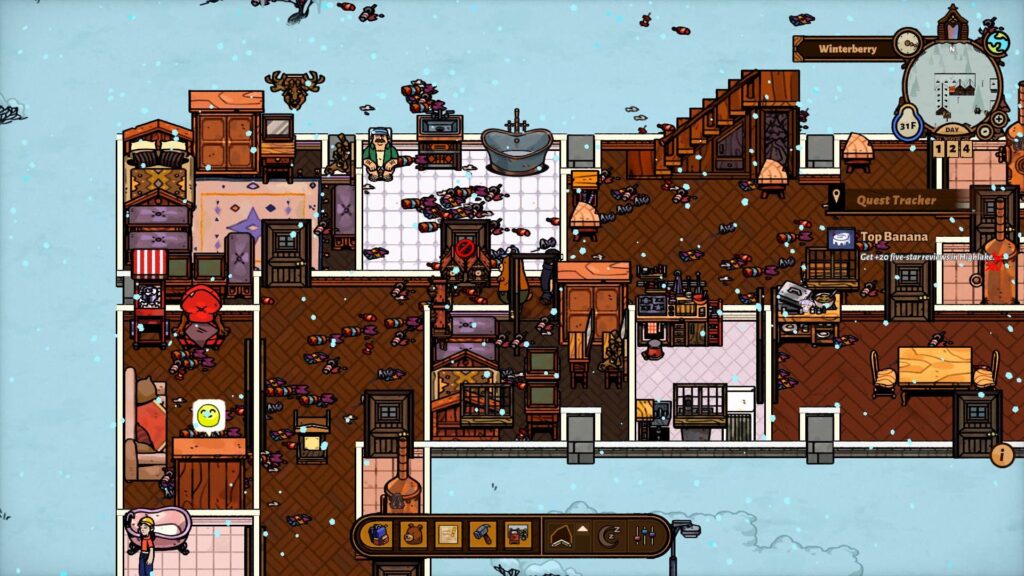 After the guests leave, you need someone you clean the trash. Wade, the rat will help you with it so you can manage the resort better and have a clean place to welcome guests. Wade will wipe off the trash at a reasonable price and get the resort clean and fresh for you. At the end of the storyline, you can hire Gus the possum to keep the bookkeeping of all the guests. The welcoming receptionist will be working on a daily fee and you will be happy to have a reliable helping hand.
There all the information for the resorts is concluded. This Bear and Breakfast resorts guide will help you in managing the resorts smoothly. And for more such guides, have a look at our guides page.