We'll look at the Saints Row tasks, how they operate, and what rewards you receive for finishing them as if there weren't already plenty to do in the game.
Although the most recent game in the series is set in a different location and may turn some people off, you can be assured that it features the same absurd antics and open-world challenges as its predecessors, along with some good rewards for finishing them.
The Saints Row tasks are listed below, along with information on what they are, how to complete them, and all the glitzy rewards you can earn by doing so. This will enable you to finish the game entirely and will also enable you to level up quickly.
Challenges are a means to add extra rewards to whatever main or side story quest you are doing. These challenges reward you with experience points and money and are frequently simple to complete while you go about your chaotic daily life in Santo Illeso and as you finish other tasks scattered throughout the large desert area.
Also, check other Saint Row 2022 articles:
Saints Row (2022) challenges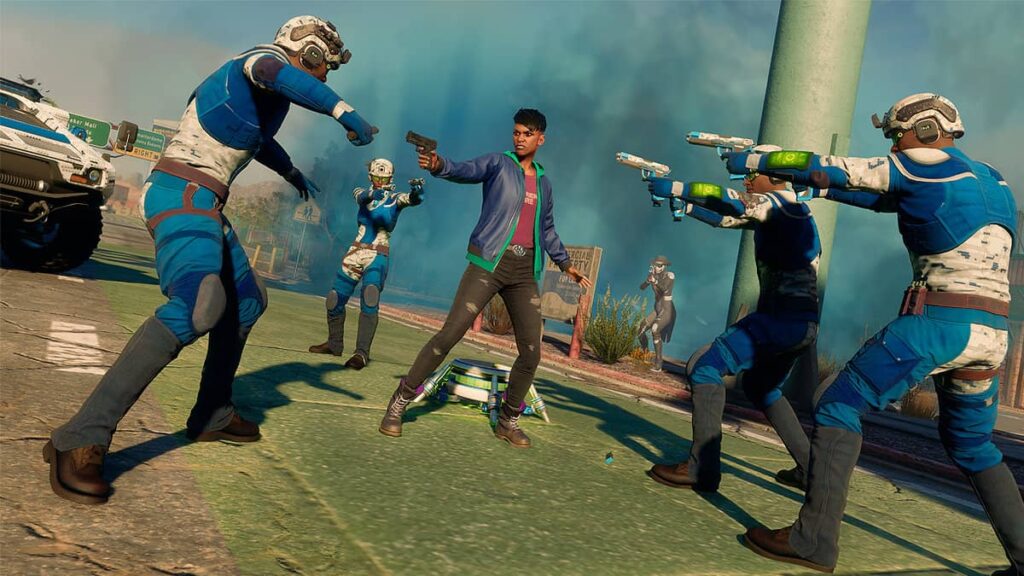 In Saints Row, there are various trials with benefits. There are obstacles all across the globe that need you to do quick tasks or achieve goals. All the challenges in Saints Row are listed below:
1 Challenge (1125 XP)
The Collective: Kill the Collective
2 Challenges (1125 XP)
The Tourist: Make a purchase at an outdoor shop, Find and Start a Hidden History
Target Practice: Find and start a Shooting Gallery, Headshot kill 15 enemies
Lost Wheels: Carjack 5 vehicles, Investigate a pinwheel in the desert
Shots Fired: Take a Photo Hunt picture, Find an HQ collectible
I Know A Shortcut: Unlock a Fast Travel location, Discover five new districts
Off-Roading: Equip a vehicle with an off-road kit, Drift for 60 seconds in the Badlands South
Close Call: Drive into oncoming traffic for 120 seconds, Get near misses in a vehicle 20 times
You Are Already Dead: Perform takedowns on ten enemies, melee kill 15 enemies
Nice Shootin' Tex: Headshot kill 30 enemies, Groinshot kill 15 enemies
Sightseer: Travel 1,000 meters on foot, Drive 10,000 meters
The Traveler: Travel on foot for 5,000 meters, Drive 30,000 meters
Hope You're Insured: Put a dent in a Raycaster, Kill a Marshall with an ambulance
The Tourist: Make a purchase at an outdoor shop, Find and Start a Hidden History
3 Challenges (1125 XP)
Fashionable: Buy a hat, Buy a shirt, Buy a pair of pants
Arm Yourself: Obtain an Idol Life pistol, Obtain an MDI-77 Auto Rifle, Obtain a Sawed-Off Shotgun
It's A Living: Complete a Crime of Opportunity, Rob an armored car, Find two items in a dumpster
Disturb The Peace: Get two-star Panteros notoriety, get two-star Marshall notoriety, Get two-star Idol notoriety
Fight Fire With Fire: Kill 15 Idols with an Idol Lite Pistol, Kill 15 Idols with an MDI-77 Auto Rifle, Kill 15 Panteros with a sawed-off shotgun
Take Care Of Business: Melee kill a Gigante, Kill a Wrangler with the MDI-85 Carbine, Perform a takedown on a Raver
Van Vandal: Carjack a Barracas, Carjack a Sojourn, Carjack a Porter
Wreckless Driving: Sideswipe 20 vehicles, T-bone vehicles, Read-end 15 vehicles
Finish 'Em!: Perform 15 takedowns on Panteros, Idols, and on Marshall
JimRob's: Equip three vehicles with an off-road kit, Store ten vehicles in your garage, Equip three vehicles with a boost
Chalupacabra: Get airtime with Sammy's food truck, Drift in Twisty's food truck, Sideswipe vehicles with Weenie's food truck
Shady Oaks: Ragdoll a distance of 5,000 meters, bounce boost off of 30 people, Revive 20 allies
Castle Kraken: Wear a Dustlander outfit, Defeat 30 Dustlanders, and Kill 30 enemies with a Dustlander Sword
These are all the challenges for Saints Row 2022. Keep checking Retrology for further helpful Saints Row 2022 guides.