Asterigos: Curse of the Stars will be playable on October 11. If you pre-ordered it, though, it might become playable as early as October 8.
The city of Aphes is teeming with magic and mystery and it's up to the players to explore Asterigos: Curse of the Stars. A courageous Northwind Legion warrior named Hilda journeys into the fabled cursed city in search of her father. She would learn about the rise and fall of a great city, see history being made, and make challenging decisions that would determine the future of the entire kingdom. Architecture with different Greek and Roman periods makes the game all the more fun to play.
As the main character embarks on her quest to find a way to save her father. She needs weapons to fend off enemies and attack them back if needed. There are several different weapons in the game. We'll give a detailed guide on Asterigos: Curse of the Stars Weapon and which one would be best for you.
Asterigos: Curse of the Stars Weapon Guide
There are six different weapons in the game. You can simultaneously hold two weapons on your person, each with a unique function. Here is the list of all the amazing weapons in Asterigos: Curse of the Stars:
Sword and Shield
The balance between the sword's and shield's damage and defense is really good. It can be used to stop attacks in your line of sight.
Daggers
There is no predefined dodge button in the game. But you can dodge by using the daggers. It has a better dodge than the standard dodge. You can rapidly enter and leave battles because of its quick attack speed and special abilities.
Hammer
The Hammer can be used to destroy enemy defenses. Its unique ability is the Charged Attack. The attack will not be blocked by the target's defenses and has a chance to take the target down.
Spear
The spear is a unique weapon choice with its precision and special ability to parry. If you deflect a malicious attack successfully, you will launch a counterattack.
Staff
The Staff is capable of long-range attacks. It will give you the ability to project a focused beam of energy from afar. These charges Rays can be extremely helpful in fighting enemies long range.
Bracelets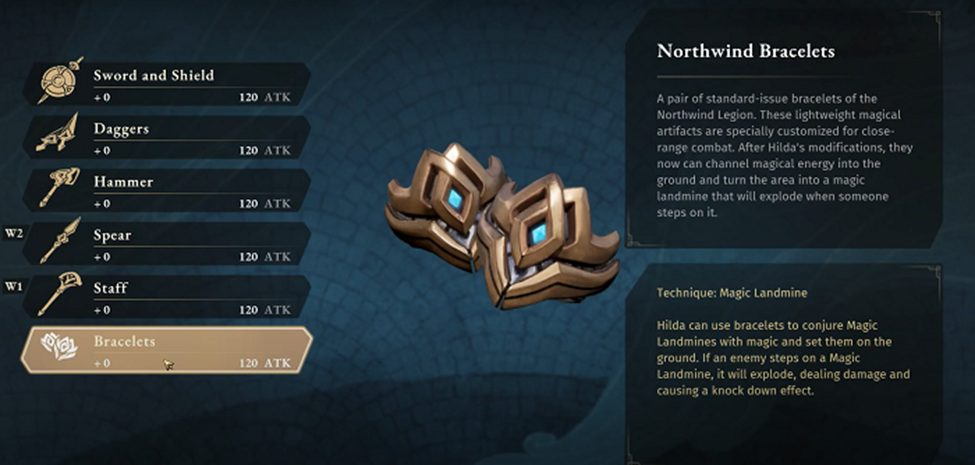 The Bracelets cover close-range and medium-range combat. Its special ability allows you to drop mine. These mines on explosion deliver magical damage.
Try combining them with other weapons to find the weapons you feel most at ease with.
That is all about Asterigos: Curse of the Stars weapon guide. Let us know in the comment section below which one you prefer the most. To know about Street Fighter 6: Guide for Playing as Juri or for more guides, keep following Retrology.