The most recent version of 10 Minutes Till Dawn, 20 Minutes Till Dawn, shares many similarities with its predecessor but is more developed. The game is similar in terms to the Vampire Survivors but there are more guns in 20 Minutes Till Dawn. There are also more available characters, upgrades, and weaponry. Characters and weapons can be used in a wide variety of combinations, but upgrades are generally consistent.
There are many characters in 20 Minutes Till Dawn, but they only have a significant influence in the first half of the game. In order for people to gain a sense of the build they want, starting out with a character with high health may be a smart option. There is, however, a character-building strategy that is more effective.
In 20 Minutes Till Dawn, the two types of upgrades that are most powerful are elemental damage and standard damage. Reaper Rounds, which allow bullets to pierce more foes, can be obtained from the normal damage tree, Power Shot. This is especially true when combined with elemental damage.
20 Minutes Till Dawn Best Builds
Elemental Upgrades
In 20 Minutes Till Dawn, the elemental upgrades are Fire, Frost, and Lightning. The upgrade that a player chooses first is a question of preference because each of these improvements is very helpful and simple.
Mage Upgrade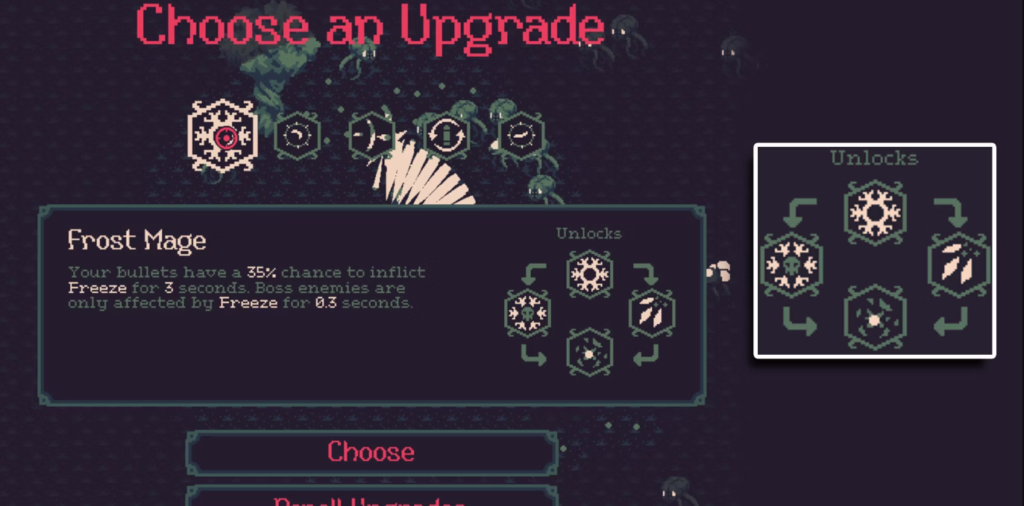 Because players cannot select which enemy receives lightning damage, Electro Mage is likely the weakest of the group.
Next in terms of power is Pyro Mage, which allows for greater player control and offers enemies long-lasting burn effects.
Last but not least, Frost Mage is the strongest because it provides players the freedom to maneuver, which the game works very hard to take away. The Frost Mage talent tree is extremely potent since freezing enemies is incredibly useful for getting out of difficult circumstances.
Summons
Although those are the 20 Minutes Till Dawn's greatest improvements, they are not the only options available. Some of the summons, like Light Weaponry, are incredibly helpful because they conjure a magic dagger that will follow the player and inflict damage on the surrounding enemies.
Although increasing health could potentially be pleasing, the only way to live for any appreciable amount of time is to increase damage to the enemies and strengthen your defenses.
Health and Movement
The optimum time to deploy safety net upgrades like health and movement speed is when a player is confident in their build. Damage is unquestionably the key element in 20 Minutes Till Dawn that will help players complete the game.
Players will feel unstoppable after some skill trees have reached their maximum level. However, just like Hades and its extensive upgrade system, players should feel free to experiment with their builds and figure out what works for them.
That is all for this guide with the best builds in 20 Minutes Till Dawn. For more help on the game be sure to check out Retrology with new and helpful guides.